It's hard to believe we've hit the end of summer already.  My kids are back in school and the football season has started.  We all have new schedules to "Juggle" as the season changes.  I do love fall.  I think that is the influence of my husband.  His favorite season is fall.  He is a huge football fan.  When I first met him, there was nothing keeping him from his Ohio State football games.  Now that we have 3 kids playing football and cheering at different levels, it is rare that he can just sit and watch a game.  Thank goodness for DVRs!
There is also a foodie reason why I love this time of year.  There is such an abundance of foods at my farmer's market during this season.  Tomatoes, zucchini, and corn are in abundance and as a result really affordable.  I like to preserve as much of the harvest as I can, but I really don't have too much time to devote to this task.  One of the easiest ways I've found to preserve the harvest is to freeze corn.  I cook extra when I cook it for dinner.  I then cut the corn off the cob and freeze it.  Easy peasey!  Now I have frozen corn ready to go.  I also take some extra time to freeze tomatoes.  I blanch them in boiling water, then shock them  in ice water.  I cut off the tops and quarter them.  I like to give them a little squeeze to get rid of some of the seeds and then pop them into a freezer bag.  Make sure you label with the date and a description of what is in the bag.  I keep a Sharpie in my kitchen for this purpose.  I hide it from the kids so it doesn't go missing.  I think everyone should have a "Kitchen Sharpie".  I need to start canning, but for now my freezing method works pretty good.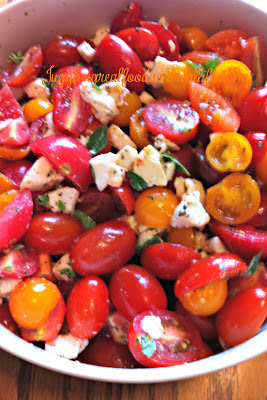 In addition to preserving the harvest, I like to eat fresh foods in season.  One of my favorite go-to recipes is my Easy Caprese Salad.  What makes it easy?  Hmmm………..all caprese is pretty easy to make.  I guess it is easy because I don't slice the tomatoes.   There is nothing more delicious to me than a tomato in season.  This salad seems to go with everything.  I've also found that it is an easy dish to make for picnics and pot-lucks.
How do you turn a basic salad into something extraordinary?  Ingredients are key.  I buy the most beautiful in-season tomatoes I can find.   Make sure you buy fresh mozzarella.  The hard stuff that comes in the block is not going to taste the same.  Fresh mozzarella is "wet".  It comes in a brine or wrapped tight to keep the moisture content high.  Fresh mozzarella has a spongy texture.  Yum!  I love that stuff!
Easy Caprese Salad
Ingredients:
2 quarts grape tomatoes (I like to mix a couple of colors if available) Tomatoes can be cut in half or left whole.
Fresh Mozzarella cheese cut in small cubes
2 Tablespoons Olive Oil
2 Tablespoons Balsamic Vinegar
Fresh Basil
Two or three dashes of Dried Italian Seasoning
Pinch of salt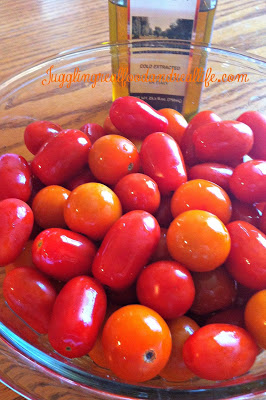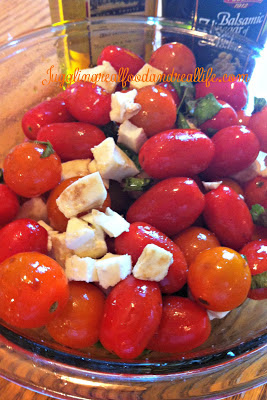 Directions:
Put olive oil in bowl and toss in tomatoes.  Stir to coat.
Stir in balsamic.
Rough chop basil and stir in with tomatoes.
Add dry Italian seasoning.
Add pinch of salt.
Give it all a stir again.
Add mozzarella cheese.
Enjoy!  Have fun experimenting with all sorts of different grape tomatoes.  They come in a wide variety of colors.  I think the purple ones are pretty cool looking.
Now it's your turn……….tell me what are your favorite seasonal foods.  Do you do anything to preserve the harvest?  What are your favorite go-to salads?
I can't wait to hear from you.  Leave me a comment here and I invite you to join the fun on our various social media. Just join us by using the various buttons at the top of the page. Lots more recipes, tips and fun to be had by all!  If you are new to the blog……..I invite you to check out our Weekly Challenges.  This is a great systematic way to to eat more of a Real Food diet and eliminate processed food.  This is the approach my family took to overhauling our diet.  Remember……small changes can create dramatic changes to your overall health.  Good luck!
You might also be interested in:
Roasted Asparagus with Lemon and Herbs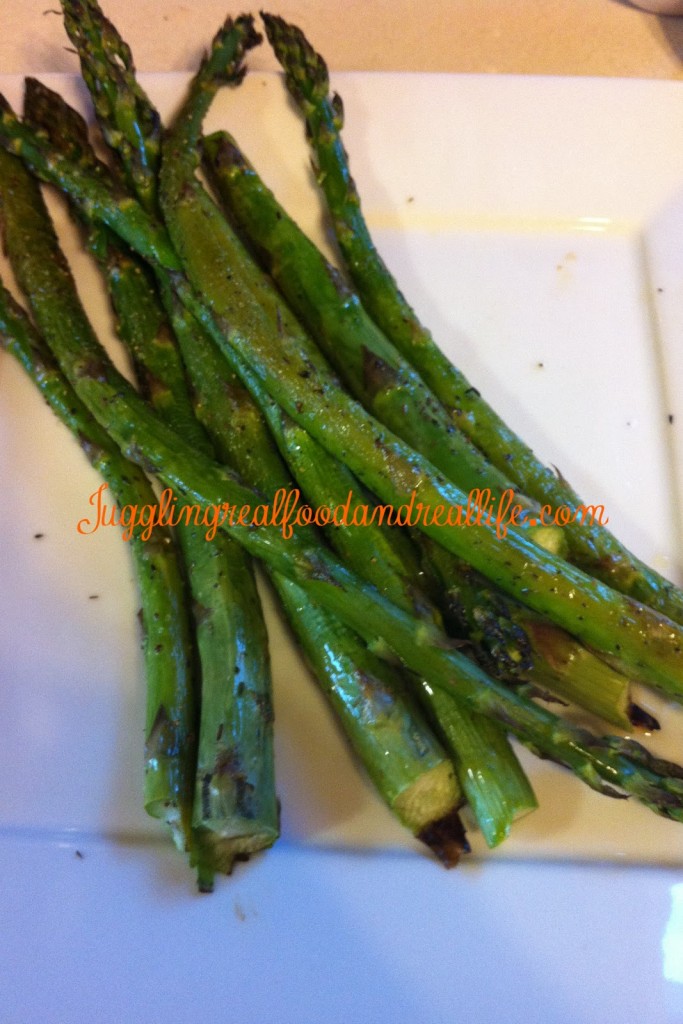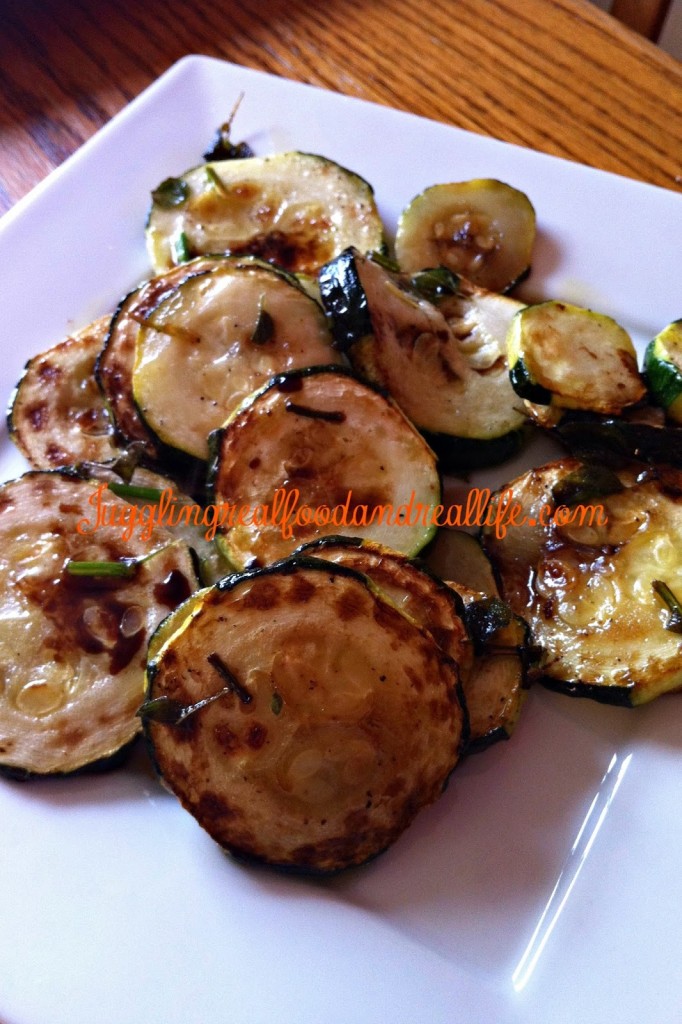 For more simple recipes your family is sure to love, make sure you check out my
recipe index
.  I am adding new recipes all of the time so make sure you check back often.  You will also want to grab this
free meal-planning printable calendar
to make your meal planning easier.  It has areas to plan your daily activities and your evening meal prep.