It sure has been a long winter around here and many parts of the world.  Our local weatherman said that we usually have really cold (negative zero) weather or snow around here.  This year we had both!  My kids are still busy with lots of activities, but I just feel like sitting.  We all like our comfort food when it's cold, but if you have induldged in a little too much processed comfort food over the winter, then now is the time to take a look at some reasons why you need to Spring Clean Your Diet.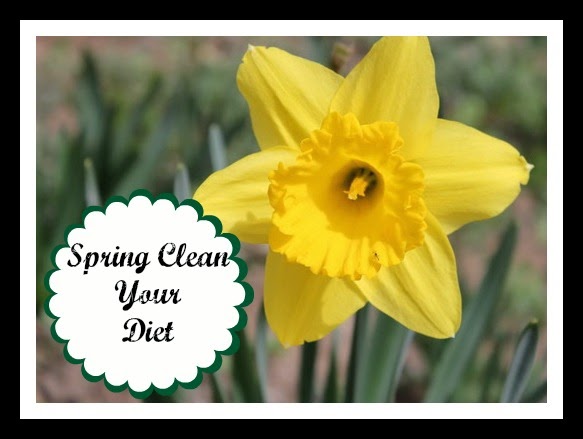 Why
cut out processed foods?
1. It makes sense. Why do
we need all of these newly "invented" foods? Eating foods that we can pronounce
like our grandparents ate certainly can't be unhealthy.
2. Chronic Illness.  Look around
you……….why do so many people have diabetes, coronary disease and cancer?
I am not a doctor, but there is plenty of evidence that much of this is related
to diet.
3. Food Science. Why would you want to
eat a food-like product that food scientists design to never rot? That is just
gross! As the saying goes, the longer the shelf-life, the shorter your
life-span.
4. No Variety.  The documentary "Food
Inc" tells us that 90% of processed food is made from corn or soy. I don't know
about you, but that doesn't sound like much variety to me. The greater variety you have in your diet, the better your nutrient profile will be.
5. Lots of health benefits.  Besides great long term
benefits, cutting out processed foods can provide lots of great short-term
benefits like reduced headaches, weight loss and more energy.
6. Real Health.  Eating processed foods
can give the illusion of health, if you believe what you read on the labels.
When in fact……….low fat, low carb and vitamin fortified foods are actually making us sick and
fat. A better alternative are foods that are naturally low in fat and full of
vitamins and minerals.
7. Quit wasting your money.  Empty calories are a
big waste of money because they don't add anything to our health. White bread
and other items that are not whole-grain are just empty calories.  Sure they may taste good, but you are not
eating for nutrition when you eat empty calories. All of the nutrition has been
stripped away.
8. Quit trusting the food industry to cook for you.  The food industry has
shown it is not very good at seasoning our food. Have you seen the amount of
salt they use? Wow!
Now is a great time for you
to commit to cleaning up your diet. Small changes in the food you select can
create huge changes in your health. Give it a try. Soon you will wonder how
you could have been missing out on all of this great food. Are you still eating
processed food? Have you noticed a difference in your health since you
eliminated processed food from your diet? If you are looking for a step by step
approach to eliminating processed foods, check out The Real Food Experience.
Can't get enough Juggling Real Food and Real Life? Make sure you subscribe by email. You can subscribe by entering your email address to the right of this page. This will also enter you into the mailing list for my new newsletter. Just wait to see what I have coming. Please also follow us on our various social media. You can easily find me there if you have questions. The Juggling Pinterest Boards are crammed with lots of great information and recipes. Check them out!