This week at the Real Food Experience we are focusing on making the switch to whole grains.  One of the grains that I have fallen back in love with since making the switch to whole grains is oats.  I love them so much that I now buy them in bulk.  Great big bags of oats……….that only last a few weeks.  I find that they make for a really filling breakfast.  It's nice to know that my family can start the day will happy bellies.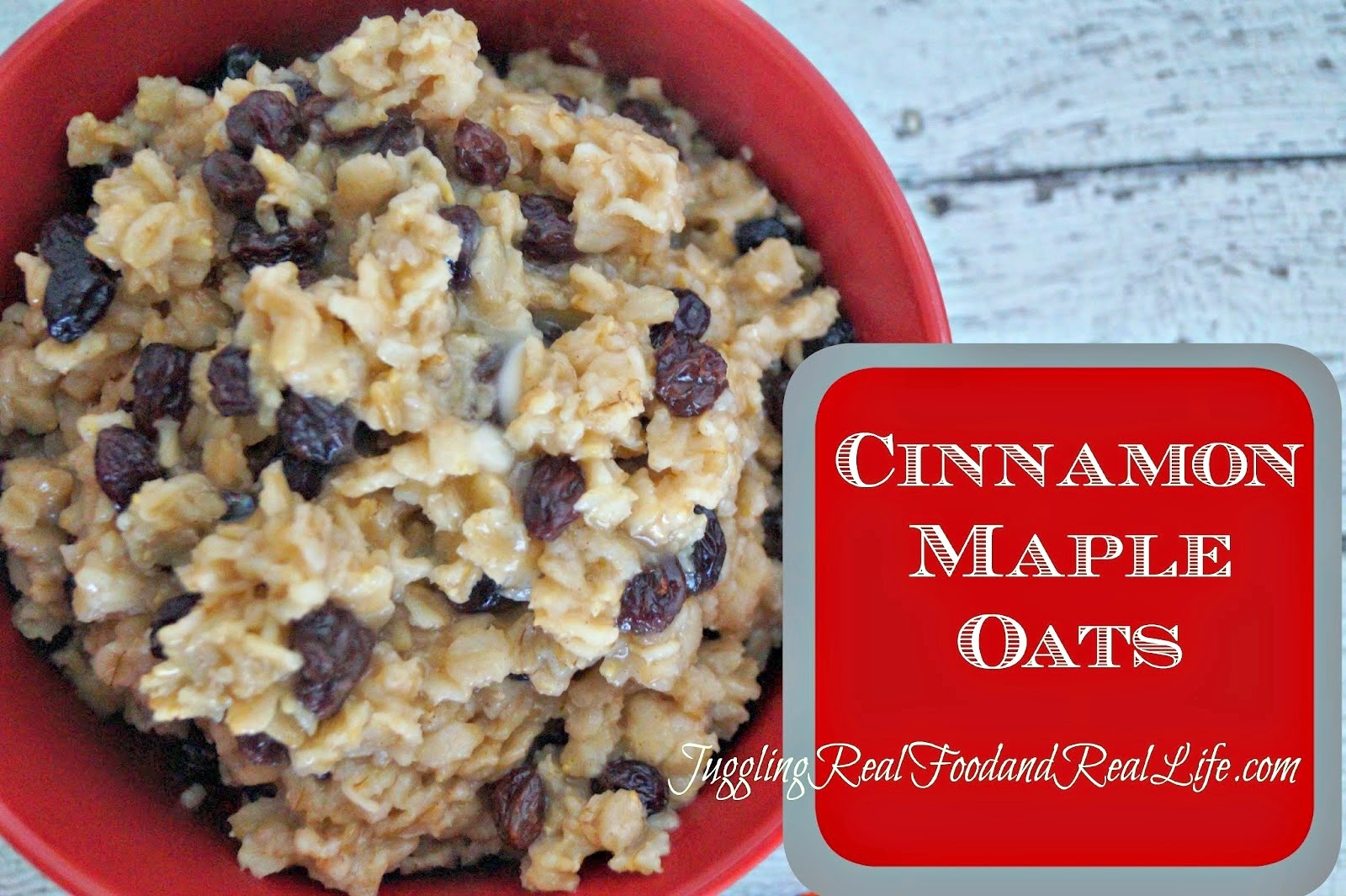 You may be thinking………..ahhh……..I'll go to the store and grab those little packets of flavored oats that they sell.  Nice and easy.  Not so fast!  Those little packets are convenient, but they are full of tons of sugar and artificial ingredients.  It's crazy how much junk they have in them.  Don't believe me?  Check out the label.  And…….I think they are gross.  Yes, I said it.  Gross!  The oats come out all mushy and look like little pieces parts of oats.  I think they taste terrible.  I am attracted to the flavor combinations though.  Cinnamon and maple………….what a winning combination!  How hard could it be to make, right?
As it turns out, it's not hard at all.  100% pure maple syrup, cinnamon from my farmer's market stash, thick-cut bulk oats, and raisins to make it a bit sweeter.  Do you know that when you buy raisins in bulk that you can pick what kind of grape they started out as?  What an adventure that has been to discover new flavors of raisins.
Here is my very simple recipe for Cinnamon Maple Oats.  I hope you enjoy it.  In order to Juggle your busy morning, start your water boiling while you are in the shower and then let it all simmer while you finish getting ready.  OK…….that is my routine, but you get the idea.  The point is that it is possible to make a hot nutritious breakfast for your family………..even with a busy schedule.
Cinnamon Maple Oats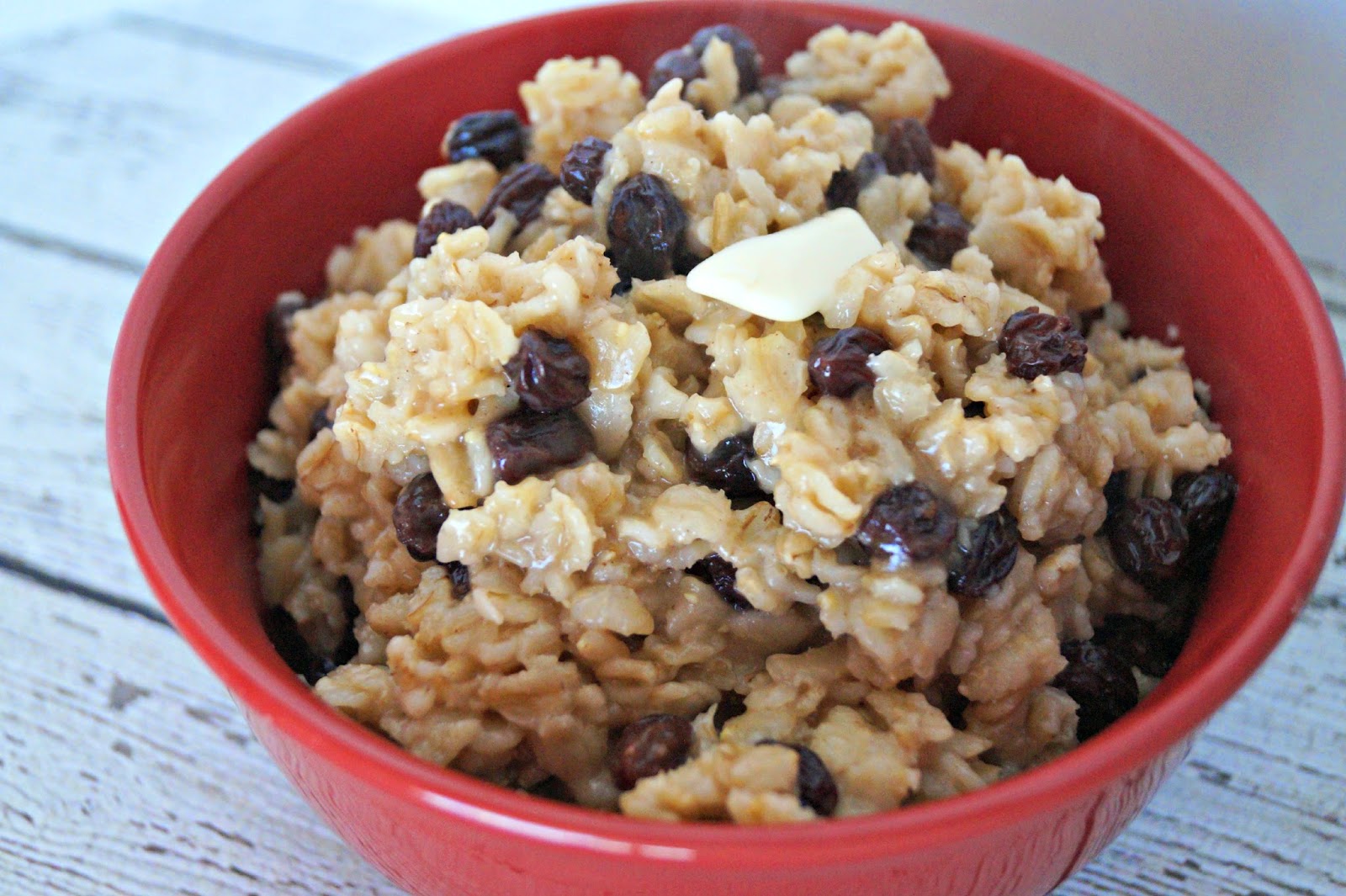 Cinnamon Maple Oats
Author:
Christina - Juggling Real Food and Real Life
Ingredients
4 cups Water
2 cups Thick-cut rolled oats
¼ teaspoon Salt
2 Tablespoons Maple Syrup (More or less to taste)
1 Teaspoon Vanilla
¼ teaspoon Cinnamon
½ cup Raisins
Instructions
Bring 4 cups water and ¼ teaspoon salt to a boil.
Add rolled oats and stir.
Add in maple syrup, raisins, cinnamon and vanilla. Stir.
Reduce heat and simmer for 10 - 20 minutes. Time will depend on your stove and your desired
consistency.
Let stand for 2 minutes.
Top with butter and milk or cream. Add additional sweetener as desired.
Notes
We recommend organic ingredients when available.
This was plenty sweet for me just as I made it, but your tastes may differ, especially if you are just at the beginning of cutting out processed sugar.
Do you eat oatmeal for breakfast?  What is your favorite flavor combination?  We live in an area that produces maple syrup so we can easily have it on hand at all times.  Are you able to easily purchase maple syrup?
I promise to keep bringing you the best and most accurate information on nutrition I can find……….and hopefully with a little bit of humor along the way as well. You can find lots of great information on this blog (check out the tabs above and the archives). You can follow what others are doing for the Real Food Experience using #RealFoodExperience. Make sure to subscribe by email so you don't miss anything. You can also find lots of great tips, tricks, advice, and fun on my Facebook page and my other social media. Please join us and share us with your friends!
Interested in additional oat flavors?