Eat more whole grains.  That is the Real Food Experience Challenge this week.  Sure, I can do that no problem we say.  Now………..what the heck should we be eating?  I remember similar feelings not too long ago.  I read that I should be eating more whole grains because they were healthier for me, but I was pretty clueless as to what the healthy eating articles really meant.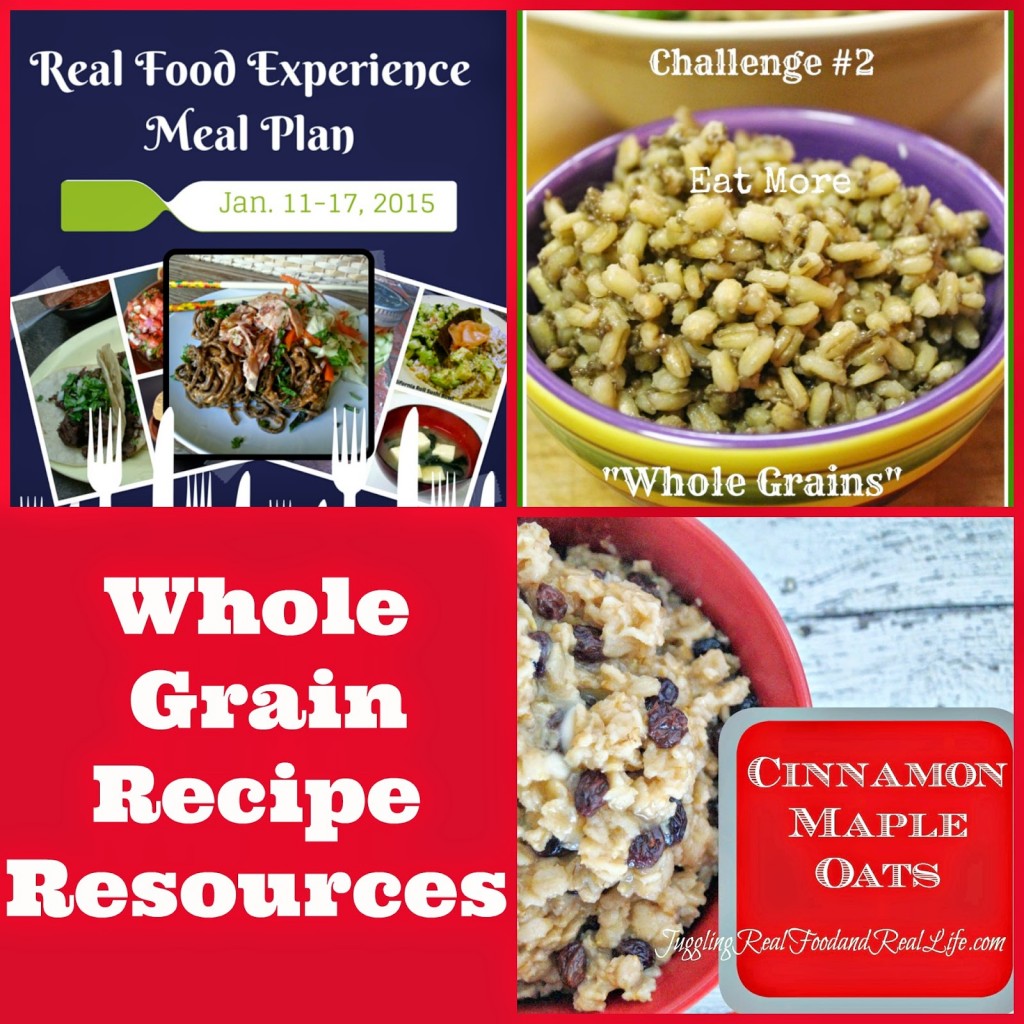 I want to make things easier for you, so once again this week I asked my friends Nicky and KC to put some recipes together for you to get you through the week. Some may include new ingredients for you, but I promise you……….there is nothing too weird in these recipes. Try a few new recipes and see what your family likes. Don't panic and give up if they don't like everything. This is completely normal. It takes quite a few times of eating a new food before our brain realizes that we like it. We say 17 times in our family. "You don't like that sweetie?" I say. "How many times have you tried it? Only one time? OK, then you just have 16 more to go."  I know it sounds silly, but now the kids say, "I know.  I know.  I only need to try it 13 more times."  And we keep trying the new food. Let's just say……..Mr. No Vegetables Ever finally eats green beans. Don't give up on your family……..or yourself. You may be surprised at what you come to like and even crave once you purge all of the processed chemicals, excess salt, and sugar from your body.
Nicky from Little Family Adventure shares her weekly meal plan. She has a wide variety of whole grains for you to choose from.  Let me know which are your favorite recipes.  Although it is not a whole grain……..make sure you try Nicky's Maple Shallot dressing.  It is one of my favorites and a great way to make sure you are still eating your fruit and veggies as we practiced in last week's challenge.  My husband really struggles with keeping his lunches real.  He isn't horrible, but this is an area that we both want to work on.  One of the things that I have talked to him about is KC's "Chopped" recipes.  He likes to feel like he has eaten a meal and not just grazed on food so I think he will really enjoy KC's chopped recipes.  She uses a wide variety of grains, protein, and vegetables.  They are always really easy to prepare too.  I love that!  Here is what she has put together for whole grain week.  Make sure you also check out her exercise advice.  Isn't she gorgeous!?
I am also sharing one of my favorite breakfast recipes.  Cinnamon maple oats.  Super yum! Super easy!
I promise to keep bringing you the best and most accurate information on nutrition I can find……….and hopefully with a little bit of humor along the way as well. You can find lots of great information on this blog (check out the tabs above and the archives). You can follow what others are doing for the Real Food Experience using #RealFoodExperience. Make sure to subscribe by email so you don't miss anything. You can also find lots of great tips, tricks, advice, and fun on my Facebook page and my other social media. Please join us and share us with your friends!
You can also check out last week's recipe resources which focus on fruit and vegetables here.