Family dinnertime is my favorite time of day.  Spending time with my family is what makes all of the hard work of parenting worth the time, effort, and exhaustion.  I really do think of dinners together with my family as my parenting reward.
My Family Dinner Conversation Starters series is all about my effort to make the most of dinnertime and to provide lots of ideas to help you do the same.  Let's bring the fun back to dinnertime.  For more fun dinner conversation starters for your family, you can check out "Roses and Thorns" and "Sports and Activities".
 I usually have a rule, "no electronics at the dinner table."  This rule goes for everyone.  Me, my husband, the teenager, the little ones…….guests.  Everybody.  My dinner table is a place for conversation with each other.  It's a time for us to reconnect with each other.  It's a pause button on the craziness that is our busy schedule.  I don't like the outside interruptions that technology use seems to bring.  That is why when I host a "Technology Dinner" my family really sits up and takes notice.  It is certainly something different from the norm.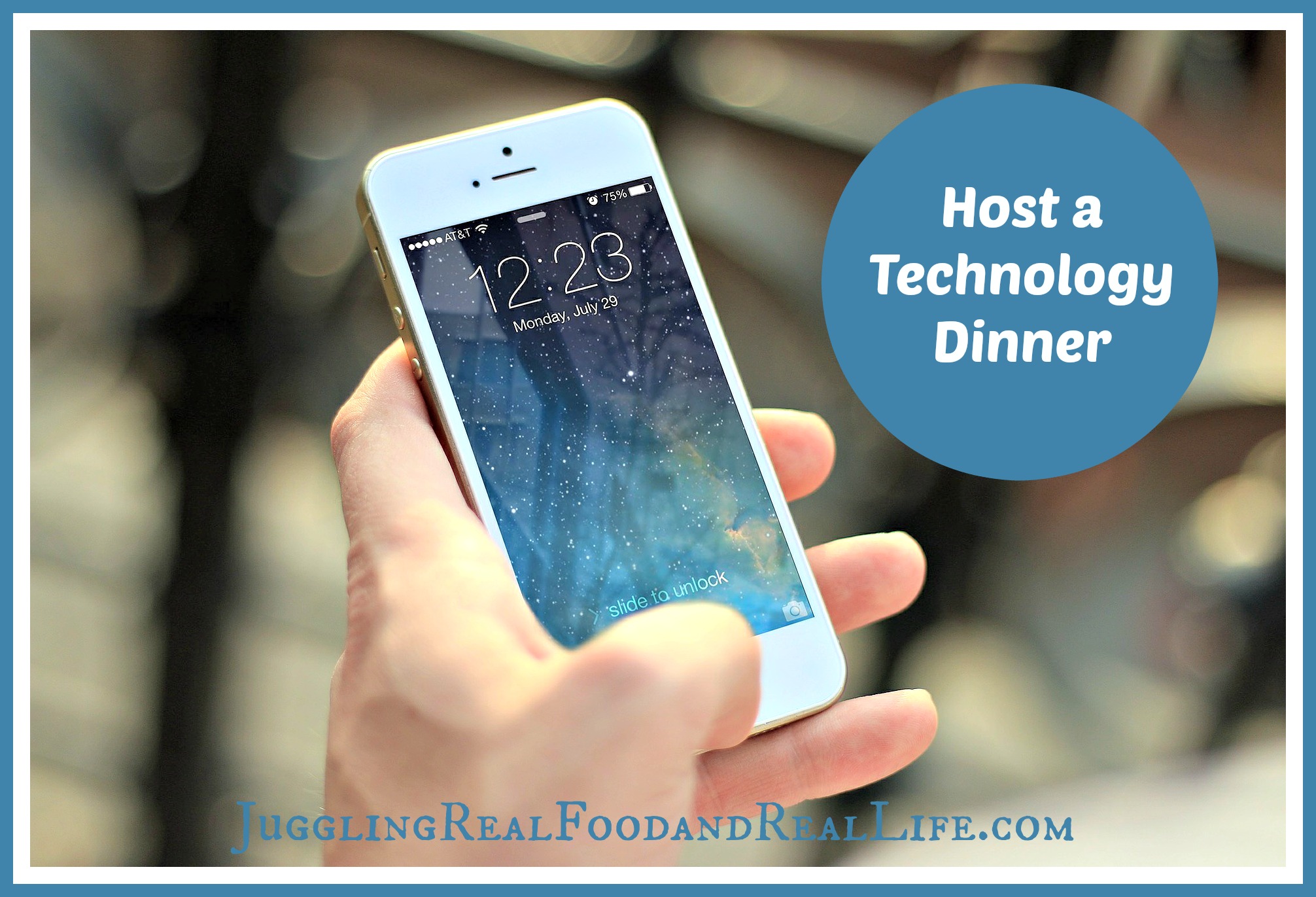 [bctt tweet="Enjoy a technology dinner with your family. They will love it! Here's how." username="jugglngrealfood"]
You may be wondering what a "Technology Dinner" is?
It's really simple.  I allow all of the forbidden electronic devices at my table.  No, I have not given up on my rules.  This is a specially designated dinner where our dinner conversation revolves around things we find online.  A lot of times, the things I find are articles about food or parenting.  My daughter loves to share cute puppies and babies.  My teenager finds the most awesome comedy on YouTube.  We spend the dinner laughing together and it gives our family new "inside jokes".  Sometimes we share our favorite music.  We are working on creating a "family playlist."  This is a playlist of songs that we all contribute to.  The playlist is especially nice to have for long car rides.  When my little guy picks something it is usually video game related.  He sure does love Skylanders.
Another benefit that I have found to these Technology Dinners is that my kids share apps and websites that I may not be familiar with.  I'll be honest………..parenting in this age of technology is terrifying!  I spend a lot of time on the internet and the kids still find things that I have never heard of.  Technology Dinners help me to keep up with what my kids are doing.
Do you allow phones and computers at your dinner table?  Do you find any additional benefits to hosting Technology Dinners?  What scares you the most about parenting tech kids?
If you are looking for help in making the transition to eating more real food, you should check out the Real Food Experience posts. You can get started at the beginning or jump around the challenges. You can find a complete round-up of the program here. Each week's challenge is full of terrific advice to help you transition from fast and processed food to a real food diet. Changes that will help you to live a healthy lifestyle and have the energy to keep up with your busy schedule. I would also love for you to join me on social media. You can find me on Facebook, Twitter, and Instagram on a regular basis. Leave me a comment and let me know you stopped by. I love to visit with my readers.
You might also be interested in: