I've come to realize that many of my meals really do not include fancy "recipes".  In order to keep things simple, quick, and easy for my busy family and avoid the fast-food windows, I often make quick and easy meals that only include a few ingredients.  It seems so silly for me to write up these type of "recipes", but I've decided that I really need to for you to truly understand how we Juggle Real Food and Real Life.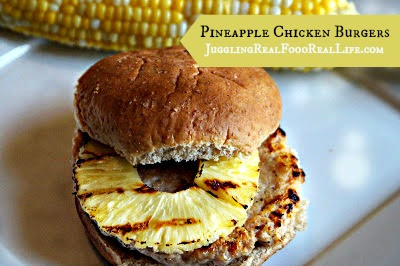 One of my favorite summertime meals are these Pineapple Chicken Burgers.  They come together in just a few minutes and are really satisfying.  We often make extra for dinner and then pack them in lunches for the next day.  They warm up nicely, but also taste delicious cold if a microwave or stove is not available.  The other thing that I love about this recipe is that the chicken is grilled.  In my house, that means my husband is in charge of the grill and I only have to put the sides together.  My husband really loves his grill!  He is always looking for an excuse to grill something. See that big smile?  Yep, that's after a long day at work. That grill really makes him happy.  Who am I to get in the way of that happiness??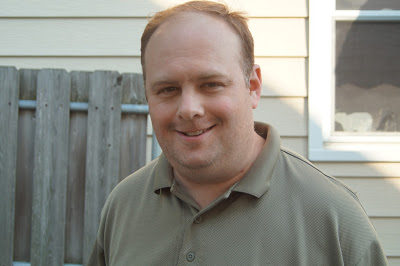 Grilling pineapple just takes a few minutes on each side.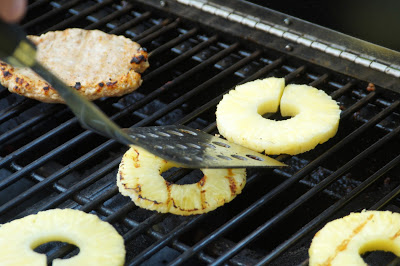 Quick and Easy Grilled Pineapple Chicken Burgers
Quick and Easy No Recipe Meal - Grilled Pineapple Chicken Burgers
Author:
Christina - Juggling Real Food and Real Life
Ingredients
Ground Chicken Patties (I buy preformed from my groceries meat department, but you could make your own.  Same as a hamburger)
Sliced Pineapple
Whole Wheat Hamburger Buns
Barbecue Sauce
Instructions
Grill chicken and pineapple
Assemble chicken, slice of pineapple, and drop of barbecue sauce on a whole wheat hamburger bun.
Enjoy this quick and easy dinner.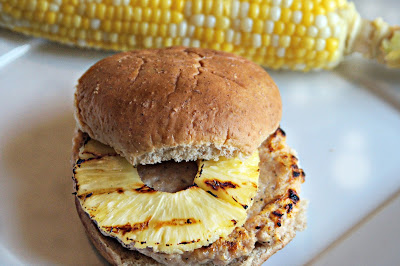 See…….I told you that there wasn't much to this recipe, but don't let that fool you.  This will soon be one of your family's favorite dinners.  Certainly, this will be one of your favorite dinners to make.
What is your favorite food to grill?  How many times a week do you grill during the summer?  Do you grill all year round?
If you are looking for help in making the transition to eating more real food, you should check out the Real Food Experience posts. You can get started at the beginning or jump around the challenges. You can find a complete round-up of the program here. Each week's challenge is full of terrific advice to help you transition from fast and processed food to a real food diet. Changes that will help you to live a healthy lifestyle and have the energy to keep up with your busy schedule. I would also love for you to join me on social media. You can find me on Facebook, Twitter, and Instagram on a regular basis. Leave me a comment and let me know you are there. I love to visit with my readers.
If you like this recipe, you might also like this Grilled Chicken Parmesan Burger recipe.