One of the things that I like to do here at Juggling Real Food and Real Life is to make sure you have the information you need to make informed decisions about what to feed your family.  I also like to share my tips on how to get real food to the table when you have a busy family schedule.  Today, I'm talking affordability.  Gaye over at Calm.Healthy.Sexy wrote a great article entitled, " Real Food Costs More, But You Don't Have to Spend More."  I totally agree with her article.  Take a look and let me know what you think.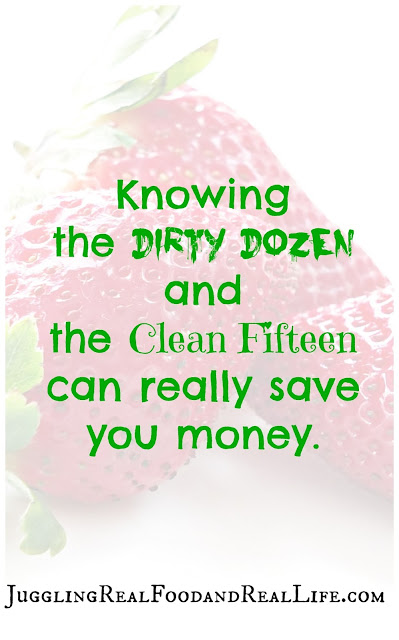 One of the most important tools I use to make sure that I'm not overspending on food is the Dirty Dozen and Clean Fifteen lists.  These lists are published each year by the Environmental Working Group (EWG).  The Dirty Dozen contains the 12 fruits and vegetables that are the most pesticide-contaminated or "Dirtiest".  These are the fruits and vegetables that I have decided are the best for my family to buy organic.  Because they have high pesticide use when growing these foods, I feel that paying extra for the organic is really worth it. You will notice that the foods on the Dirty Dozen list are mostly foods where you eat the outer layer.  Foods like apples, strawberries, and grapes are a good example.
Now for the good news………..The EWG also published a list of the fruits and vegetables that are the "cleanest" on its Clean Fifteen list.  The 15 fruits and vegetables that contain the least pesticide residue are often the foods that have outer layers that you remove before eating.  Think corn, pineapples, and onions.
So………does this mean you should eat processed "fruit flavored" food bars and avoid apples because they have too many pesticides?  Absolutely not!  Real fruits and vegetables will always be better for you than processed food-like substances.  However, these lists serve as a nice guide to help you make decisions on whether or not to buy organic.  Sure……..organic may be best, but buying organic may not always be possible and you certainly don't need to drive yourself crazy searching for organic onions.  And, you certainly don't need any "Mommy Guilt" over not being able to find organic cauliflower.
Buying organic fruits and vegetables from the Dirty Dozen list and conventional fruits and vegetables from the Clean Fifteen list really helps me to keep my grocery bill lower. Print off these lists and take them to the grocery store so you have them handy when you shop.What are some of the ways you save money on your grocery bill?  Are you familiar with the Dirty Dozen and Clean Fifteen lists?  Do you find them to be a handy resource?
If you are looking for help in making the transition to eating more real food, you should check out the Real Food Experience posts. You can get started at the beginning or jump around the challenges. You can find a complete round-up of the program here. Each week's challenge is full of terrific advice to help you transition from fast and processed food to a real food diet. Changes that will help you to live a healthy lifestyle and have the energy to keep up with your busy schedule. I would also love for you to join me on social media. You can find me on Facebook, Twitter, and Instagram on a regular basis. Leave me a comment and let me know you are there. I love to visit with my readers. Yes, I'm a real person.