When I was 16, my great-grandmother gave me her copy of the book "Emily Post's Etiquette."  It was rather warn from use, but still a beautiful book.  Blue cover………yellowed pages……..I was thrilled to receive such an important book for my birthday.  Tucked inside was a note to me from my great-grandmother about the importance of manners.  She informed me that with good manners, I could go anywhere I wanted to in life.  And she would know……..after her death at the age of 99 we learned that she was raised on an Indian reservation in Canada.  She ran away and came to the United States and eventually became the society woman that I always knew her to be.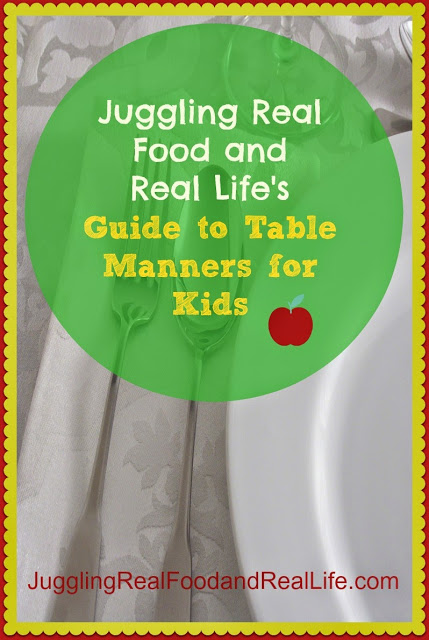 On several occasions, I have been surprised at how my basic manners have been complimented.  Are simple manners really that noticeable in this day and age?  Do manners still matter?  You bet they do!
In the busyness that is today's lifestyle, we must not forget to teach our children basic table manners.  After all……….you never know when they might be asked to dine with the President or the Queen.
Here is a basic checklist for teaching our children to be well-mannered at any dinner table.
1. Come to the table with clean hands, face, and clothes.
2.  Put your napkin on your lap.
3.  Begin eating when others start or when instructed to begin.
4.  Don't reach for things at the table.  Asked for items to be passed.
5.  My pet peeve……..keep things passing around the table.  Don't set items down in front of you until they have made it around the table.
6.  Say, "Please" and "Thank you" as food items are passed.
7.  Keep elbows and (heaven forbid) other body parts off the table.
8.  Chew with your mouth shut and do not speak until you have swallowed your food.
9.  Don't make rude noises at the table.  My family thinks burping at the table is hilarious, but it really is rude.    I'll keep working on this one.  I wish I could say it was just the boys……..
10.  Thank your host and/or whoever prepared the meal.  Make sure kids know to thank parents when they go to visit their friends.
Bonus Tips:
11.  Offer to help clear the table and clean up.
12.  Never, Never, Never complain or express displeasure for the meal that has been prepared.  Your host has worked hard to prepare the meal.  It may not be all of your favorites, but that does not change the effort your host put in to prepare the meal.
Remember that simple manners do matter, but the good news is that they are easy to teach.  Use this checklist and soon your children will be able to dine anywhere with confidence.
Are you intentional about teaching your children table manners?  What did you find to be the most difficult to teach?  Do you think
If you are looking for help in making the transition to eating more real food, you should check out the Real Food Experience posts.
You can get get started at the beginning or jump around the challenges. You can find a complete round-up of the program
here
. Each week's challenge is full of terrific advice to help you transition from fast and processed food to a real food diet. Changes that will help you to live a healthy lifestyle and have the energy to keep up with your busy schedule. I would also love for you to join me on social media. You can find me on
Facebook
,
Twitter
, and
Instagram
on a regular basis. Leave me a comment and let me know you are there. I love to visit with my readers. Yes, I'm a real person.
If you are interested in purchasing Emily Post's book you can find it using my Amazon affiliate link.  The price is the same if you use my link or go directly to Amazon, will receive a small referral fee if you use my link.  Thank you.