Last week I shared one of my favorite ways to get my family talking at the dinner table.  Roses and Thorns is a great method to use to connect with your family and find out what is going on in their lives.  I have found that when I come home after a long day at work, it is easy to throw dinner on the table, gobble it down, and then quickly excuse the children to do whatever it is that they want to do.  Although it makes my life "easier" I prefer to have more of a connection with my family.  They are some pretty cool people and I enjoy their company. Having a close relationship with them is important to me.
Read on if you would like to work on a closer connection with your family simply by using the "magic" that is the dinner table.
[bctt tweet="Not sure what to talk about with your kids at the dinner table? Try this!" username="jugglngrealfood"]
I've noticed that my kids love to talk if given the opportunity.  It takes practice and I have to be intentional about encouraging them to talk, but they will talk…..even the teenager.  And watch out………….when they get started the fun really begins.
Intentional conversation prompts are a great way to get the conversation started.  I know that we all send our children to lots and lots of sports practices and other after-school activities.  That's what we super-moms do these days, right?  Since I sit and watch their practices, I really felt like I was doing my part to be involved in their lives.  However, I recently realized that I had no idea how they felt about their practices or activities.  Hopes, dreams, and fears were all being ignored because I was able to sit and watch.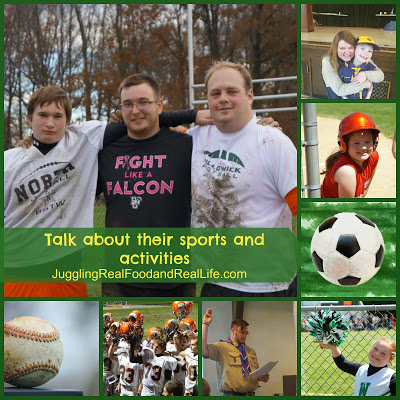 Dinner is a great time to explore these subjects with our children.
Ask them "How do you feel you are performing?". 

Ask them "Do you need any additional

equipment, extra practice, or questions answered?".

Ask them "What is your favorite

part of the activity and least favorite part of the activity?"
You might be surprised at what comes out of these conversations.  I know I have been surprised many times.  One example……….my daughter was playing hardball on a team with her little brother.  They loved to play together and she was always smiling.  It's true.  She loves the sport.  However, one dinner conversation I found out that she would actually prefer to play with other girls.  We switched her to softball and she has since declared that softball is one of her favorite activities.  She is proud to be a "girl jock." Without asking her………all I knew was that she liked to play sports.
A few intentional prompts can really be the difference between a meal eaten and a family dinner that brings your family closer together.  It's not difficult at all.  Be intentional and let the conversation flow.
What is your favorite way to get the conversation going at the dinner table?  Have you ever been surprised about what comes out of these conversations?  Do you find that certain meals are easier than others to get the conversation going?
If you are looking for help in making the transition to eating more real food, you should check out the Real Food Experience posts. You can get started at the beginning or jump around the challenges. You can find a complete round-up of the program here. Each week's challenge is full of terrific advice to help you transition from fast and processed food to a real food diet. Changes that will help you to live a healthy lifestyle and have the energy to keep up with your busy schedule. I would also love for you to join me on social media. You can find me on Facebook, Twitter, and Instagram on a regular basis. Leave me a comment and let me know you are there. I love to visit with my readers.
You might also be interested in: