I wrote the first part of this series 12 Ways to Know Your Son is Going to College Soon to chronicle the feelings I was sharing with my friends about our sons going to college.  I wrote the article with tears in my eyes as I thought about all the feelings we were going through. I was pretty surprised and completely thrilled when my son took an interest in what I was writing.  I shared with him all of my crazy behavior which he recognized right away, except for maybe the hovering over his bed and watching him sleep part.  I got a "Wait, what have you been doing??" from him.  I'm more stealthy than I knew apparently.  Teehee!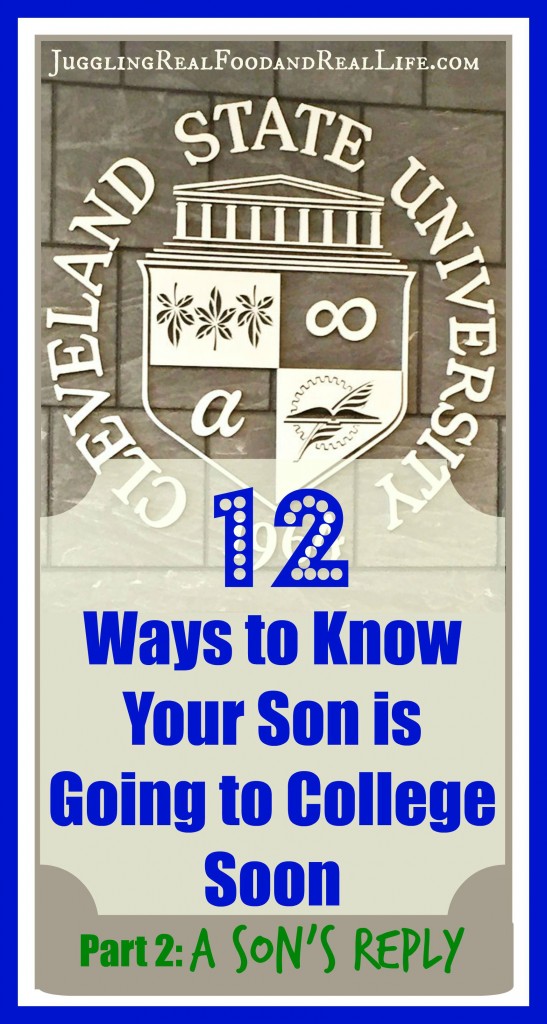 My son has a huge heart, but refuses to be emotional………like so many boys I know.  It is so interesting to hear him put into words his responses to my post.  I didn't want to write anything down and scare him away, but since I am so good at being stealthy, I have remembered his responses and recorded them here.  Moms, your boys love you and they want you to know that.
A Son Replies to His Mother's Crazy Pre-College Behavior
You follow him around all summer. 

"Yes. I noticed, but I didn't want you to know that and stop.  I want to be with you too."

Complain about who will be the tall person in the house to get things out of the cupboards.  (Is this just a short mom thing?)

"You still have a husband, don't you?"

And its companion complaint………Who will be the muscle to pick up the heavy things for you?

"Again………you still have a husband don't you?  Besides little sister is pretty strong, too.

Taking pictures of your son doing all kinds of rather ordinary things. 

"Mom, you are a bit strange.  Why do you need pictures of me doing everything?  OK……..fine.  Wait a minute!  The bathroom is OFF LIMITS!"

Prone to panic attacks…………Every time you look at the calendar and realize the first day of classes is getting closer.  What is the cat going to do without him? 

"Don't worry Mom.  Everything will be OK.  I need you to be OK and the cat will be just fine.  She is already crazy. "

Hours and hours of crying while looking at pictures and creating scrapbooks as we remember how darn cute our little boy was.

"Don't cry Mom.  I want you to be happy for me.  Boy, I was a REALLY cute kid.  Good thing I didn't outgrow that."

The talk. 

"Don't worry Mom.  I fear the wrath of Mom and will only treat girls with respect. Duh!  Why wouldn't I?"

You are willing to do just about anything just to spend a few minutes with him. 

"And I want to spend time with you.  Why do you think that I watch that dancing show every week with you? Do you really think I would care so much about Twitch if it wasn't for you?"

Random stuff makes your burst out into tears……… 

"I might not live with you forever, but I will always be close.  Family is important to me.  Going to college won't change that.  It really hurts me to see you cry.  I'm kind of used to it, but I really want you to be happy for me."

Everything he does is so cute.  You know what I mean.  The way that he doesn't make his bed is suddenly cute. 

"Cool! I really don't like to make my bed.  And yes………..I've always known you think I'm cute.  You have been telling me that since the day I was born I think."

You realize that you have bought him all new socks, underwear, and everything you can find at the "Going to College" section of your local store. 

"I really don't think I need all of this.  A couple of pairs of socks and a notebook.  I'm good, but if you want to keep spending money on me…………who am I to stop you?"

On the positive side………..we can get rid of their dirt. 

"Dirt?  What dirt?  My cleats are full of mud, but I only wore them around the kitchen and living room.  I promise………….at least I don't think I wore them anywhere else.  Hmmm……..it's always possible, I guess." 
Writing these two posts has been truly therapeutic for me.  It has allowed me to hit pause on this busy life that I am always Juggling and truly appreciate my son for who he is.  He is going to be just fine.  I am going to be just fine.  Time passes.  We get older.  Life goes on.  Nothing can change a mother's love for her son and it's so good to know that love is coming right back at you.