Time for another Declutter Challenge.  Are you tired of the clutter weighing your down?  I know I am!  We started the Declutter Challenge with the master bedroom and although I'm still not done with that room, I decided to move to another room that I am motivated to declutter.  Holy cow is my master bedroom cluttered!  I haven't given up on decluttering the master, but I was really excited to get start on the bathroom for some reason.  Weird, huh?  Maybe not……….I do spend a lot of time in the bathroom.  I really don't understand why this relatively low maintenance girl has to spend so much time in the bathroom when my husband only takes about 10 minutes to get ready each day.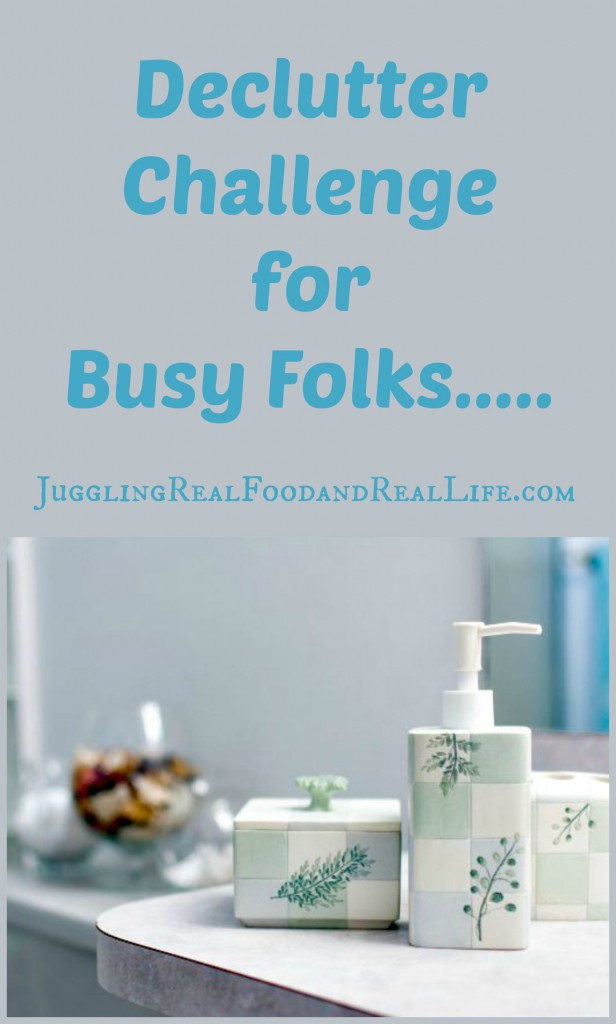 Oh well…………..back to the declutter challenge.
I am working on decluttering the master bedroom slowly.  10-15 items per day.  I found that I was being slowed with sentimental feelings and worry that I would toss something that I would need at a future date.  The bathroom………that's a different story.  How sentimental can you be about old toothbrushes?  Ummmm…………yes, I had a problem throwing away the really cute little toothbrushes that my kids started with.  Don't judge me!  I did finally throw them away.
I decided to declutter my bathroom as a two-session project.  I have a small bathroom so there isn't a lot of storage to hide clutter.  I have a small medicine cabinet and the area under the sink for storage.  Because my bathroom is so small, it is important that it be organized.  No matter the size of your bathroom, organization is key and the only way to be organized is to dump the clutter.  You just can't organize clutter.  Believe me……….I've tried.  It doesn't work.
I have two goals in organizing the bathroom.  The first is to shave a few minutes off my morning routine to allow some extra time for real food prep.  My other goal is to reduce some unnecessary stress.  Where is the brush?  Why can't I find the toothpaste?  Arggghhh!  This place is a mess!  These little aggravations shouldn't be the reason that I start my day in a grumpy mood.  A smoother start to my day will put me in a better mindset to take care of my family and have a more productive day at work.
Common advice is that you should start any declutter project with 4 boxes:
Put away
Storage
Donate/Sell
Garbage
Touch each item once and make quick decisions.  Does it belong in a different room?  Can I sell it?  Can it be stored in another location?  Does it just need to be tossed in the trash? Unlike most rooms, I found that my bathroom really just needed two boxes………"Put Away" and "Garbage".  I threw away a ton from that tiny little room.  You may be surprised how much junk you store in your bathroom.
OK………..I'll  let you get to it.  Start decluttering your bathroom.  Free yourself from the burden of clutter.  I believe in the bathroom, more than anywhere else in the house, the saying, "If in doubt………….throw it out" applies. So get tossing!  Leave me a comment below and tell me about your success stories.  I would also be interested in hearing what obstacles you run across as you clean out the bathroom.  I'll be back soon with more advice and tips to help.  And if you are still battling with the emotional barriers to decluttering, I have help on the way for that as well.  Stay tuned!
If you are looking for help in making the transition to eating more real food, you should check out the Real Food Experience posts. You can get started at the beginning or jump around the challenges. You can find a complete round-up of the program here. Each week's challenge is full of terrific advice to help you transition from fast and processed food to a real food diet. Changes that will help you to live a healthy lifestyle and have the energy to keep up with your busy schedule. I would also love for you to join me on social media. You can find me on Facebook, Twitter, and Instagram on a regular basis. Leave me a comment and let me know you are there. I love to visit with my readers.
You might also be interested in:
Decluttering the Master Bedroom