Welcome back to our Declutter Challenge.  We have been working on our bathrooms and making lots of progress in creating a clutter free and organized environment.  We aren't working to create perfection, but all of this running around that we mothers do with our kids can sure lead to messy homes.  If we can declutter our homes and regain some organization, we will have time to do the things that matter most to us.  I don't know about you, but I'm really tired of always being embarrassed when I can't find things in my own home.  And even worse than that………….. is the last minute "crazy woman" cleaning that I always have to do when someone is coming over to the house.  It's exhausting and quite frankly leaves me cranky!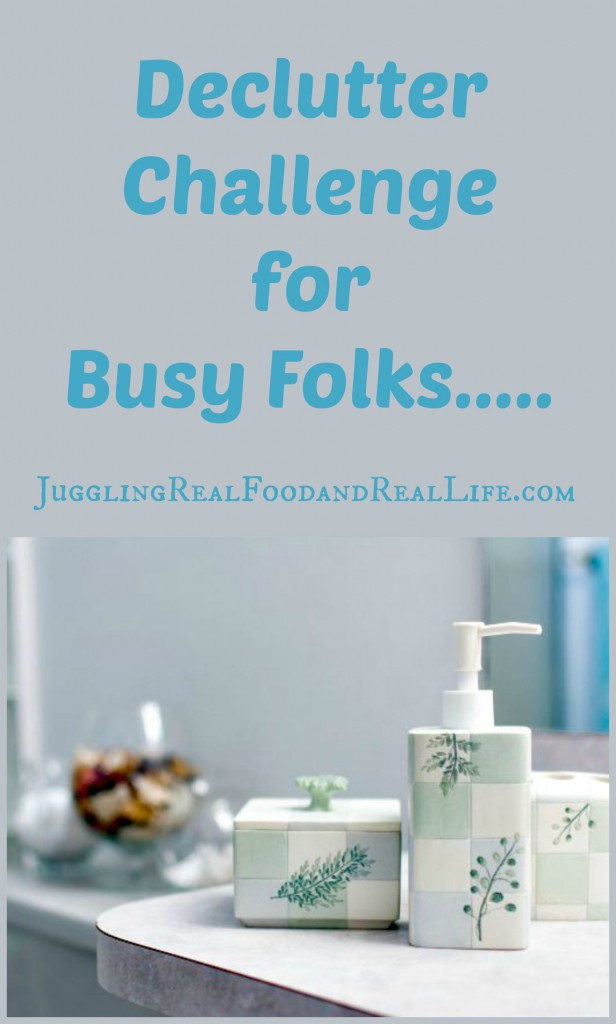 So………….before work, after the kids' activities, a few minutes on Saturday, and any other pocket of time we can find……….. we busy folks have set out to declutter our homes.  While working in the bathroom and happily tossing old junk away, I ran into a few items that slowed me down.  Makeup and medicine.  Hmm………..2 M's.  I should come up with some cool phrase for that.  Anyway……..since I found these two items to be problematic, I thought you might also.  Today, I am sharing with you what I found out about the shelf-life of cosmetics.  I'll be back soon so we can talk about tossing medicines.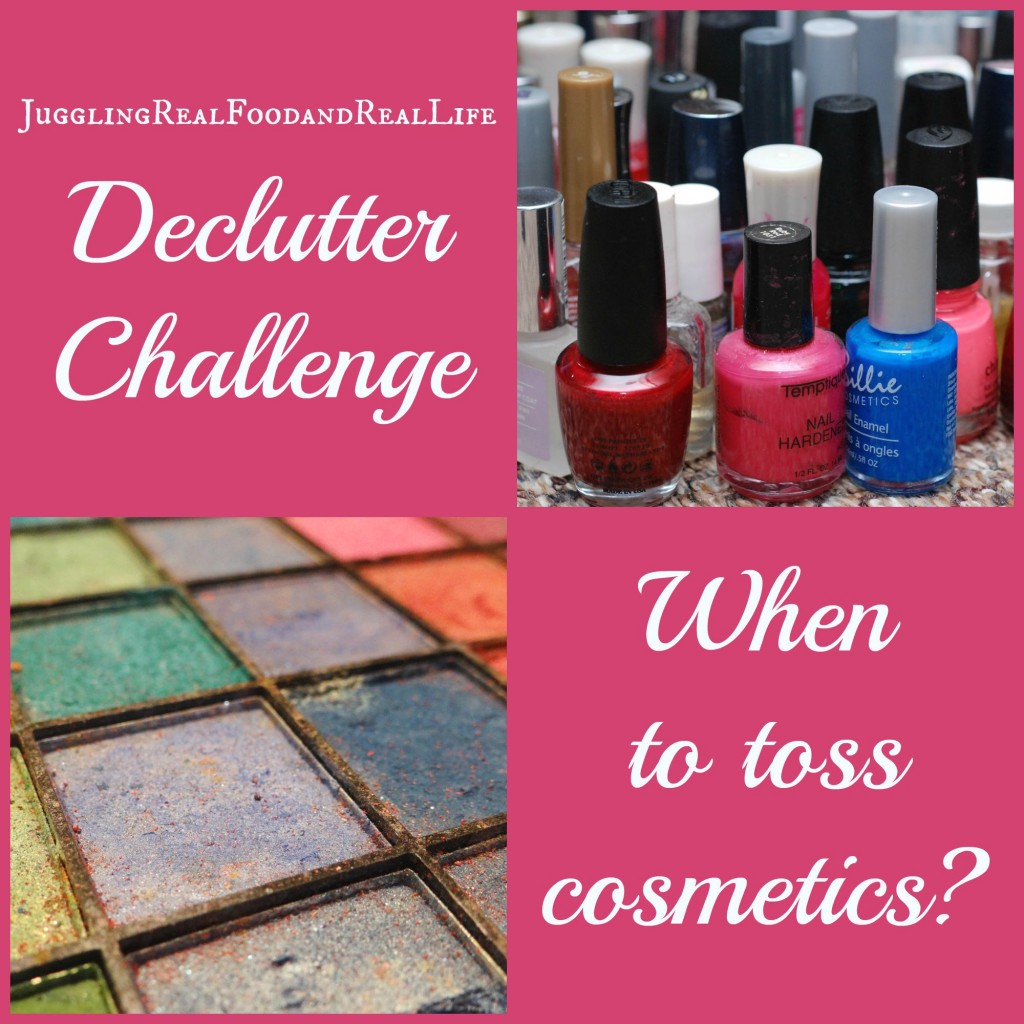 When to toss cosmetics?
There are some great guidelines out there for how long we should hold on to our favorite cosmetics.  However, there are a few contributing factors that should be observed.  Storage matters.  If you toss your makeup in a basket and it lays half open all day, it won't last as long.  Also, if you have a cold sore or eye infection those cosmetics need to be thrown away right away.  Yes, even if they are brand new.  Yes, even if you paid a ton of money for them.  Your health is important, you know!
Mascara:  Toss your mascara after 3 months.  If it becomes dry, toss it right away.  Mascara is really dangerous if you think about it.  And here we thought it just made our eyelashes beautiful.  The risk of transferring bacteria back and forth between your eye and the mascara tube is great.  If in doubt, toss it out.
Eye Pencils:  They can be kept for up to 2 years if they are stored properly and you sharpen them before each use.
Eye Shadows:  Liquid lasts for 12 months and powder can last up to 2 years.
Lipsticks and Lip pencils:  These can last up to two years.  Make sure you sharpen the lip pencil as you do the eye pencil to keep it clean.
Blushes:  Powder blushes can last for 2 years and liquid blushes for a year.
Foundations and Concealers:  Interesting thing I found out………"oil free" foundations and concealers have a shorter shelf life because they dry out quicker.  They should only be kept for 12 months.  Moisturizing foundation and concealers last up to 18 months.
Nail Polish: Properly stored nail polish will last 18-24 months.  If it gets gloppy (is that a technical term?), hard to apply, or takes forever to dry then it should be tossed.
My declutter take-away from this:  If you only use it for special occasions then it is likely to go bad before you ever use it again. Toss it!  If the makeup smells bad or develops a film (no matter how long you have had it) toss it.  It's no good.  If you don't really love it.  Toss it!  You won't wear it anyway.
I really hate to waste money, but I certainly feel better about tossing old cosmetics when I found out that they were probably bad for my health.  Think about it like food…….you wouldn't eat a rotten piece of fruit, would you?  I also have been enjoying the simplicity of having less cosmetics in the cabinet.  The big piles of makeup kept falling on my head and into the toilet.  That's no fun at all.  Decluttering is a great way to reduce the little stressors that occur in our daily lives.  Let's leave that energy for the bigger stressors in our lives.  Like…………who is going to win "So You Think You Can Dance?" The finals are next week and the anticipation is killing me!
OK………….keep tossing.  You can't organize clutter.
If you toss a few items away each day, you will soon declutter the entire room.  I know you are busy.  I totally get it.  I would love to take a whole day and just get it done, but we don't have time for that. (Insert your busy schedule here.) However, think of the time you will save when you are living in a clutter-free and organized home.  A little at a time will get us there.  I know we can do this!
Are you a makeup hoarder?  Do you have any additional advice about the care and storage of makeup?  How do you feel when you declutter an area of your home?
Since I always want you to be thinking about eating real food…………..If you are looking for help in making the transition to eating more real food, you should check out the Real Food Experience posts. You can get started at the beginning or jump around the challenges. You can find a complete round-up of the program here. Each week's challenge is full of terrific advice to help you transition from fast and processed food to a real food diet. Changes that will help you to live a healthy lifestyle and have the energy to keep up with your busy schedule. I would also love for you to join me on social media. You can find me on Facebook, Twitter, and Instagram on a regular basis. Leave me a comment and let me know you are there. I love to visit with my readers.
You might also be interested in: Decluttering the Master Bedroom