I'm back today with another school lunch favorite.  My daughter loves these little cucumber tea sandwiches.  They taste like summer no matter what the weather is like outside and really help to keep her energized all afternoon.  I know they taste fantastic because I eat them too.  She isn't a big fan of the crust on her bread so we can quickly take care of that issue when we make these "super cute" sandwiches.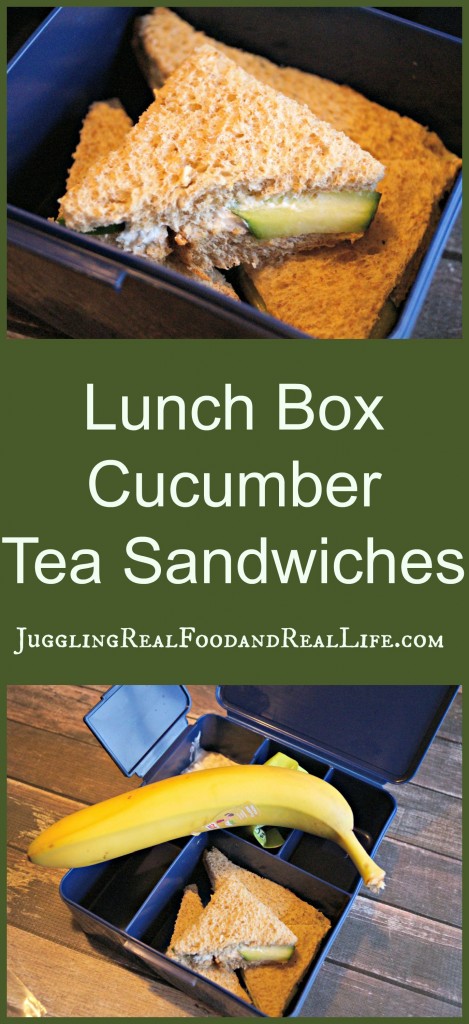 One of our favorite things we like to do for "girls day out" is to have tea at one of our local tea houses.  We gather up all of the women/girls of our family – great grandmother, grandmother, great-aunt, aunt, cousins ……..and spend the afternoon sipping on delicious teas and enjoying a variety of delightful little sandwiches.  We take the time to really relax and enjoy each other's company.  And the best part……..we laugh………a lot!
These little cucumber tea sandwiches are my way to pack a little of that joy into my daughter's lunch box.  As she quickly eats her lunch at school, I hope she takes a moment to think of all of the women in her life and how they are helping to shape her future.  Beautiful, strong, intelligent, loving and fun………..all of the qualities that I hope my daughter inherits from the women of our family.
That's quite a lot of pressure for one little sandwich.  Even if it is delicious!!
Cucumber Tea Sandwiches
School Lunch Favorite: Cucumber Tea Sandwiches
Author:
Christina - Juggling Real Food and Real Life
Ingredients
2 Slices of Whole Wheat Bread
Cream Cheese
Cucumber Slices
Dash of Salt
Instructions
Spread cream cheese on each slice of bread. Make it nice and thick. (to taste)
Place sliced cucumbers one one side of the bread.
Place second slice of bread on top.
Sprinkle salt over the cucumbers and cream cheese.
Cut off bread crusts and cut into 4 triangles.
Notes
We recommend organic ingredients where available.
I hope you enjoy these cucumber sandwiches
.  They are really easy to make which is perfect for busy mornings.  We enjoy the peel on the cucumbers so that cuts out one step for us in preparing these cucumber tea sandwiches.  And for all of you worrying about where the protein is………..cream cheese has protein.  Another reason these are perfect for Meatless Mondays or for the flexitarians in your life. Enjoy these little bites of heaven.
Leave me a note and let me know if you try these cucumber tea sandwiches.  Are you a fan of meatless meals? Have you been to tea house?
If you are looking for help in making the transition to eating more real food, you should check out the Real Food Experience posts. You can get started at the beginning or jump around the challenges. You can find a complete round-up of the program here. Each week's challenge is full of terrific advice to help you transition from fast and processed food to a real food diet. Changes that will help you to live a healthy lifestyle and have the energy to keep up with your busy schedule. I would also love for you to join me on social media. You can find me on Facebook, Twitter, and Instagram on a regular basis. Leave me a comment and let me know you are there. I love to visit with my readers.
You might also be interested in my Lunch Box Resources page.