The official shirt is finally here!  I am so excited to share this with all of you today.  We sure hope you like it.  Make sure to reserve yours now because they are only available until January 25th.  After that………they will be gone.  We are teaming up with Tee-Spring to offer these t-shirts exclusively to you, our readers.
We have always offered the Real Food Experience and all of its resources at no charge.  These t-shirts will help to offset some of the time that we put into the Real Food Experience and allow us to keep it as a free service.  Please consider supporting this flash-sale and strut your real food self all around town in this super cool graphic tee.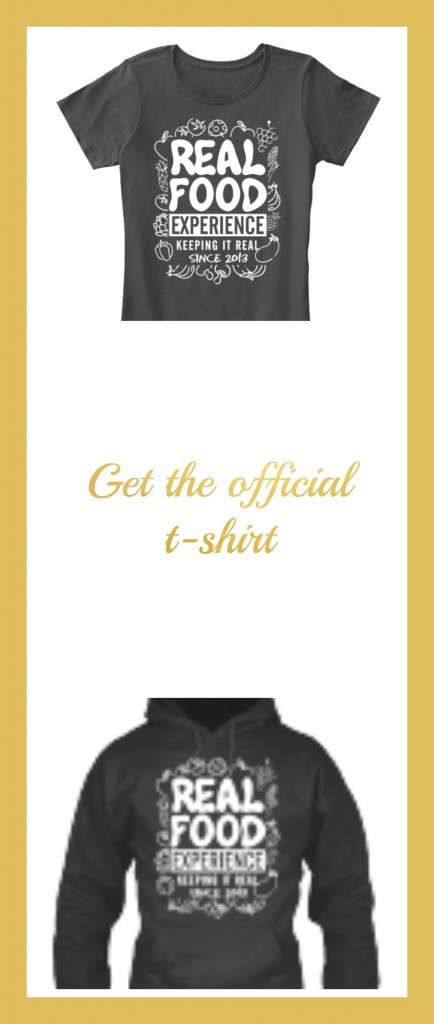 These shirts and sweatshirts are professionally designed and super fun.  Just follow the link over to Tee-Spring and place your order there.  We really want you to celebrate all of the progress you have made on you real food journey.  These shirts make excellent Real Food Experience graduation gifts.  Buy one for yourself and your friends and family who have joined you on this journey.  Show the world that you have made the decision to throw out processed food and join the real food movement.
The t-shirt is available in Men's and Women's sizes and sizes XS to 4XL.  The sweatshirt is available in sizes S – 5XL.  There really is a size for everyone.  Just click on "Available Styles" to make your selection and see the various options.  When you order more than one item, the shipping is reduced for the additional items.  What a deal!  Tee-Spring accepts major credit cards and even Pay-Pal.  They make everything really easy.  You gotta love that.
If you would like more information on the Real Food Experience, you can click over here to get started.  I am passionate about helping families make the transition from processed food to real food.  Changing the way I eat has literally changed my life for the better.  I hope you join us and share your story with others.  Together we are really making a difference in the lives of families.