Welcome back to Day 4 of Freedom from Clutter in 40 Days.  We are moving right along and making quite a bit of progress decluttering our homes.  If you are tired of the burden of clutter then this series is for you.  Day by day we are getting rid of the items that weigh us down, slow us down, and get in the way of having time to spend with our families. What is really fun about this project is that we are sharing our real struggles with clutter.  There are no organization experts here.  We are just real people sharing our real life experiences with our frustrations and joy as we declutter our homes.
We invite you to join our special Facebook group to share your ideas, joys, concerns, and declutter stories with us.  Together, we are learning to find Freedom from Clutter.  This is a focused 40 day program, but we plan to keep the group going all year long.  You can join at any time.  We can't wait to talk to you over there.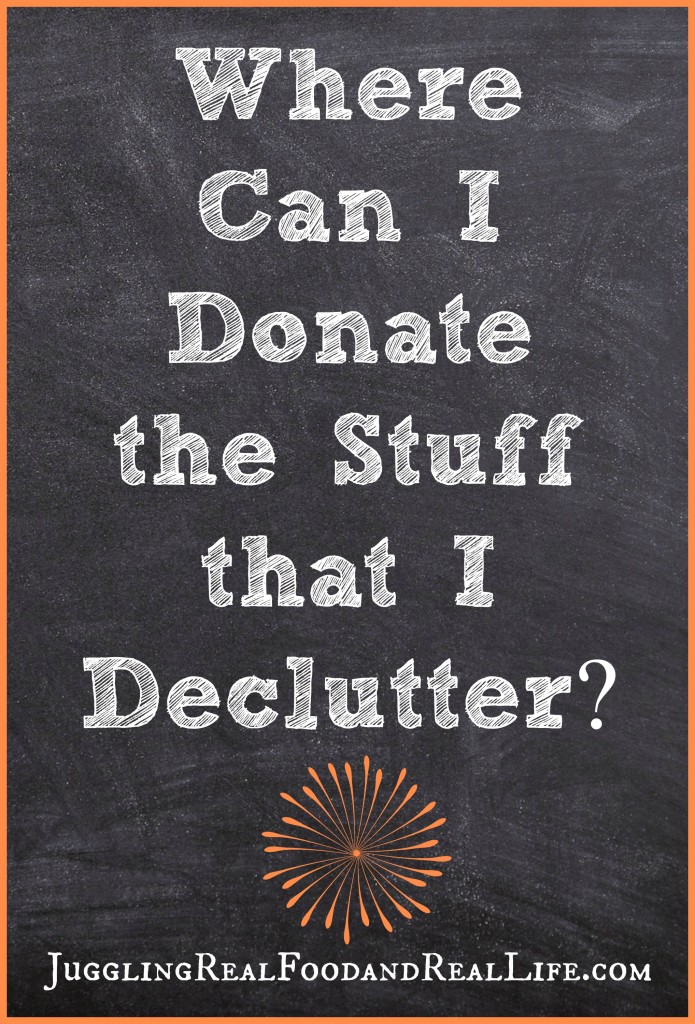 I have discovered since I decided to declutter that I carry a lot of baggage about my stuff.  I work very hard, have lots of bills, and with kids in college I don't have a lot of extra money to spend. As a result, I really hate to get rid of stuff.  What if I need it down the road?  I can't afford to buy things twice.  I am training myself to rethink my material possessions.  As the saying goes, "Pray more.  Worry less."  I know that my God will always provide for me and my family.  I need to quit worrying about us and think about how I can be a help to others.  Without being too full of myself…..there are ways that I can be the answer to some other family's prayers.
There are lots of charitable organizations that can use your stuff.  Today, I am going to share 3 of my favorite.  Each one that I use has easy drop-off sites or pick up in my neighborhood on a regular basis.  As I toss clothing that no longer fits my kids, toys and books that they are too old for, and various household items that I am no longer in love with……….I think about those items going into another family's home.  I imagine the joy that those items bring to them and I smile.  It really feels good to declutter when you feel like you are doing God's work.
Salvation Army: The mission of the Salvation Army is "The Salvation Army, an international movement, is an evangelical part of the universal Christian church. Its message is based on the Bible. Its ministry is motivated by the love of God. Its mission is to preach the gospel of Jesus Christ and to meet human needs in His name without discrimination."  You can schedule a pick-up going to their website here.
Goodwill:  Per Goodwill's website "Goodwill® is a nonprofit organization that exists for one purpose: to eliminate barriers to opportunity and help people in need reach their full potential through learning and the power of work. For more than a century, Goodwill has worked in communities to help people with disabilities, disadvantages and anyone facing challenges to finding employment including youth, seniors, veterans, immigrants, and people with other specialized needs totaling 6.7 million people last year. Every 33 seconds of every business day, someone gets a job with Goodwill's help. That is our mission which our business model helps us achieve. Collectively 82 percent of the revenue generated through our stores, e-commerce sites, and contracts go right into our mission"  You can find out how to donate here.
Easter Seals:  Per Easter Seals website their mission is "Easter Seals provides exceptional services, education, outreach, and advocacy so that people living with autism and other disabilities can live, learn, work and play in our communities. Easter Seals has been helping individuals with disabilities and special needs, and their families, live better lives for more than 90 years. From child development centers to physical rehabilitation and job training for people with disabilities, Easter Seals offers a variety of services to help people with disabilities address life's challenges and achieve personal goals."  You can call their toll-free number at 1.800.708.2716 to schedule a pickup, or schedule here.
There are lots more organizations that take donations. You can find your favorite just by doing a quick Google search.  These are 3 of my favorite because I know they are reputable and their values align with mine.  They also make making donations very easy.  What are your favorite places to donate your stuff to?  How often are you purging your home of items you no longer need?
Remember……..you can't be a blessing to others if you allow your unused items to sit in storage totes.  Get your stuff out and donate it to one of these wonderful organizations.  Do it with a smile and feel the warmth in your heart.
On another note……..if you are interested in simple recipes your family is sure to love make sure you check out my recipe index.  I am adding new recipes all of the time so make sure you check back often.  You will also want to grab this free meal-planning printable calendar to make your meal planning easier.  It has areas to plan your daily activities and your evening meal prep.
For more in the Freedom from Clutter in 40 Days series click the image below.