Welcome back to Day 5 of Freedom from Clutter in 40 Days.  We are making quite a bit of progress decluttering our homes as we are working through this 40 day program.  If you are tired of the burden of clutter then this series is for you.  Day by day we are getting rid of the items that weigh us down, slow us down, and get in the way of having time to spend with our families. What is really fun about this project is that we are sharing our real struggles with clutter.  There are no organization experts here.  We are just real people sharing our real life experiences with our frustrations and joy as we declutter our homes.
We invite you to join our special Facebook group to share your ideas, joys, concerns, and declutter stories with us.  Together, we are learning to find Freedom from Clutter.  This is a focused 40 day program, but we plan to keep the group going all year long.  You can join at any time.  We can't wait to talk to you over there.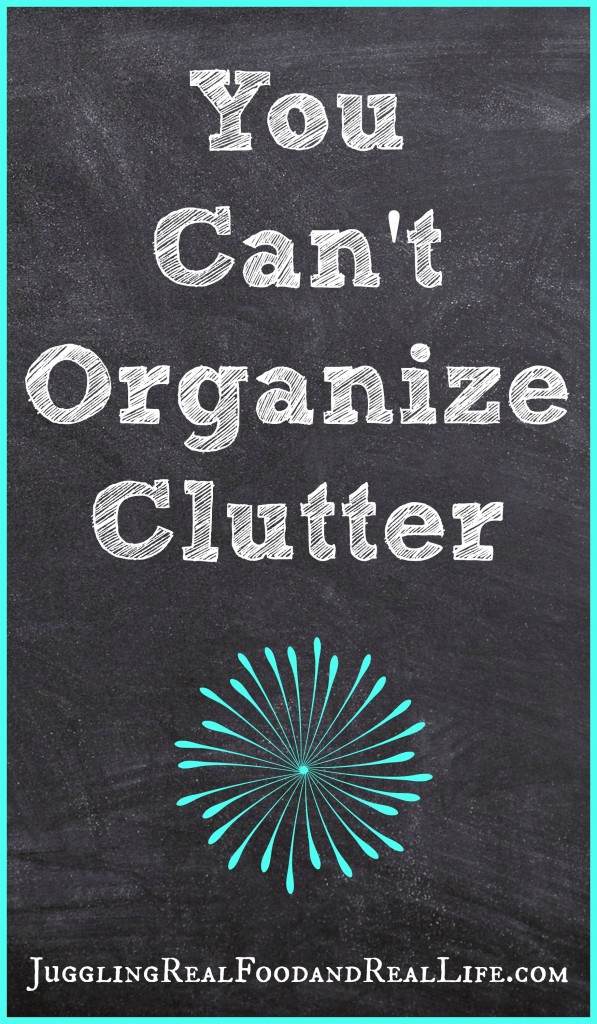 [bctt tweet="You can't organize clutter. Join the Freedom from Clutter in 40 Days challenge."]
You Can't Organize Clutter!
We are now a few days into our whole house decluttering.  We've cleared quite a bit of trash and made some donations and it has been pretty easy so far.  Most declutter projects start with lots of shopping.  You probably think that you need to run out and purchase a bunch of new bins, totes, baskets, and other organization tools.  You would be wrong.  You can't organized clutter.  Sure baskets and bins are a great way to stay organized, but before you go shopping, you need to downsize and then do it again.  When you are fully done with the decluttering process, it will be time to get organized and put things back.  Until then……….let's focus on getting rid of stuff and not purchasing anything new.  There is plenty of time for that later.
Today, let's choose a drawer that has been driving you crazy.  Toss those things you don't need and those things you don't love.  If you have not used an item in over a year, there is a good chance that you don't need it.  One of the things that helps me is thinking that "I deserve nice things." If the item is broken, less than functional, not beautiful, or doesn't fit then it's time to get rid of it.  Give it to a friend, recyle it, throw it away, or donate it.  It doesn't need to be in your home.
Less clutter means your home will be easier to keep up.  Your home will be easier to clean and items will be easier to find.  Imagine a life where you can say to your family, "Second shelf to the right is where you will find it."  Rather than combing through piles and piles of stuff (crap) you will be able to find exactly what you need when you need it.
What do you find most difficult about decluttering?  How many times do you have to declutter an area in your home before you feel it is fully decluttered?
Only when you have completely decluttered an area to the point that you only have items that you truly love and need should you begin the organization process.  I have found lots of roadblocks as I declutter my home.  Sometimes one drawer takes several hours or even a few days when emotion takes over.  Stay the course and declutter until you are satisfied that you truly love and need everything you have left in your home.  Remember our Facebook group is here to support you all along the way.  Everything is easier with friends to help.
On another note……..if you are interested in simple recipes your family is sure to love make sure you check out my recipe index.  I am adding new recipes all of the time so make sure you check back often.  You will also want to grab this free meal-planning printable calendar to make your meal planning easier.  It has areas to plan your daily activities and your evening meal prep.
For more in the Freedom from Clutter in 40 Days series click the image below.