Welcome back to Day 6 of Freedom from Clutter in 40 Days.  We are making quite a bit of progress decluttering our homes as we are working through this 40 day program.  If you are tired of the burden of clutter then this series is for you.  Day by day we are getting rid of the items that weigh us down, slow us down, and get in the way of having time to spend with our families. What is really fun about this project is that we are sharing our real struggles with clutter.  There are no organization experts here.  We are just real people sharing our real life experiences with our frustrations and joy as we declutter our homes.
We invite you to join our special Facebook group to share your ideas, joys, concerns, and declutter stories with us.  Together, we are learning to find Freedom from Clutter.  This is a focused 40 day program, but we plan to keep the group going all year long.  You can join at any time.  We can't wait to talk to you over there.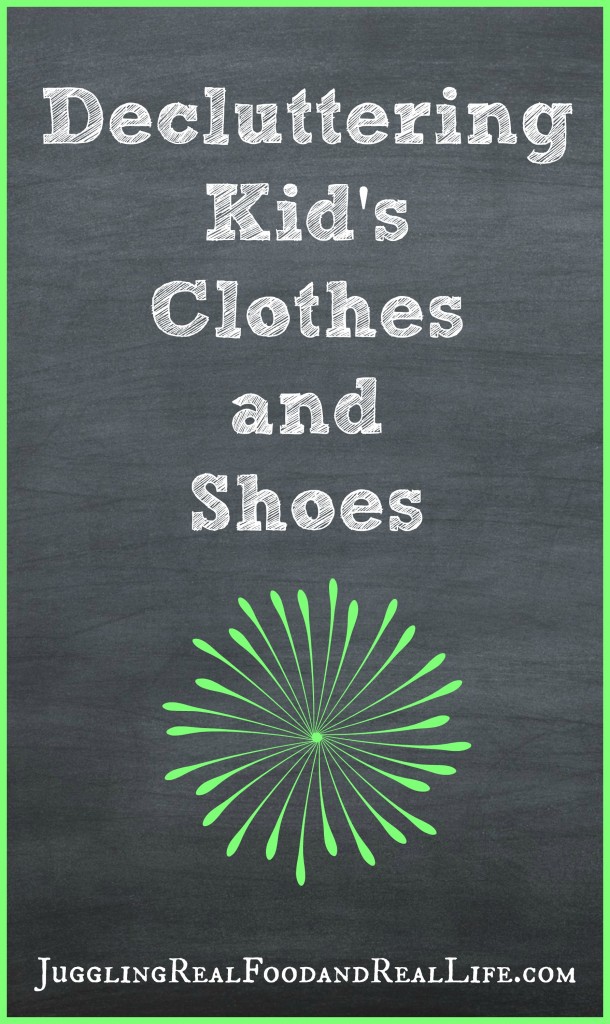 Decluttering Kids Clothes and Shoes
Do you struggle with the fear of "not having enough"?  I do.  I worry all of the time that my kids won't have enough pants to wear.  They will run out of pjs for the week.  Nothing says, "I love you" like clean underwear so my kids better have 500 pairs of underwear just in case I don't have time to do laundry.  I find the fear of not having enough particularly troublesome when it comes to decluttering my kids' clothes and shoes.  Sure, they grow out of their clothes in the blink of an eye and stain and rip the rest, but that doesn't mean I need to get rid of them.  Umm……yes, that is exactly what it means.
I have been holding on to my kids' clothes for way too long.  I hold on to clothes to pass to the next one in line and that is often my reason for holding on to items.  That makes sense, but there is no girl behind my daughter.  Why do I insist on holding on to her clothes?  I hold on to tank tops that are too small because she just wears them under other clothes.  I hold on to pjs that are way too short because "what does it matter nobody sees them".  I hold on to beautiful clothes because they are beautiful even when they don't fit.
If any of this sounds familiar,then I'm glad I'm not alone.  As the song goes, it's time to "Let it go."  We need to let go of the beautiful babies they were and embrace our children for who they are today.  We also need to remind ourselves that they deserve nice things too.  There is no need to hold on to clothes that don't fit, are stained, or heaven forbid they never even liked.  These clothes are just going to get tossed into the laundry pile time and time again and not worn.  These clothes also get in the way of clothes that do fit.  There simply isn't room in the drawers for all of that and it's going to end up on the floor.  I know because that is what I see going on with my kids.
Get out a trash bag and a donation bag/box.  Quickly work through the drawers and closets.  Anything that is worn out or stained goes into the trash.  Anything that is too small goes into the donation pile.  Keep in mind your kids will likely outgrow their clothes by the next season so there really is no need to hold on to shorts or sundresses from summer to summer.  Put those in the donation pile rather than into long-term storage.  Then……get rid of it.  Don't let it sit in the room and become clutter.  Don't put it in the basement, garage, or attic.  Donate these items so that they can be a blessing to another family that really needs this clothing.  If you are looking for places to donate your clothes and shoes, refer to my donation guide.
What scares you the most about decluttering items from your home?  How many pairs of underwear is "enough" for your family?  What area of the home do you struggle to declutter the most?
On another note……..if you are interested in simple recipes your family is sure to love, make sure you check out my recipe index.  I am adding new recipes all of the time so make sure you check back often.  You will also want to grab this free meal-planning printable calendar to make your meal planning easier.  It has areas to plan your daily activities and your evening meal prep.
For more in the Freedom for Clutter in 40 Days series, click the image below.