Coffee.  There is just something about coffee that we mothers love.  I'm pretty sure that a lot of us would not exist without coffee.  Busy schedules full of lots of activity.  Late nights up with sick kids and piles and piles of laundry to contend with.  I've also noticed that I am pretty rare in that I like to drink my coffee black.  No sugar.  No creamer.  Just good strong coffee.  I love it!  However, every once in a while I get in the mood for a coffee treat.  Something sweet and delicious.  Most of my friends make daily stops at Starbucks or their local gas station for artificially flavored coffee drinks.  I've got a lot of questions lately about how to flavor their coffee if they "eat like I do."  Should you have to give up the flavor just because you are now living the real food lifestyle?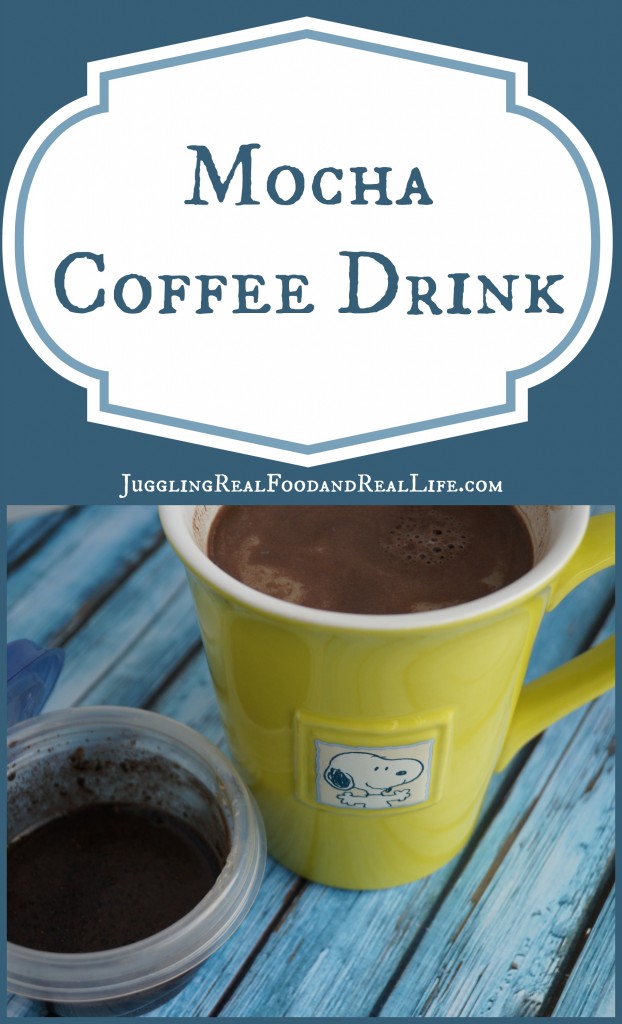 My Mocha Coffee drink recipe does not use any artificial flavors or artificial anything.  As always, the flavor is made brilliant (I think that is Jamie Oliver's influence over me because he always says brilliant) by the quality of ingredients you use.  I don't use any fancy equipment like an espresso machine or milk frother.  I am not against those items.  I just don't have an espresso machine or milk frother.  Maybe some day………but until then I'm sticking with this super easy method to make my special coffee drinks.
I make the chocolate syrup ahead of time using this real food chocolate syrup recipe.  As a result, this special Mocha Coffee drink takes no time to make.  In a pinch, you could also just throw the ingredients in your cup and give it all a stir.
Mocha Coffee Drink
Recipe: Mocha Coffee Drink
Author:
Christina - Juggling Real Food and Real Life
Ingredients
1 teaspoon Real Food Chocolate Syrup
⅓ of the cup Milk (actual amount of milk depends on your cup size)
Strong brewed coffee
Instructions
Warm milk in a pan or the microwave.
Pour freshly brewed coffee into the cup
Stir in 1 teaspoon of the Real Food Chocolate Syrup
Notes
We recommend using organic ingredients when available.
I promise you are going to love this Mocha Coffee drink
.  It is so good.  I like to use my favorite Snoopy mug that I got at Cedar Point and take the time to think about how much fun my family had on our trip last summer.  I then let my mind wander and relax.  Mocha coffee drinks aren't about "getting things done."  Mocha coffee drinks are my time to stop and relax for a moment.  Won't you join me?  You deserve to relax once in a while, too.
For a truly decadent treat, you will want to try topping your drink with my maple whipped cream.
How often do you take a "time out" just for yourself?  What is your favorite way to relax?  What other coffee drinks would you like to see a real food recipe for?  Leave me a comment and let's get the conversation going.
For more simple recipes your family is sure to love make sure you check out my recipe index.  I am adding new recipes all of the time so make sure you check back often.  You will also want to grab this free meal-planning printable calendar to make your meal planning easier.  It has areas to plan your daily activities and your evening meal prep.