Today is Day 1 of the Freedom from Clutter in 40 Days Challenge.  Like most big projects, it makes sense to get organized first.  If we simply say, "I am going to declutter my house."  That is an overwhelming project.  My mother taught me from a rather young age to divide up projects into smaller projects.  When cleaning up my room (again as a child and really to this day) she taught me to work on the room in sections and then take small breaks in between so that I would not become overwhelmed.  This is a plan that is echoed by cleaning and organization expert FlyLady.  She advises setting a timer for 15 minutes.  This 40 day challenge is not something that you want to burnout out on by Day 2.  You are in this for the long haul so that at the end you can enjoy all of the freedom that a clutter-free home brings.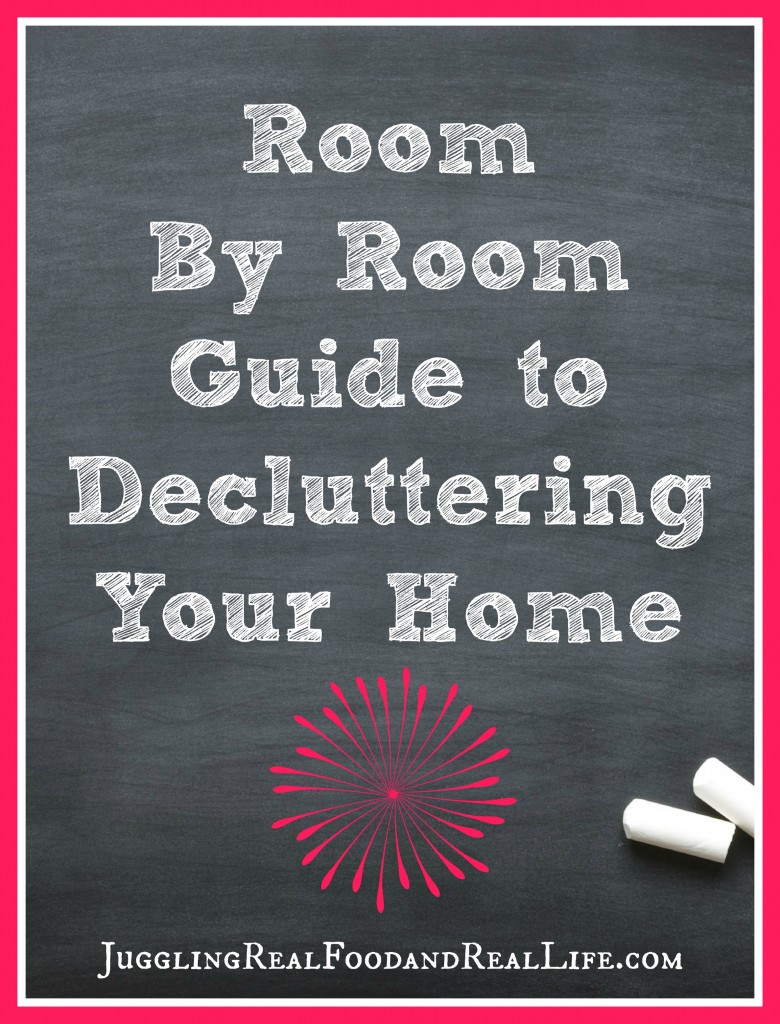 Ok………on to the organization.  Let's get out a notebook and write down the different areas of your home that you want to declutter.  This list will not be the same for everyone, but I am including a room by room guide here to help you create your list.  You may not get to every area of your home in just 40 days, but boy can you put a huge dent into that clutter if you keep focused on moving things out of your house every day.
Kitchen (the heart of a real food home)
upper cabinets

lower cabinets

all drawers

under the sink

drawers

pantry

refrigerator (inside and out)

top of the refrigerator

freezer

spice cabinet/rack

countertops

any additional furniture in the room like microwave stands, etc.
Living Room/Family Room/Rec Room
entertainment center

toy storage

 desk

side tables, drawers

DVD/VHS/CDs/Games

magazine storage

books, bookshelves

chest or ottoman storage

display shelves
Bedroom
under the bed

dressers

closets

bedside tables

bookshelves

desk/other furniture in the bedroom

chest

toy storage (for a child's room)
Foyer/Front Closet/Mudroom
shoe storage

coat storage

mail

baskets/storage totes

backpacks

purses

shopping bags

desk

table

storage unit

pet supplies/toys
Dining Room
dining table

buffet or side table

hutch

china cabinet

bookshelves

other furniture
Other Areas
basement/attic/garage

laundry room

linen closet

bathroom

toy room

craft storage

office

deck/porch/patio

car/truck/van
Want to join us in our efforts to gain the freedom that a clutter-free home provides? Join our Freedom from Clutter in 40 Days Challenge and get caught up here.  You can start anywhere along the way.  Make sure to join our special Facebook group where you can share your progress, get motivation, and support others.
Have fun tossing!
What areas of your home are you going to work on first?  Is there anything you would add to this list??
If you are interested in simple recipes your family is sure to love make sure you check out my recipe index.  I am adding new recipes all of the time so make sure you check back often.  You will also want to grab this free meal-planning printable calendar to make your meal planning easier.  It has areas to plan your daily activities and your evening meal prep.
Are you ready for Day 2?  Click on the image for more decluttering tips.