Welcome back to Day 23 of Freedom from Clutter in 40 Days. We are more than halfway done! If you are tired of the burden of clutter in your home then this series is for you. Day by day we are getting rid of the items that weigh us down, slow us down, and get in the way of having time to spend with our families.
We invite you to join our special Facebook group to share your ideas, joys, concerns, and declutter stories with us. Make sure to share this with a friend who wants help decluttering. Together, we are learning to find Freedom from Clutter. This is a focused 40 day program, but we plan to keep the group going all year long. You can join us at any time. What is really fun about this project is that we are sharing our real struggles with clutter. There are no organization experts here. We are just real people sharing our real life experiences including our frustrations and joy as we declutter our homes.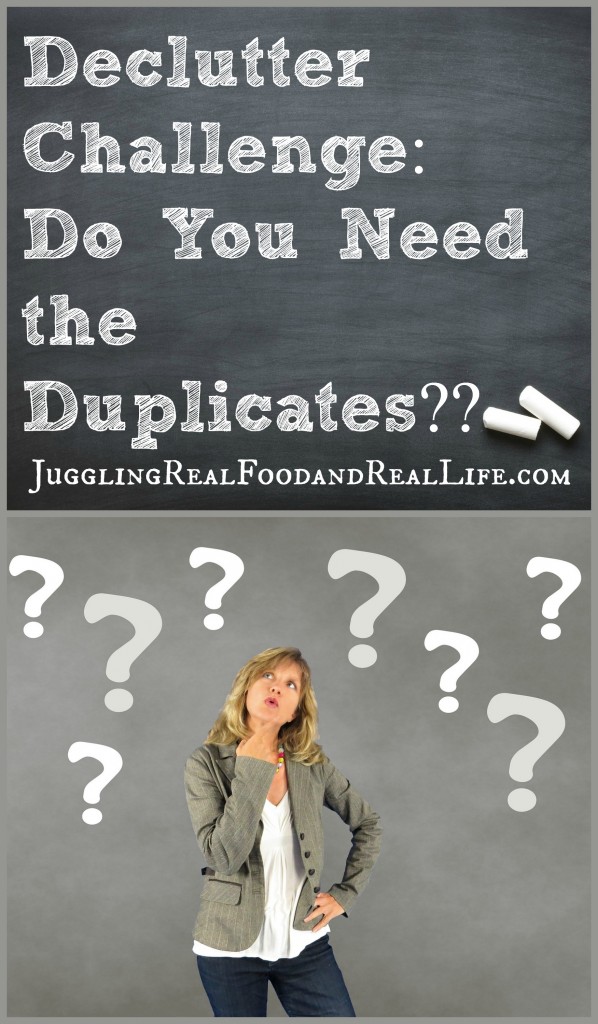 Ditch the Duplicates
As I am sitting here thinking about what I am going to write today, the Beatles song "All You Need is Love" is playing on the radio. Yes, it's an oldies station and not 1967 when I'm writing this. For the record……….I wasn't even born in 1967 so how could I be writing this in 1967? Oh right………..back to the subject. Instead of singing the correct words, I have changed them to "All You Need is Less". Less stuff. I recently read a statistic that said 1 in 10 people in the United States rents a storage space. Whether or not that is true, I don't know. What I do know is that there are a lot of storage spaces popping up all around me and somebody has to be keeping them in business.
If you are a person who is actually paying to store your stuff (not because you are moving, but because you have too much stuff) you should consider decluttering. If you often think that you need a bigger house or don't have enough storage space, you should consider decluttering. If you like to stock up at sales on storage totes, you should consider decluttering. So many of us are living under the burden of clutter. We trip over things, can't find things, and waste money all because we have too much clutter in our homes.
One quick solution to clutter is to think about duplicates. Why do you have duplicates or other multiples of items? I have 3 crock pots and actually use them all, but I certainly don't need more than one toaster. How many pens does one person need? I like to have duplicates of sheets and towels for my family, but how many is too much? Take a look at your linen closet and determine what you have room for. Donate the rest.
[bctt tweet="Think you need a bigger kitchen? Maybe you just need to get rid of the duplicates."]
My kitchen is probably the worst offender of the duplicate problem. Over the years, I have upgraded some of my small kitchen tools like peelers and spatulas, but never thought to get rid of the old items. As a result, I have lots and lots of duplicates. Just this week, I mentioned that I really want to purchase stainless steel measuring cups. My husband said, "Good, does that mean we can get rid of the other 3 sets you have?" Very funny, honey. However, he has a point. After purging all of the duplicates, I was amazed to find that my kitchen felt much bigger. It's still a small kitchen, but it functions much better now and that is what we are all striving for.
Tell me about your duplicates. Leave me a comment and let me know what you are keeping duplicates of? Let's see who keeps the most of any one item. Is it easy to part with the duplicates or are you emotionally attached for some reason?
On another note……..if you are interested in simple recipes your family is sure to love make sure you check out my recipe index. I'm sure you are hungry after all of your decluttering! I add new recipes all of the time so make sure you check back often. You will also want to grab this free meal-planning printable calendar to make your meal planning easier. It has areas to plan your daily activities and your evening meal prep to keep you organized.