Welcome back to Day 22 of Freedom from Clutter in 40 Days.  We are more than halfway done!  If you are tired of the burden of clutter in your home then this series is for you.  Day by day we are getting rid of the items that weigh us down, slow us down, and get in the way of having time to spend with our families.
We invite you to join our special Facebook group to share your ideas, joys, concerns, and declutter stories with us.  Make sure to share this with a friend who wants help decluttering.  Together, we are learning to find Freedom from Clutter.  This is a focused 40 day program, but we plan to keep the group going all year long.  You can join us at any time.  What is really fun about this project is that we are sharing our real struggles with clutter.  There are no organization experts here.  We are just real people sharing our real life experiences including our frustrations and joy as we declutter our homes.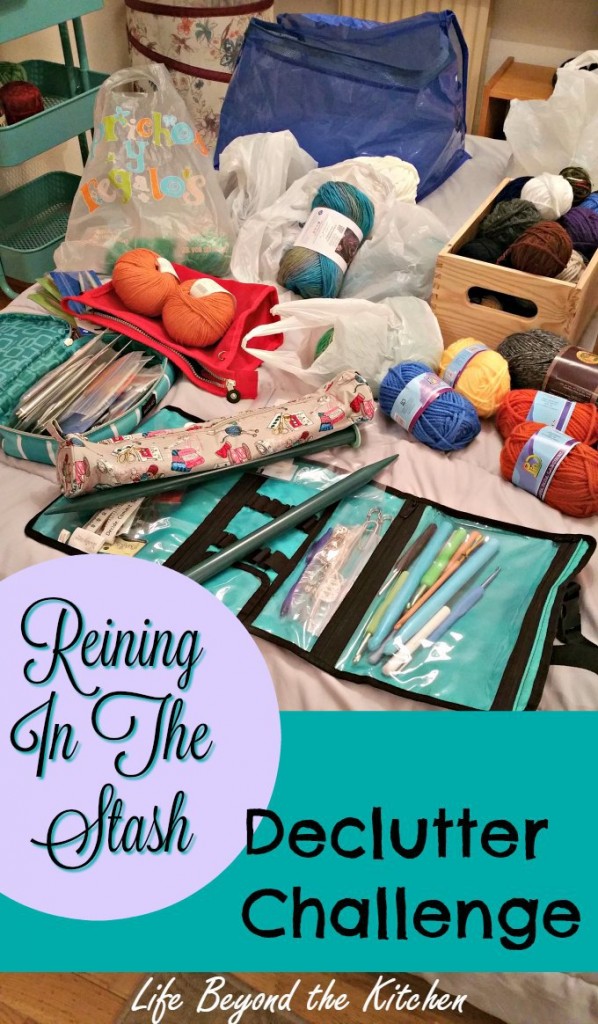 [bctt tweet="Want motivation to declutter your craft supplies? @LFlexKitchen is just what you need. "]
Clearing Out the Craft Stash
Lydia is back today to share her story of clearing her yarn supply.  Craft supplies can quickly overcome a space.  We all want the latest and greatest so we keep adding to our stash and we never remove anything from our collections.  However, it is important to declutter our craft spaces on a regular basis to maintain an organized craft area.  Whether it be a room, closet, or other space designated in our homes, the clutter loves to grow on us.  Soon we start looking for more and more space to stash our craft supplies.  Me and my scrapbooking supplies can relate all too well to this post from Lydia.  Check out Clearing Out the Stash if you need some encouragement to tackle decluttering your craft supplies.
On another note……..if you are interested in simple recipes your family is sure to love make sure you check out my recipe index.  I'm sure you are hungry after all of your decluttering!  I add new recipes all of the time so make sure you check back often.  You will also want to grab this free meal-planning printable calendar to make your meal planning easier.  It has areas to plan your daily activities and your evening meal prep to keep you organized.
Want more?  Keep reading more in the Freedom From Clutter in 40 Days series by clicking on the image below.