Welcome back to Day 21 of Freedom from Clutter in 40 Days.  If you are tired of the burden of clutter in your home then this series is for you.  Day by day we are getting rid of the items that weigh us down, slow us down, and get in the way of having time to spend with our families.
We invite you to join our special Facebook group to share your ideas, joys, concerns, and declutter stories with us.  Make sure to share this with a friend who wants help decluttering.  Together, we are learning to find Freedom from Clutter.  This is a focused 40 day program, but we plan to keep the group going all year long.  You can join us at any time.  What is really fun about this project is that we are sharing our real struggles with clutter.  There are no organization experts here.  We are just real people sharing our real life experiences including our frustrations and joy as we declutter our homes.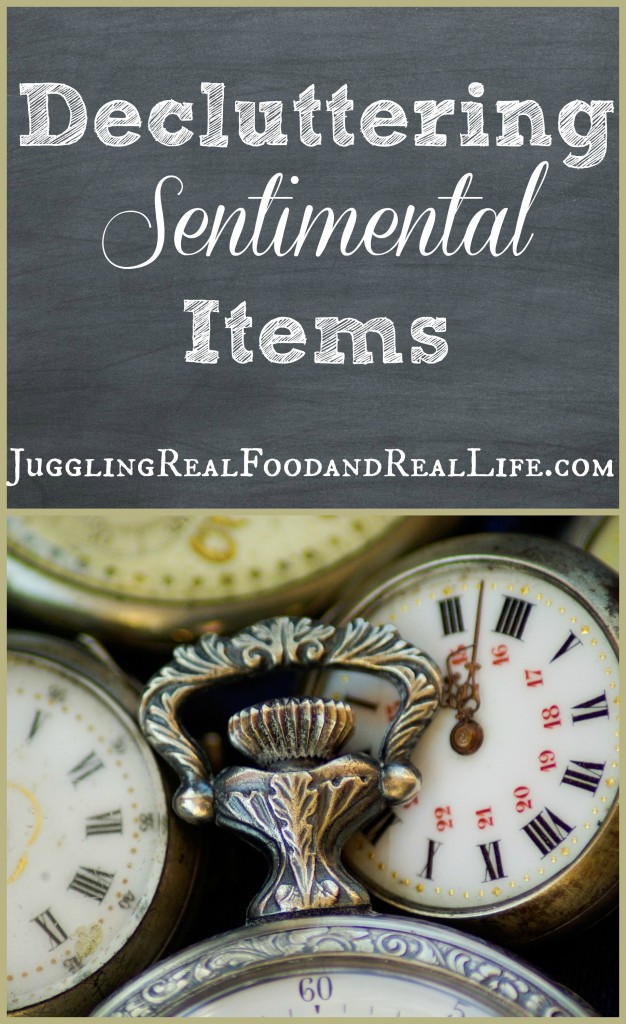 Decluttering Sentimental Items
Let me start with this very important point.  I am a very sentimental person.  Family is everything to me so decluttering my loved ones stuff from my home is not easy.  I not only live in the present, but I also live in the joy of my memories.  I think that is why I like scrapbooking so much.  It's a great way to hold on to those memories for a good long time.  I know it's not just me.  Just look at how popular it is to share past Facebook memories.  Memories are a celebration of a great life.
Today, I've decided to talk about decluttering sentimental items from family members who are no longer with us.  Not an easy subject for sure.  There may just be a few tears shed as I write this.  Bottom line for me.  People matter.  Stuff doesn't.  I try to make sure that my loved ones know that I love them so that when they are no longer with us, I don't have any regrets.  It helps.
A home can quickly become overwhelmed with stuff when a loved one passes away.  You had a full house before.  You have a fuller house now.  It is easy to feel obligated to hold onto items when they come from a deceased relative.  Whether or not we like or need these items doesn't really seem to matter.  We hold onto these items because we feel we must. This can cause unnecessary stress and unhappiness when we don't know what to do with these items. We don't really want the item, but feel forced to hold on to them anyway.  There may even be some guilt when we think of letting these items go.  It may be the time to let these items go.  Remember your happiness is important and a cluttered home is not bringing you joy.  In situations like these, you can find someone else who will find these items useful and be a blessing to them.
What I have decided to do is to hold on to a few items that really do bring me joy.  I choose to hold on to one or two items that I really love.  Boxes and boxes of my loved ones belongings in storage don't bring me joy.  How can they?  They are in boxes in the attic.  I have found that a few items placed out where I can see them brings me so much more joy than boxes in the attic.  I think it's a better way to honor their memory.
I have memories sprinkled all through my house rather than cluttering my attic.  It feels good to see these things on a daily basis.  Really think about which items are the best reminders of your loved ones and keep those items.  The rest can be donated to other families and they can create their own memories.  I hope this makes sense to you and is a help to you.  Leave me a comment and let me know how you handle sentimental items.  What things do you find the hardest to let go?  What creative ways have you found to display sentimental items?
On another note……..if you are interested in simple recipes your family is sure to love make sure you check out my recipe index.  I am adding new recipes all of the time so make sure you check back often.  You will also want to grab this free meal-planning printable calendar to make your meal planning easier.  It has areas to plan your daily activities and your evening meal prep.
Want more?  Keep reading the Freedom from Clutter in 40 Days series by clicking the image below.