Welcome back to Day 20 of Freedom from Clutter in 40 Days.  If you are tired of the burden of clutter in your home then this series is for you.  Day by day we are getting rid of the items that weigh us down, slow us down, and get in the way of having time to spend with our families.
We invite you to join our special Facebook group to share your ideas, joys, concerns, and declutter stories with us.  Make sure to share this with a friend who wants help decluttering.  Together, we are learning to find Freedom from Clutter.  This is a focused 40 day program, but we plan to keep the group going all year long.  You can join us at any time.  What is really fun about this project is that we are sharing our real struggles with clutter.  There are no organization experts here.  We are just real people sharing our real life experiences including our frustrations and joy as we declutter our homes.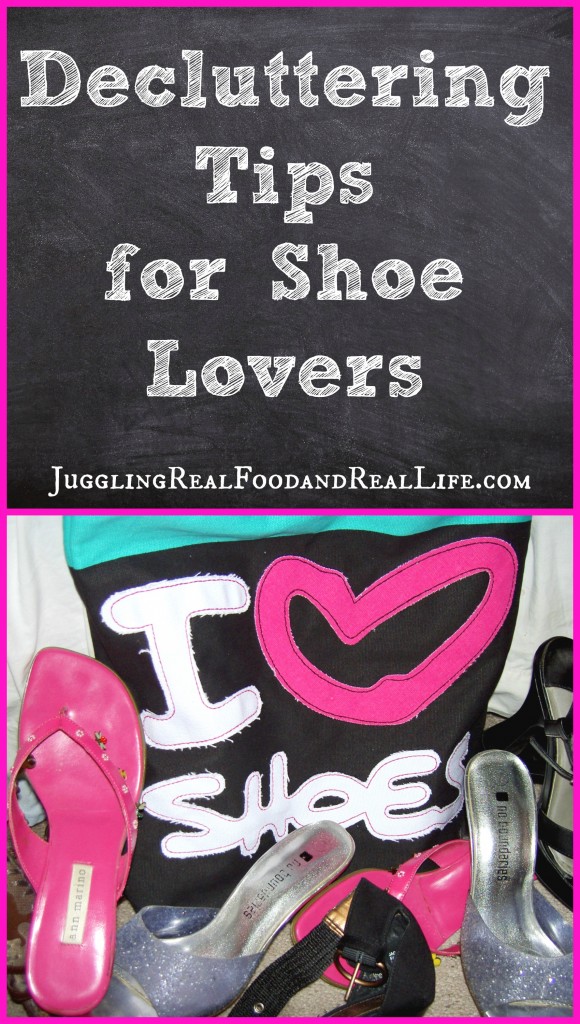 Decluttering Tips for Shoe Lovers
We have been working on decluttering our closets and drawers so you know that I had to eventually get to your shoes.  Once again, it is easy to declutter children's shoes.  If the shoes no longer fit or your child has completely worn out, it's easy to decide to part with them.  Toss the old ones in the trash or donate those that still have some wear left in them.  For those of you who don't have many shoes, you probably are already following a "one in and one out rule".   That is to say that when you are done with a pair of shoes, you simply go out and shop for a new pair to replace them.  For some of us though, it's not quite easy.  If you are of the belief that you can never have too many shoes, then I'm talking to you.
Let's start with a little background on me.  I love shoes!  Always have and always will.  It doesn't matter what size I wear, the right shoe always helps me to feel better about what I'm wearing.  Nice shoes are a bit of my signature style.  If you still haven't figured me out yet, I belong to the shoe of the month club.  Yes, I'm that girl.  I'm so much that girl that I don't always leave it at one pair of shoes per month.  Sometimes the shoe of the month club runs sales and I just have to stock up on great deals.  I buy shoes like some people buy toilet paper.  I'm working on that.
You may remember from previous posts that I also have one of the smallest closets known to man.  Obviously, my closet is overflowing with shoes and boots.  My husband loves me to look good, but I know that the number of shoes I own drives him crazy.  Perhaps, it has something to do with the injuries he sustains due to tripping over my shoes all of the time.
In my attempt to declutter my shoes, I have created some guidelines to help.  This is not going to be easy.  You may as well ask me to declutter my children.  That may actually be easier.  Ummmm…Just kidding of course!  Here are the guidelines that I'm going to use to declutter my shoes.  This is going to be an adventure.  Wish me luck and join me as we pull out all of our shoes and get them down to a manageable number.
Wear and Tear:  The first round of cuts will be to get rid of any shoes that are worn out.  I wear high heels and the heels often get scuffed and worn down.  I wear them all over the place.  It's not uncommon for me to wear my high heels to football practice and all of the other activities my kids are in.  As a result, my shoes get plenty of wear.  I'll be looking for bad heels, scuffed toes, broken buckles, excess dirt, and any other repair need.  That should reduce the number of shoes somewhat.
Fit and Comfort:  We all have shoes that don't fit as well as we would like.  Since I often order shoes online without trying them on, I have plenty of shoes that are really uncomfortable.  I can get them on, but they rub my toe or dig into my foot in some way.  I also have plenty that don't have enough padding and are what I call "just a few hours shoes."  Those need to go.
Fashion:  Shoe fashion like clothing fashion changes quickly.  What once was the coolest boot ever is now suddenly odd.  Nothing can date an outfit quicker than the wrong shoes.  I have clothes that I have worn for a very long time and I am able to keep fresh and current because of the shoes I wear.  Of course, when the shoe trend changes, the shoes need to go.
Lifestyle:  My shoe collection (and yours) needs to reflect our current lifestyle.  As I get older, I'm sure I will want to drop the heel height of my shoes.  If I no longer have a desk job, I will likely want different shoes.  I don't need to keep shoes that no longer go with the clothing I wear.  I live in Ohio so my open toe boots don't get much wear.  If it's cold enough to wear boots, I don't want my toes hanging out.  I'm a freeze baby.  I'm sure we can make a few cuts there.
Can't Stand Up By Itself:  Go ahead and think I'm crazy, but I have a pair of boots that I can't wear unless my husband is around to escort me.  I can walk in pretty high heels so what the heck is the problem with these boots?  I'll tell you…..they are not properly balanced and can't even stand up on their own.  If the boots can't stand, how they heck am I supposed to be able to stand up in them?  They need to go……but they are so beautiful…..they are outta here.  If you have any shoes that don't stand up on their own, consider tossing them.
Going through shoes in this manner, should really reduce our number of shoes to a manageable number.  We should be left with nothing but shoes that we really love, that are in good repair, and really fit our current lifestyle.  Have you had success with decluttering your shoes?  Leave me a comment and let me know what really works for you.
On another note……..if you are interested in simple recipes your family is sure to love make sure you check out my recipe index.  I am adding new recipes all of the time so make sure you check back often.  You will also want to grab this free meal-planning printable calendar to make your meal planning easier.  It has areas to plan your daily activities and your evening meal prep.
Want more?  Keep reading the Freedom From Clutter in 40 Days series by clicking the image below.