Welcome back to Day 35 of Freedom from Clutter in 40 Days.  Only a few more days to go!  If you are tired of the burden of clutter in your home then this series is for you.  Day by day we are getting rid of the items that weigh us down, slow us down, and get in the way of having time to spend with our families.
We invite you to join our special Facebook group to share your ideas, joys, concerns, and declutter stories with us.  Make sure to share this with a friend who wants help decluttering.  Together, we are learning to find Freedom from Clutter.  This is a focused 40 day program, but we plan to keep the group going all year long.  You can join us at any time.  What is really fun about this project is that we are sharing our real struggles with clutter.  There are no organization experts here.  We are just real people sharing our real life experiences including our frustrations and joy as we declutter our homes.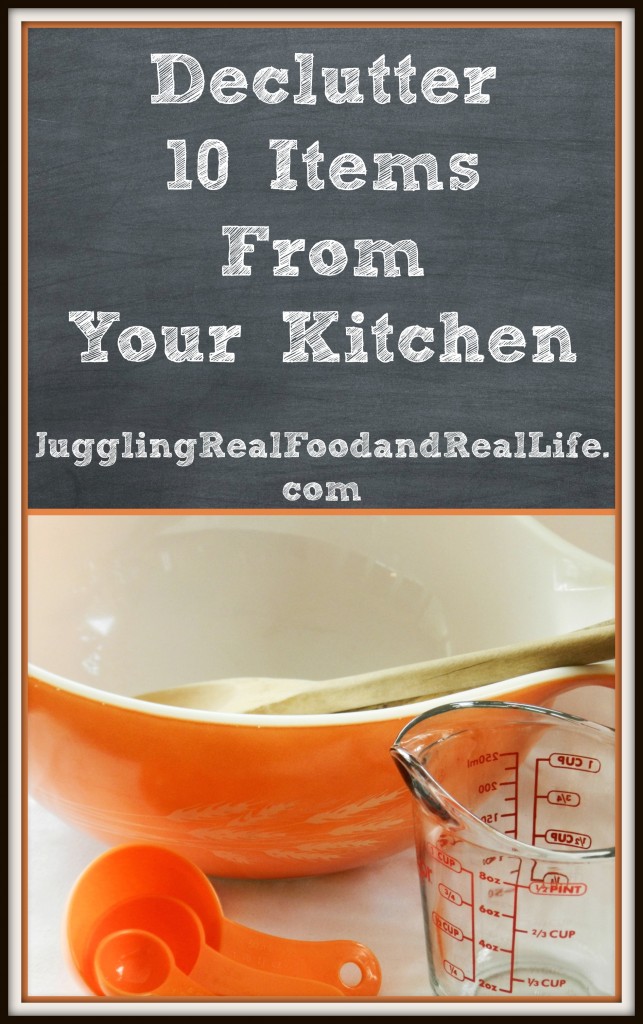 Decluttering The Kitchen
As I have been talking to everyone this week, the general consensus is that our kitchens are way more cluttered than we thought.  We all seemed to know going in that our bedroom closets needed help, but our kitchens are coming as a bit of a surprise.  That is why I thought we should spend a little more time in the kitchen this week.
The kitchen is the heart of a real food home.  It is almost constantly in use and in order to be quick about preparing meals, it is best that it is organized.  Over time, busy families seem to accumulate items.  I know that for the past few years, I have been asking for kitchen items for Christmas gifts so that I can upgrade my kitchen tools.  I have a very loving and gift-giving family so I have received Christmas gifts, Mother's Day gifts, Birthday gifts, and "It's Tuesday and I love you gifts" for the kitchen.  Have I thrown anything away?  Ummm………..the answer would be "no".
[bctt tweet="Declutter your kitchen so that the heart of your real food kitchen beats strong."]
Today, I challenge you to go through your kitchen and toss 10 items.  When I say "toss", I mean throw away, donate, gift to a friend or family member, or sell.  Open up the cupboards, pull out the drawers, and take a look at what is on the counters.  Do you still find use for all of the items?  Do you really love the items?  I encourage you to only keep the items that you truly love and have use for in your home.
I've put together a list of items that my friends, family, and I have recently tossed from our kitchens.  Leave me a comment and let me know what you are tossing for this 10 item challenge.  Let's get the conversation going and really encourage each other.  Freedom from Clutter is a reward we all will enjoy.
chipped dishes

storage containers without lids/lids without storage containers

cookbooks we no longer use (I had lots of "junkfood" cookbooks that I no longer need)

duplicate utensils

utensils we haven't used in a year

used batteries

dishcloths/towels that no longer look nice

dishes/cutlery for small children (they have been upgraded to "big people" dishes)

souvenir cups (the kind you get at baseball games and other events)

old medicine (read about proper disposal of medicines here)

fun appliances that we don't use.  (Yonanas anyone?)

paper – mail, newspapers, schoolwork that has been returned home

old décor

old tablecloths, placemats, and napkins

napkin rings we never use

restaurant and take-out menus

old lunchboxes

plastic grocery bags
There you go……a quick list to get you started.  Don't forget to leave me a comment and totally brag about your progress.  I can't wait to hear from you!
On another note……..if you are interested in simple recipes your family is sure to love make sure you check out my recipe index.  I'm sure you are hungry after all of your decluttering!  I add new recipes all of the time so make sure you check back often.  You will also want to grab this free meal-planning printable calendar to make your meal planning easier.  It has areas to plan your daily activities and your evening meal prep to keep you organized.
Want more great tips?  Keep reading the Freedom From Clutter in 40 Days series by clicking on the image below.