A decluttered bathroom is an efficient bathroom.  You can find things easily when you are organized and being organized makes getting ready in the morning so much easier and quicker.  We could all use a little more time in our day.  Since you can't organize clutter, it is important to declutter your bathroom until you only have what you need on a regular basis to organize.  Last time we talked about when to toss your old cosmetics.  This time………..let's talk about how to dispose of unused medicines.  If you need to get caught up, take a look at the bathroom declutter challenge.  Don't panic!  You are not behind. You can start at any time.  We are a blog for busy parents.  We don't judge……..we know you are busy with all of your commitments.
When you open up your medicine cabinets and vanity drawers, you will likely see a bit of your family's medical history.  The antibiotics you were supposed to finish, but forgot once you started to feel better.  The pain pills from your last back injury.  The eye drops you discovered you are allergic to.  Most people toss those extras in the trash or flush them down the toilet, but there are problems with those disposal methods.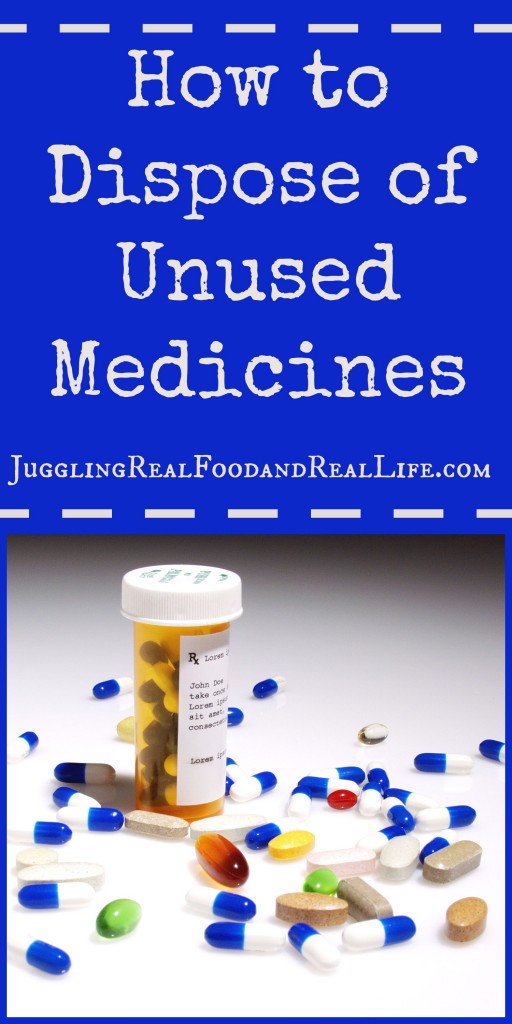 What is the problem with tossing it in the trash or flushing it down the toilet?
The easy answer………..it's bad for the environment.  The medicines filter into the groundwater and end up in our lakes and streams.  Yuck!  Who knows what that mess is going to do to our environment and then in turn to our overall health.  You also don't want some medicines that have been prescribed to you to end up in the wrong person's hands.  Let's just say……..some medicines have street value.  Another concern for us moms is that our children may mistakenly take our medicines.  I wish I could say that my kid would never take a piece of candy (really medicine) out of the trash, but I can't.  I need to protect my family and pets from these sorts of accidents.
Method to dispose most (but not all) medicines.
Read the package.  You might find instructions for disposing of the medicine.  If there are no instructions there, the following process works for most (but not all) medicines.
To protect your privacy, make sure any personal information is removed from the packaging.
Take the medicine and mix it with an undesirable substance like coffee grounds or kitty litter.  That way it will be less likely to be stolen, reused, or mistaken for candy.
Place in a sealed bag to prevent leakage and place in your regular garbage.
The DEA and some pharmacies have drug take-back events.  For some drugs this is the preferred disposal method.  Refer to the DEA's website to find an event near you.
If you would like to know more:  please take a look at the FDA's website.  They have printable lists and directions for disposing specific medicines you may find in your medicine cabinet.
I hope you find this helpful.  I know when I opened up my cabinets and began the declutter process I was concerned about what to do with the unused medications.  I want you to live the clutter-free life you have always wanted, but I also want you and your family to be safe.
Let me know how the decluttering is going.  What obstacles are you facing in the declutter process?  Are you aware of prescription take-back events in your area?
Since I always want you to be thinking about eating real food…………..If you are looking for help in making the transition to eating more real food, you should check out the Real Food Experience posts. You can get started at the beginning or jump around the challenges. You can find a complete round-up of the program here. Each week's challenge is full of terrific advice to help you transition from fast and processed food to a real food diet. Changes that will help you to live a healthy lifestyle and have the energy to keep up with your busy schedule. I would also love for you to join me on social media. You can find me on Facebook, Twitter, and Instagram on a regular basis. Leave me a comment and let me know you are there. I love to visit with my readers.