All disease begins in the gut. – Hippocrates
I've told the story of what inspired me to start a real food journey before, but I think it is really important to tell it again to start of this week's challenge.  It goes something like this……Once upon a time there was a woman who loved being active with her children. She cheered them on at their football games, marching band competitions, and dance recitals.  Then, one day and for many days after that, she became very ill.  She didn't have the energy to cheer as loudly as before and often was forced to make unexpected trips to the bathroom with digestive distress.  That woman is me and that is how my real food journey started. My anxiety and distress over being sick is something I will never forget.  I don't wish it on anyone.  That distress is what lead me to start the first Real Food Experience. There is so much talk about dieting and being ultra thin.  I understand that it is important to be the best you that you can be.  I want that for me and I want that for you. However, I have come to realize that true beauty comes from within.  Good health and positive healthy energy is true beauty.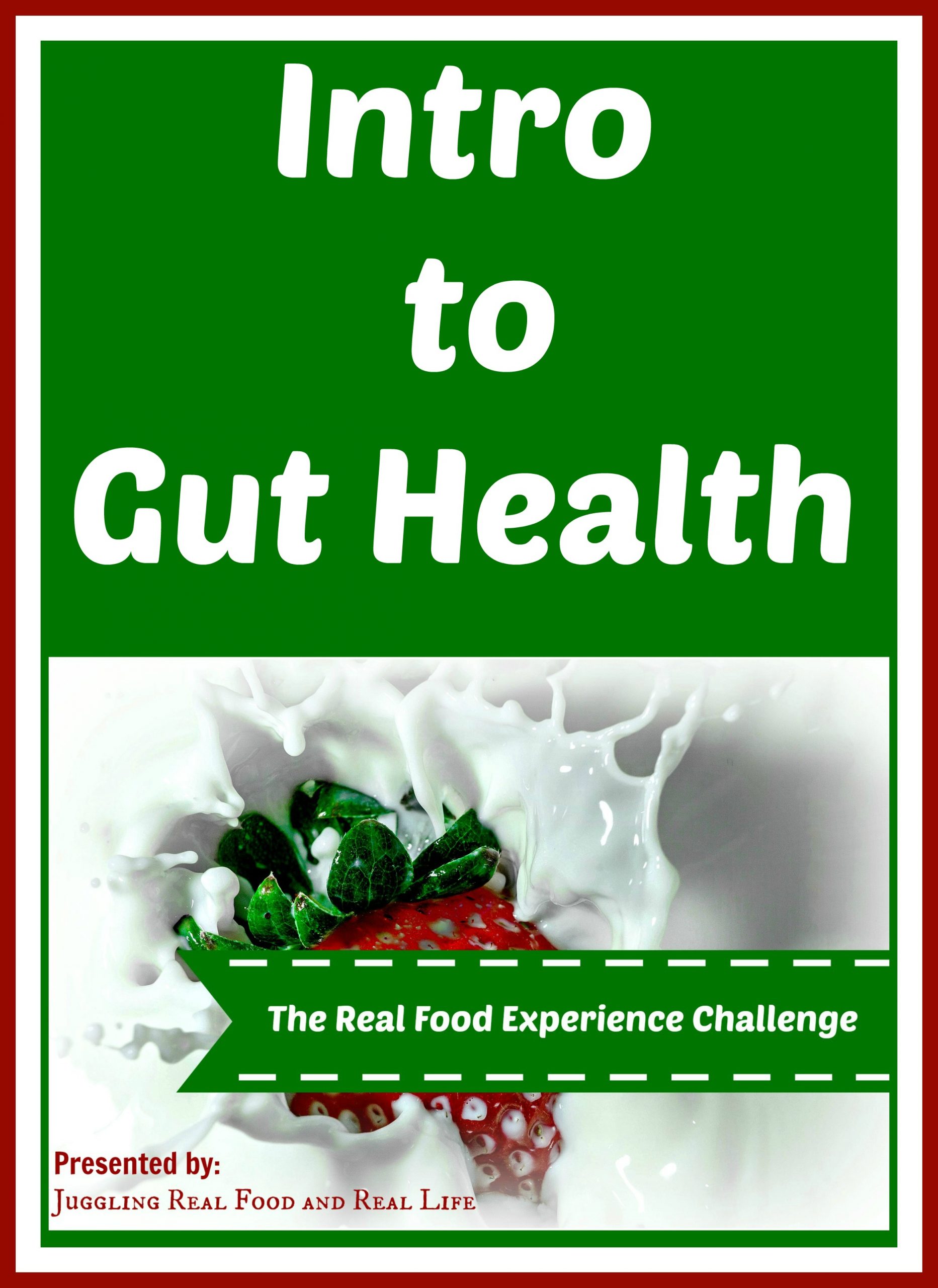 When you start studying gut health you discover some amazing things about the human body.  The gut is home to 100 trillion microorganisms. Keep your gut healthy and the rest of you will be healthy.  Disrupt the balance and it is believed to cause all sorts of issues for our bodies including diabetes, depression, chronic fatigue, bloating, gas, aches, and pains.  Ugghhh!  Nobody has time for that nonsense.
There is still much research that needs to be done on gut health, but there are foods that are generally believed to be good for our guts and help promote a healthy immune system.  There are also elements of our modern lifestyle that are generally believed to lead to unhealthy guts.  As always, I remind you to do your own research and make an informed decision for you and your family.

This week's challenge is two-part.  We are going to work on increasing the healthy and decreasing the unhealthy.  OK………that makes sense……..but now you are thinking, "What exactly do you mean, Christina?" Let's make things super easy.
Unhealthy for the gut (Things to Avoid)
Antibiotics and their friend chronic infections

Chronic Stress

Diets low in fermented foods

Diets high in carbohydrates, sugar, and processed foods
Healthy for the gut (Things to Include)
Take steps to manage stress.

Eat foods rich in fermentable fibers like sweet potatoes, yams, and yucca.

Eat fermented foods like kefir, sauerkraut, kim chi, and yogurt.

Eat dark chocolate with at least 70% cacao.
OK……now let's get to this.  I know some of these things are out of your control.  I get it.  Your life is over-the-top stressful right now and chronic infections are not really something you have much control over either.  However, there are ways you can work to reduce your stress and you can certainly take control over the foods that you put in your mouth.  Try some new fermented foods or bring back some of your old favorites.  Sauerkraut is any easy fermented food to start with.  Some yogurts have more probiotics than others……..keep your eye out for those while shopping at the store.  Make sure you are reading labels and avoiding hidden sugar.  You can read here for more on the many different names for sugar that you will find on your packaged foods.  If you haven't already, make sure you make the switch to whole grains and drop the refined flour.  You can find tips to help you with buying whole grains at the grocery store here.
You can do this! Let's get going on improving our gut health today. 
Leave me a comment below and we can get the discussion started.  Do you have a favorite fermented food?  Are there any new foods you are excited to try?  What are some of the ways you keep your stress in check?
I would love for you to subscribe by email and follow me on social media. If you would like to join us in our special Real Food Experience Challenge Facebook group, just click on over here.  If you have missed any of the challenges or just want to go back and share them with your friends, you can find a complete round up of them here.