This blog is dedicated to juggling real food and real life. We talk all of the time about how to find balance and ways to make sure our family has the fuel to make it through our busy days. For my family and many of my readers the "juggle" is all about living a sports family life. We love the life of a sports family. We go from season to season with our friends and enjoy the lessons that our children are learning from sports. Hard work and commitment are important lessons for our children to learn. Win or lose.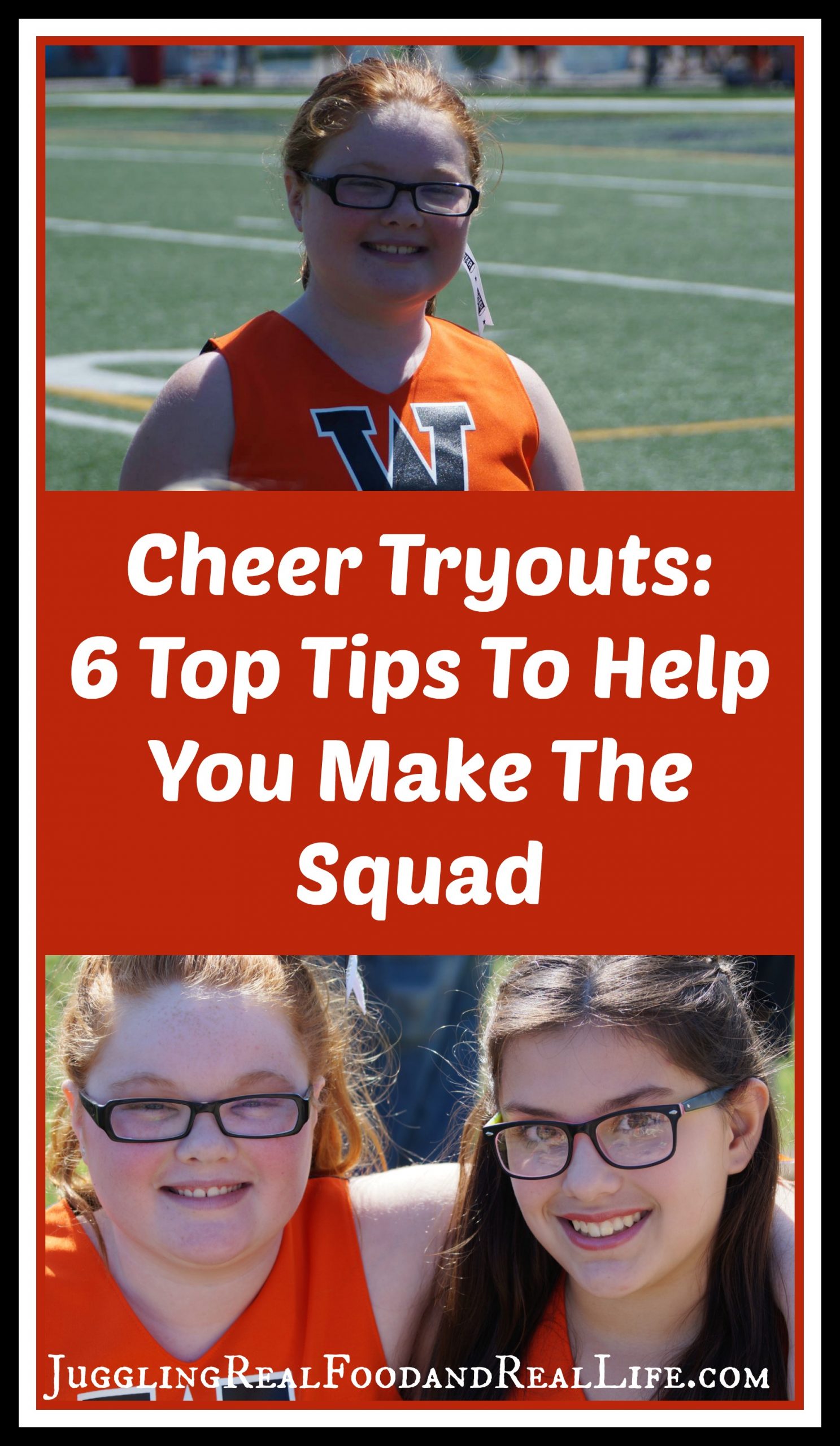 [bctt tweet="Tryout tips from a cheerleading coach to help your favorite cheerleader make the squad." username="jugglngrealfood"]
I also enjoy being an advocate for positive sports parenting here at Juggling Real Food and Real Life. As a sports mom for almost twenty years, I have seen the good and the bad in sports parenting. Creating a positive sports environment allows our children to try new things and not be afraid of the learning process that comes with sports.
As you may know, I have three sons and only one daughter. Let me tell you……….she has changed our world. My husband was so confused, the first time she cheered. He ACTUALLY thought he was there to watch the football game. Are you cheer moms laughing? He soon learned that he was there to watch his daughter and support her sport. Now I laugh as I watch him encourage and "coach" her tumbling and cheer moves. Cheer is a highly competitive sport that requires cheerleaders to work really hard and do it all with a smile on their face.
I've asked my friend Kristine Maikut who is a middle school cheer coach to share some of her top tips for cheer tryouts. This can be a very nervous time for girls who are trying out for the first time and even for those with more experience with tryouts. With these tips, your cheerleader is sure to nail her cheer tryout.
6 Top Tips To Help You Make The Cheer Squad
BEFORE CLINICS
Be prepared!  Make sure you had a recent physical and have all the clinic/tryout information and permission slips. These will need to be turned in at the first clinic and most likely, you won't be able to participate if you don't have them initially.

Before clinics, start stretching to improve flexibility and to prepare the body to do jumps, tumbling, and motions! Include exercises like running, crunches, lunges, squats, push-ups. Brush up on your cartwheels, round-offs, or other tumbling skills you may already have. 
DURING CLINICS
Practice a lot and don't be afraid to ask questions at clinics. This shows you are interested in improving your skills. Find a friend or make a new one to practice with! When you practice, make sure motions are placed correctly and you are being tight and strong with your motions. You should not fling arms or look noodle-y. Hit motions quick and snappy! Also, a good tip is to watch yourself in front of a mirror or record yourself to watch back and critique yourself. You may also want to focus on practicing jumps. Making sure arms and legs are in correct placement as you jump, too!

Be loud when you are cheering. There is a difference between screaming and being loud. You want to yell from your stomach and sound confident. Additionally, you don't want to sound "singy" (one of my personal cheer pet peeves) You want to YELL!
TRYOUTS
Don't worry about messing up- we all make mistakes! Have a positive attitude, take a deep breath, smile, and pick up where you left off! Judges and coaches will like to see how you handle yourself in those situations. 

As a cheerleader, you are representing your school. Your appearance is important. The most important aspect is your attitude– so make it a positive one! Smiling is the easiest way to show that. Be genuine and have a good time! Judges look for smiles and great attitudes- even if you are nervous, don't show it.
There you go………..tips straight from a cheer coach.  Friendships, exercise, and representing the school in a positive way are all benefits of a school cheer career.  These tips are sure to help your cheerleader shine during tryouts and standout as the true athlete they have worked so hard to be. 
A little about Kristine Maikut. Kristine cheered as a student in 7th-12th grade and one year at John Carroll University. She has been the coach at Willowick Middle School for 15 years. Her Competition Squads have earned Hard Rockin' National Champions 3 years and numerous other awards at local competitions over the years. 
You might also be interested in: