This post contains affiliate links. Purchasing through them help support this website.
Years ago I started my real food journey in order to heal my body, gain more energy to keep up with my kids, and provide healthy and nutrient dense food for my family.  I searched for the best food I could find. My family is my life and I wanted them to have the best, most nutrient dense and chemical free food that our budget could buy.  We are not wealthy by any means, but I was willing to arrange our budget so that we would have more money for food.  I am lucky.  There is no denying that fact.  I live in a country where food is plentiful and I have the opportunity to earn a living wage.  Around the world there are plenty of woman who do not have the same blessings as I do through no fault of their own.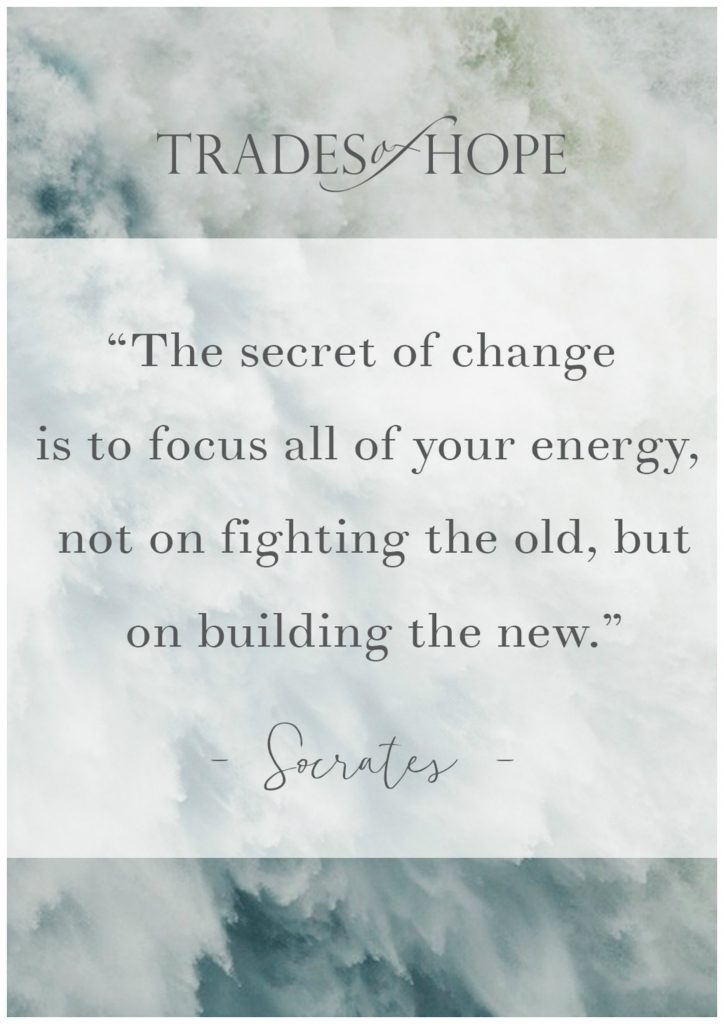 As a Christian woman, I know that I have been put on this Earth to help those less fortunate than myself.  My heart aches when I think of mothers who struggle to feed their children.  That has got to be the worst feeling for a mother.  There is so much of the world that doesn't have the basic blessings of food, housing, education, and safety. It can be overwhelming to empathetic people like you and I.  I have been searching my heart for some way to help outside of my local area when I discovered the work my friend has been doing with Trades of Hope.   After meeting up with her at a local Trades of Hope party, I decided to take the plunge and become a Compassionate Entrepreneur with Trades of Hope.  I thank God everyday for bringing Shelby back into my life. Shelby is my friend, coach, and sponsor within Trades of Hope.  I look forward to the amazing journey we will take together. I'm so proud to be on this World Changing team.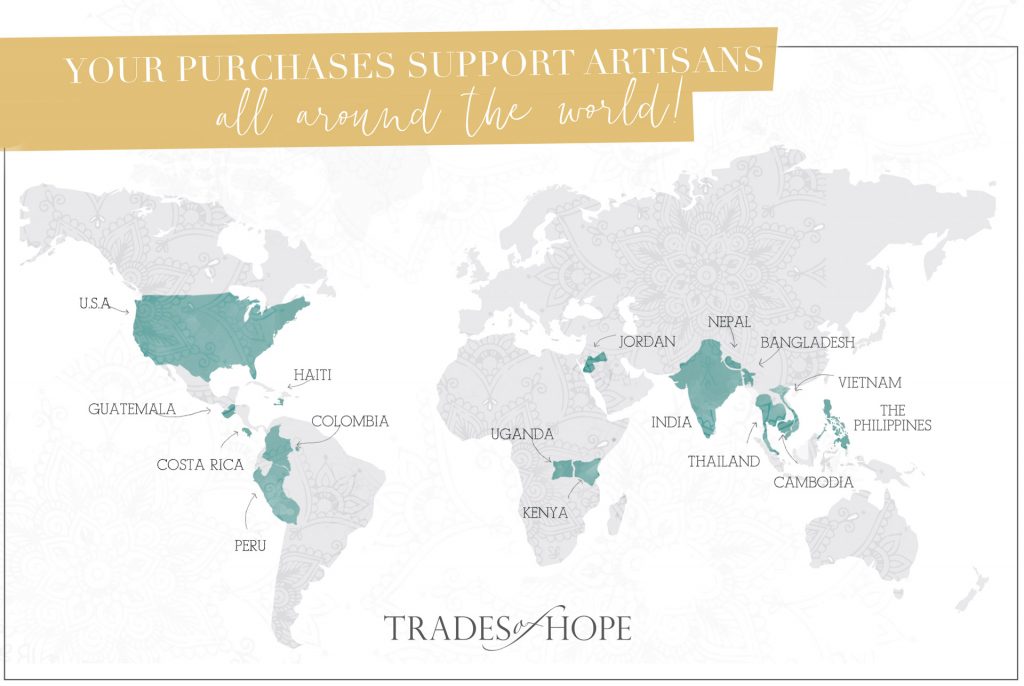 Trades of Hope empowers women to create sustainable businesses worldwide. They want women to realize their potential as world changers, business owners, dream creators, and heroes of their own stories. They are looking for American women to rise up and be the voice for the women who have no voice, empowering them to rise out of poverty.  Every purchase of Trades of Hope's ethically produced pieces support a woman to become the hero of her own story.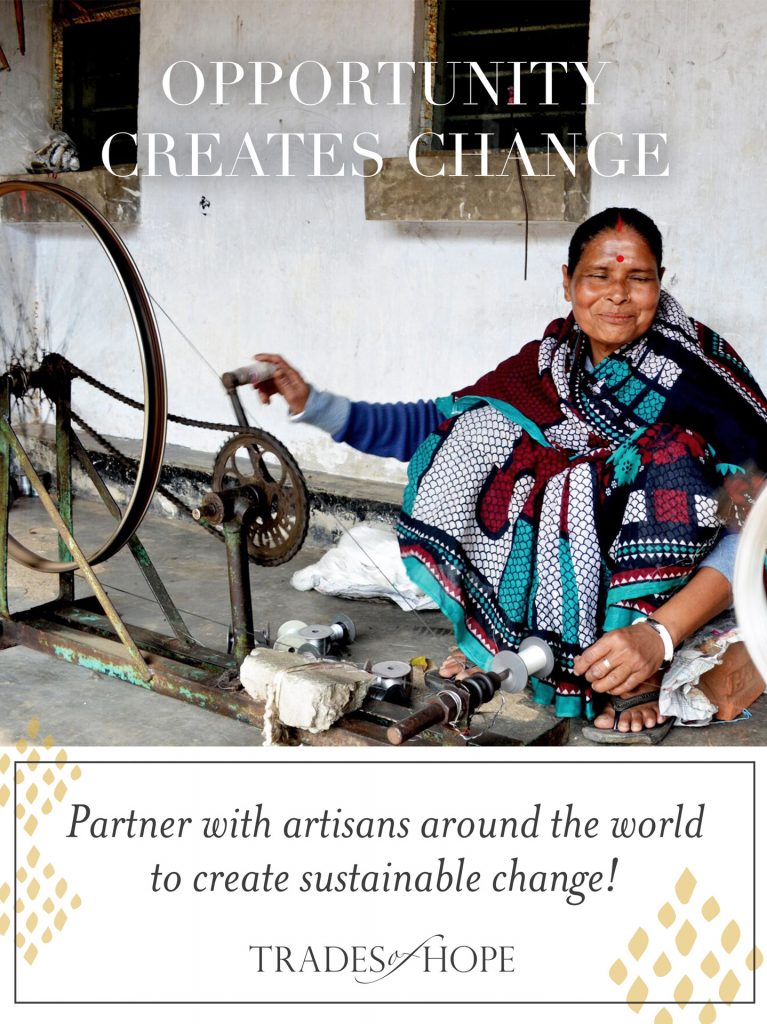 You've heard the saying "Give a man a fish and he'll eat for a day; teach a man to fish and he will eat for a lifetime." There are Fair Trade organizations around the globe teaching men and women how to "fish" and this is where Trades of Hope really shines. I always loved fishing with my Dad as a kid and now I plan to "fish" with all of you. I will be sharing stories of our Trades of Hope artisans, information on Fair Trade, and fun products here at Juggling on a regular basis.  I promise to keep it fun.  My style here at Juggling is to provide information without judgment.  I hope you will join me on my Trades of Hope journey.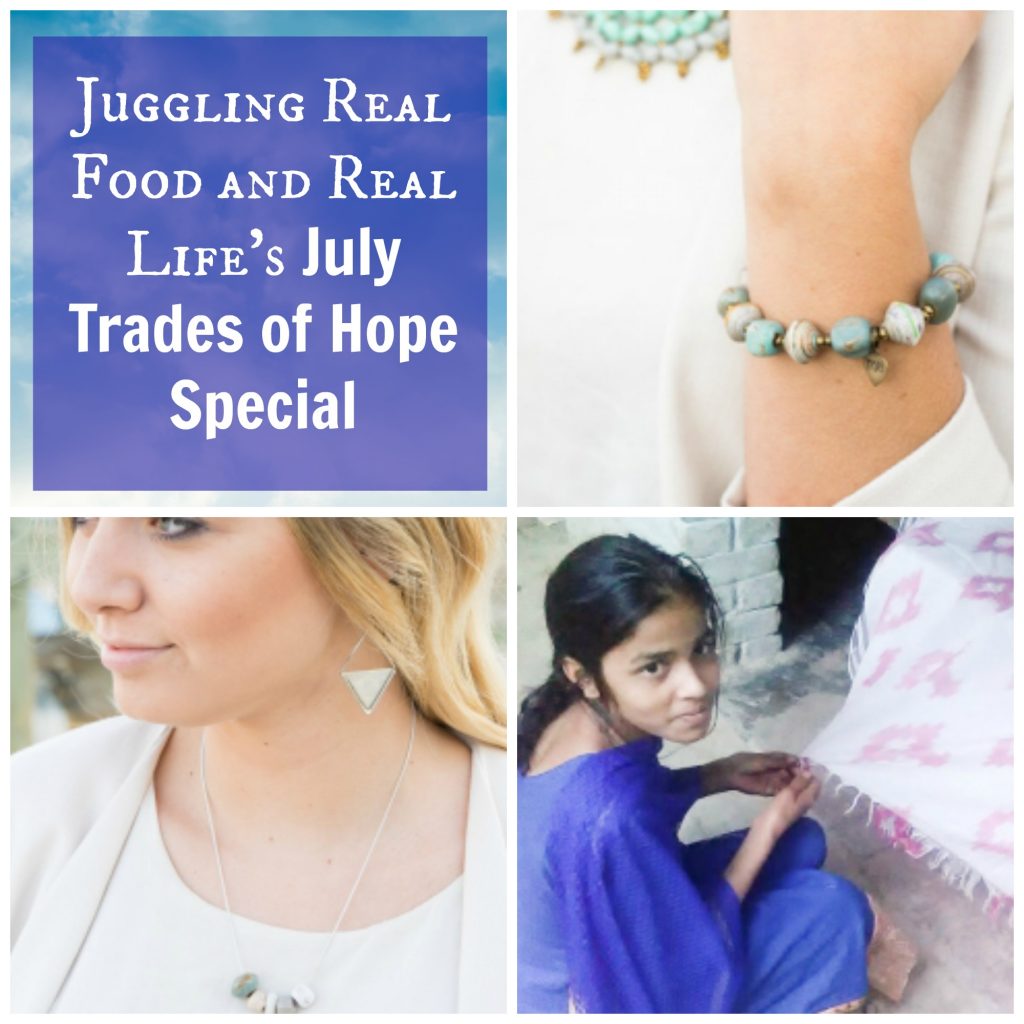 I'm starting with a special for July to really kick things off! 
[bctt tweet="Enter to win Trades of Hope hostess dollars! Give the gift that gives twice. #fairtrade #TOHstyle" username="jugglngrealfood"]
For every $50 you spend through the party link below, your name will be entered into my "Introduction to Trades of Hope Drawing" YOU could be the BIG WINNER of all the Hostess Rewards! All orders must be placed by 7/31/17.
Click the July party link to place your order and be entered into the drawing.