This post may contain affiliate links. Purchasing through them help support this website.
Chocolate Covered Cherries have always been something special to me.  I grew up in a house where my mother would receive chocolate covered cherries as special gifts.  They would come in pretty boxes and she would eat them one at a time.  She would make those cherries last forever it seemed. Most of the time those beautiful chocolate covered cherries were not shared.  My mother is a woman who gives with her whole heart and soul……….everything but her chocolate covered cherries.  Now that I am a mom, I laugh each time I hide away my dark chocolate bars.  Perhaps, my mother and I are more alike than even I know.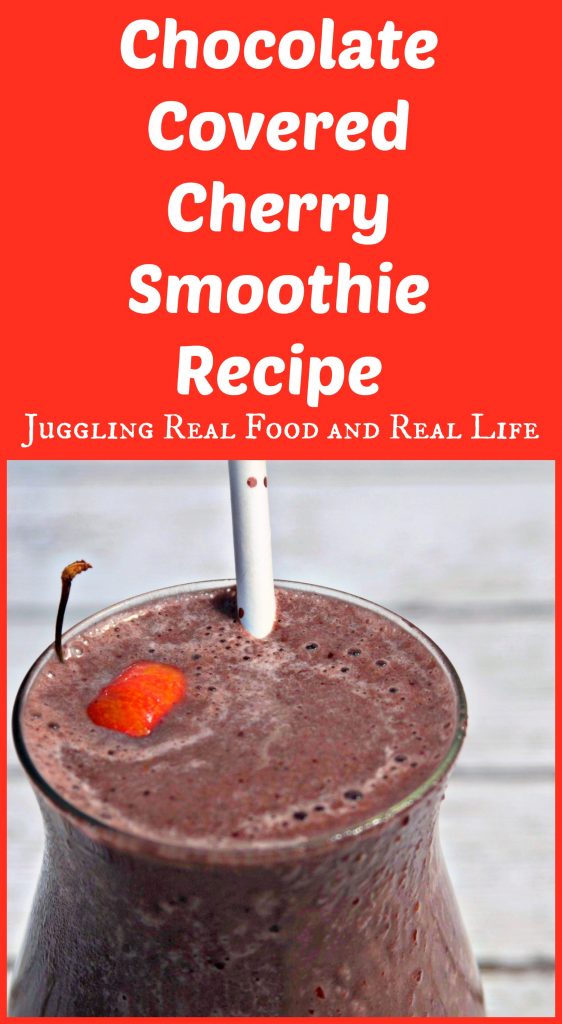 I set out to create a recipe that would have all of the flavor of a chocolate covered cherry without the guilt of eating candy.   Real cherries.  Real dark cocoa.  No artificial colors or flavors.  I just love the idea of eating chocolate covered cherries for breakfast.   I think I have come up with a smoothie recipe that your family will love and since it is packed full of good nutrition you won't mind sharing it with them.  Of course, if you want to keep it all to yourself…………that's all up to you.  You are the mom after all. 
Chocolate Covered Cherry Smoothie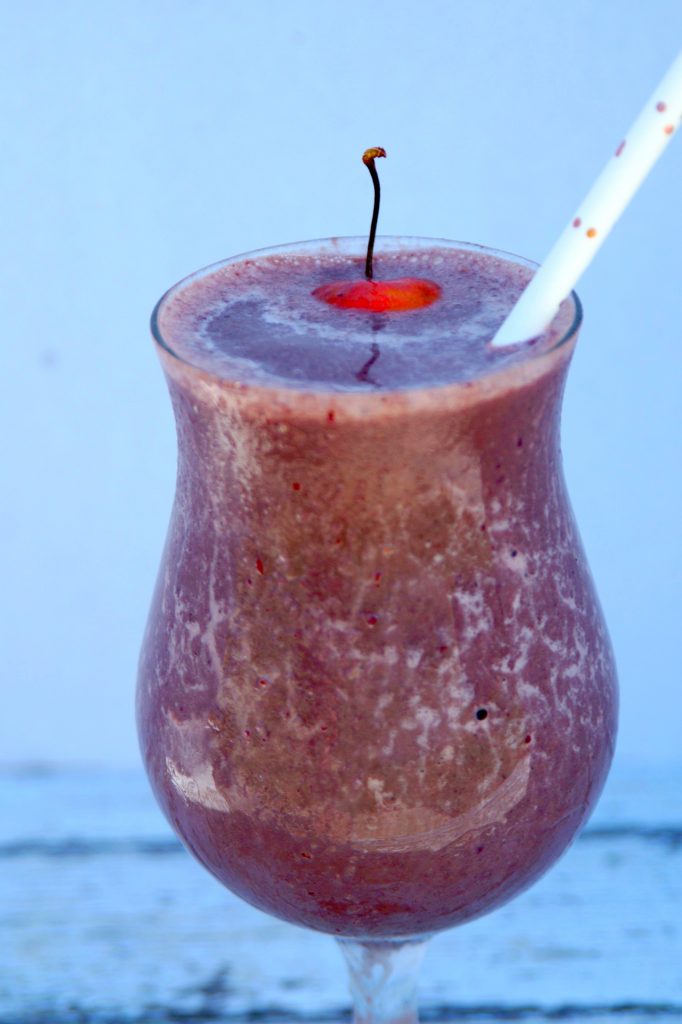 Chocolate Covered Cherry Smoothie Recipe
Author:
Christina - Juggling Real Food and Real Life
Ingredients
2 cups pitted frozen sweet cherries
1 ripe banana (frozen is preferred)
½ cup whole milk yogurt
½ teaspoon real vanilla
½ cup milk
1 tsp dark cocoa
1 cup ice
1 tablespoon honey (more or less to taste)
Instructions
Mix all in blender until desired consistency is reached.
Add extra milk if too thick.
Add extra ice if too thin
I like to keep a Ziploc freezer bag full of frozen banana chunks in my freezer for making smoothies.  I love using frozen banana chunks in smoothies because then you don't need to add as much ice which avoids that water-downed icky taste that you can sometimes get in smoothies when using too much ice.  Using frozen banana chunks makes for really creamy, delicious smoothies.
Smoothie recipes are easy to make and allow for lots of customization.  Feel free to add more or less of anything.  Enjoy this chocolate covered cherry smoothie recipe.  It's frosty, sweet, and packed with great nutrition to give you energy to keep up with your kids. 
Shop the post: