1
benevolent goodwill toward or love of humanity
2
generosity and helpfulness especially toward the needy or suffering; also

:aid given to those in need
I've been struggling since my grandmother passed away.  I wrote about the loss of my creativity and how this loss has really affected who I am as a person.  If you missed that post, you can get caught up here.  I'm still lost and struggling as I work through the mourning process.  Being creative has always been a part of who I am.  It's hard living day to day without my creativity.  I feel like a different person…………somebody I don't even know.  This process of mourning has allowed for a time of deep reflection.  Who am I?  How can I do good in this world?  How can I bring meaning to my life and those around me?  These are all questions that I have been struggling with.
 
As with all things, I have turned to God for help and guidance.  I was surprised when the answers didn't come right away.  I'm rather inpatient.  My family will all tell you that is true.  I've spent the summer teaching my Sunday school children that we are not God's boss.  God has a plan for us and craves a relationship with us.  We just have to be open to what He has to say and to His timetable.
The past few months, I have given up all but what was completely necessary.  Most people probably would not have noticed that anything has changed.  I've kept busy.  I'm always busy.  We traveled a lot this summer.  I've laughed with and hugged my loved ones often this summer.  My heartbreak and loss of creativity has been kept fairly well hidden.
Last night, I decided to turn back to my Trades of Hope team of Compassionate Entrepreneurs by participating in our monthly online meeting.  I had taken most of the spring and summer off from my meetings.  I was too emotional and too dead inside to express myself.  Seeing everyone again last night felt good.  Hearing what these women had to say about their life-changing work felt good.  Our team leader prayed over us at the end of the meeting and then tears of relief flowed from my eyes.  In fact, they are still flowing as I write this.  I don't have all of my answers, but I do have a new direction to start out on.  Life is a journey and it's important to go where we are taken.
A few years back in a private conversation with my husband, I expressed that I wish we had more money.  I'm sure I'm not alone in saying this.  Lots of women want more money for clothing, shoes, and the finer things in life.  Those things are nice, but that wasn't where I was coming from.  I expressed that I would love to be more charitable.  I explained to my husband that I wanted to be as charitable as the size of my heart.  With a twinkle in his eyes my husband said, "Oh honey………….you have a VERY BIG heart."  This was his kind way of expressing to me that he recognized that my generosity is endless.
"I alone cannot change the world, but I can cast a stone across the waters to create many ripples."
― Mother Teresa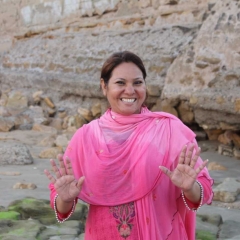 Today, I cast my first stone across the water and invite you to partner with me in creating ripples of change.  Each month I will choose a charitable organization and sponsor an online Trades of Hope party in the charity's honor.  I will split all of my earnings from that party with the charitable organization.  50/50………..right down the middle.  So many women live in poverty, not because they lack abilities, but because they lack opportunity. Trades of Hope was started to give women an opportunity for a better life. Each woman has a story, and with Trades of Hope's help, their story has changed from pain and struggle to a story of hope!  I will be helping our Trades of Hope artisans and a chosen charity with my Charitable Heart Project each month.  I'm excited to partner with my Juggling Real Food and Real Life community on this passion project. I think my grandmother would be proud to know that she was the ripple that set this project in motion for me.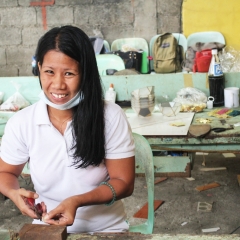 September's Charitable Heart Project Charity:  UMCOR
Listening to the news this month has been painful.  The devastation of two hurricanes…….. Harvey and Irma
have left so many folks in dire need of help.  I want to do what I can to help my donating our first party's earnings to UMCOR.  The United Methodist Committee on Relief is a charity close to my heart.  Read here how they are responding to these current disasters. 
It's easy to help!  Just follow the special link below to find out more about the beautiful fair-trade products Trades of Hope has to offer.  Make a purchase for yourself or as a gift for someone you love.  50% of my earnings from this party will go to UMCOR this month.  Let's celebrate the good work that can be done simply by purchasing beautiful products.  Empowering women out of poverty and supporting UMCOR's important work all with one purchase is an amazing thing.  I hope you enjoy these monthly parties and support them in any way that you can.   
If you have a charity you would like to nominate for future monthly parties, please email me at alifeconnected365@gmail.com .  Thank you for your help with this special project.  Together we can make this world a better place for our children.