Like most families, the weekends for our juggling house are just as busy as the weekdays.  This particular Saturday was filled with youth football and cheerleading fun that we had to travel for.  Not far, but not in town either.  The weather was beautiful here in Ohio.  Warm sun and cool breezes kept us switching in and out of our cozy sweatshirts. We had lots of family join us to cheer on our favorite team. We had a lot of fun enjoying the outdoors and spending time with our family.  Afterwards, we decided to stop by a new grocery store we kept hearing about.  I expected to run in and grab some things to make for dinner.  Instead, we ended up spending over an hour exploring Fresh Thyme Farmers Market.  Believe it or not……..we had a blast exploring the store.  I was really amazed at how much fun the kids had exploring healthy foods.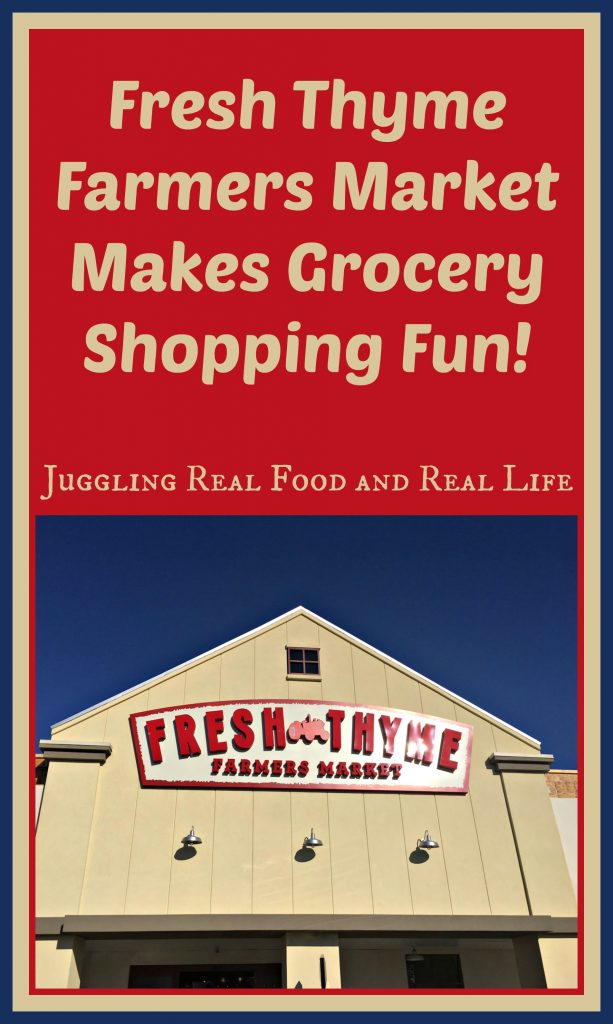 This is not a sponsored post so the pictures were taken on my iPhone while shopping.  You know…….just me being goofy as usual.  I take pictures of everything!  I blame you Facebook.  I wasn't planning on writing about our stop at the grocery store, but we had so much fun that I decided to share our trip with you.  I was just so impressed with how engaged my children were at this grocery store that I decided I just had to share this experience with all of you.  I was blown away by their excitement.  Anything that gets children excited about healthy eating is a good thing in my book.
If you are not familiar with Fresh Thyme Farmers Market, they are a store new to the Midwest.  Per the Fresh Thyme website:
At Fresh Thyme Farmers Markets we believe you shouldn't have to give away the farm to feed your body nutritious food. We're on a mission to improve the way our communities eat by offering fresh and healthy food at amazing values -all in a vibrant and fun shopping environment, with smiling friendly faces. Our stores don't follow traditional grocery store design, nor do they have tall aisles or glitzy fixtures. In fact, our stores are so simple and easy to navigate that we don't number our aisles or hand out store maps. We believe shopping for fresh and healthy food should be easy and enjoyable.
I fell in love with the store right away.  I saw "organic" and "non-GMO" labels all over the place.  My heart skipped a beat with excitement.  Yes, I geek out that much over healthy food.  So many times I have to put on my detective hat to find healthy real food.  You know how it is……….You have to look in that "special section" of the store or search for it on the shelves hidden between all of the processed foods.  Fresh Thyme was full of real food! I started grabbing food in delight.  I was like a "kid in a candy store" as the saying goes, but my candy is real food.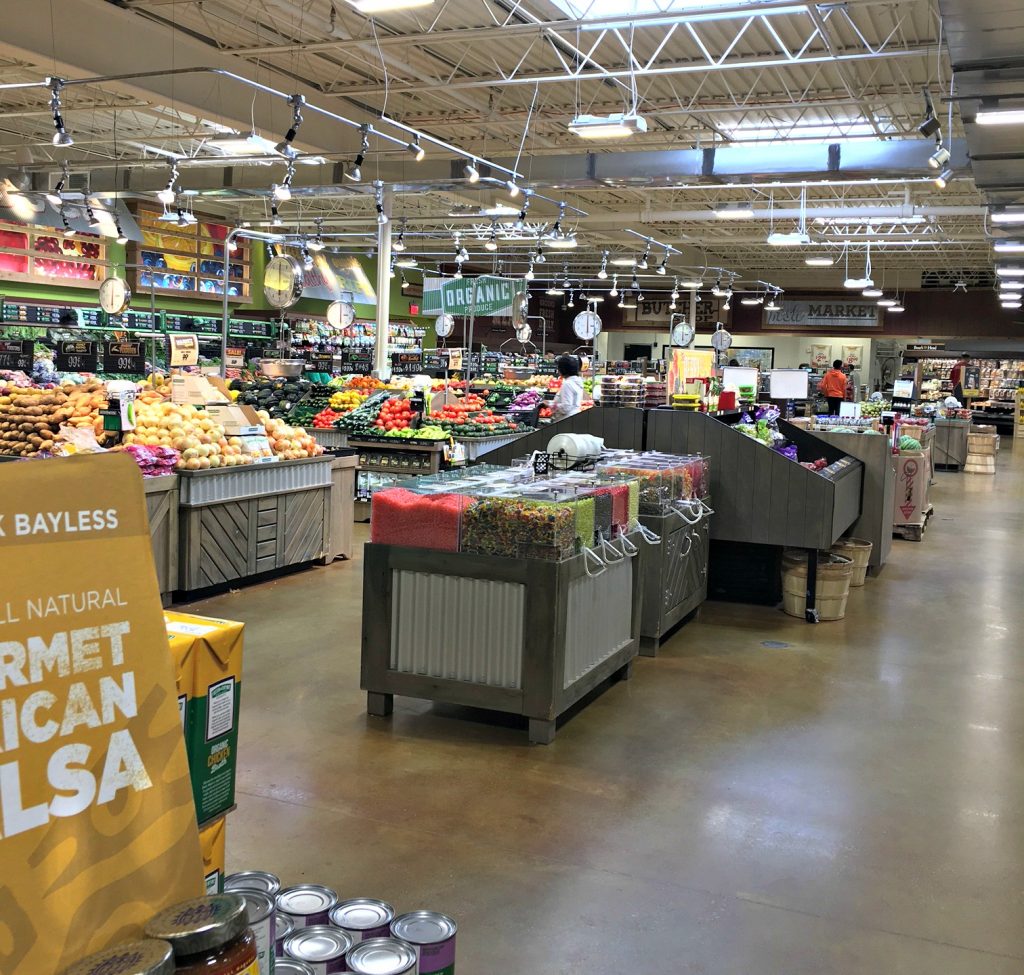 Fresh Thyme has a huge produce section.  I almost cried when I saw the enormous "Organic Produce" sign.  Full of colorful fruits and vegetables which were all free of harmful pesticides.  It really had the feeling of an outdoor farmers market.  They even had a "treat center" which included a variety of fruit for the children to choose from. Fruit that is free of charge for kids to snack on while shopping in the store.  Fruit is such a nice alternative to cookies or processed meat treats.  I was thrilled to see the variety because even healthy real food eating kids can be picky.  I was happy to see that each of my little jugglers could find a piece of fruit that they would be happy to munch on.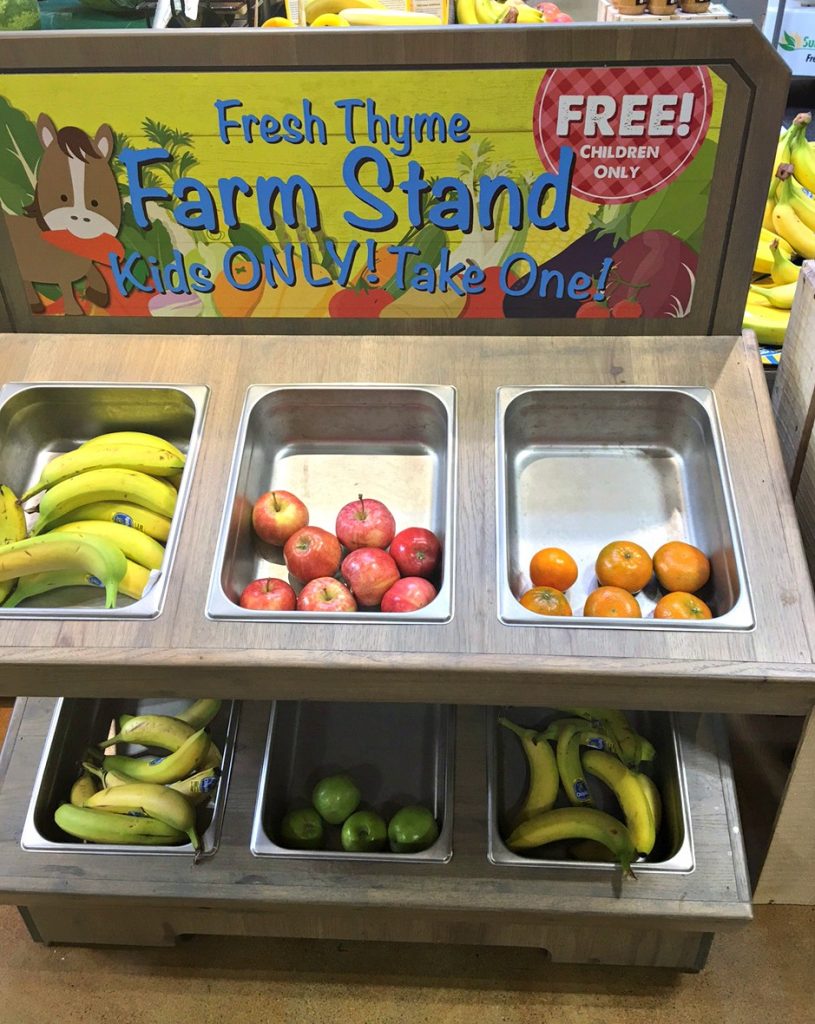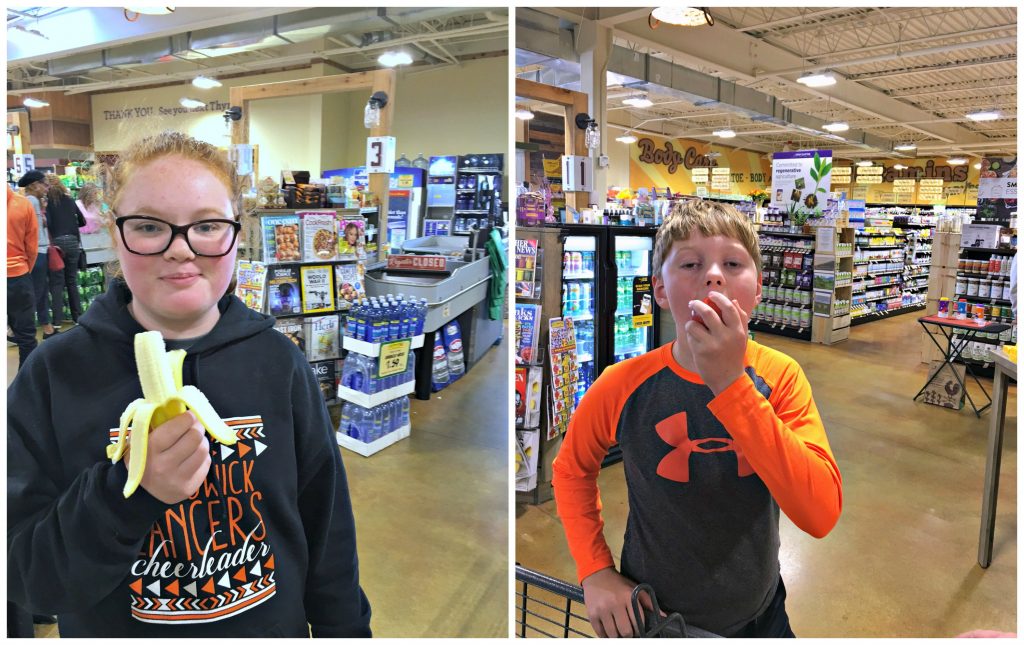 I like to keep a lot of ingredients on hand so that I can make healthy real food meals each week.  That way I can pull out my recipes and get cooking.  Having lots of great ingredients is a real time saver for me! A great bulk section in a grocery store is so helpful.  The Fresh Thyme bulk section includes row after row of dry goods like oats, rice, quinoa, beans, nuts, and so much more.  They also have bulk oil, honey, and maple syrup sections.  You just fill up containers with as much of the product as you need.  The kids had a blast filling containers for me.  They were literally begging me to put healthy food into my cart.  Music to my ears for sure!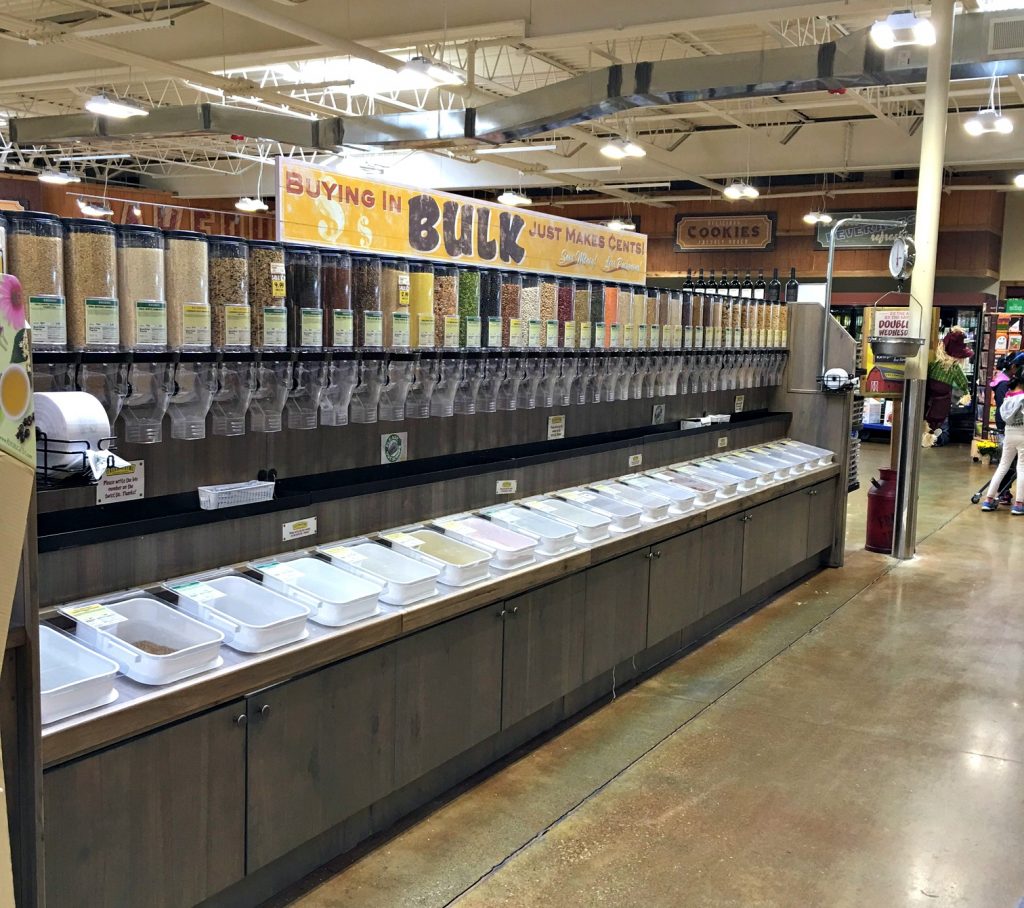 I was also impressed with the variety and quality of convenience foods.  I found crackers, healthier packaged snacks, and seasoning mixes that met my real food standards.  I have lots of friends that tell me that they want to eat healthier, but they aren't much into cooking.  A great grocery store like Fresh Thyme really helps.  Great products make it easy to make healthy swaps without making drastic changes to your family favorites.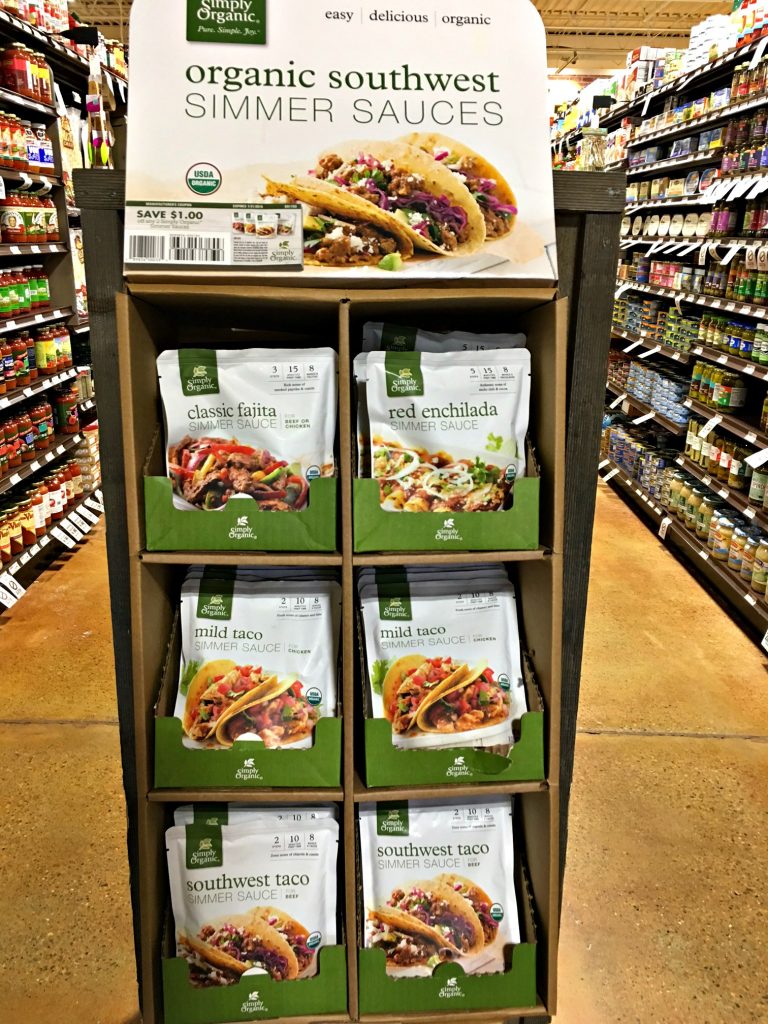 In addition to get food products, I found a whole department filled with vitamins, supplements and pure body care products.  I found essential oil products, supplements, toothpaste, and cosmetics.  It was an eye-opening experience to see so many of these natural products all in one place.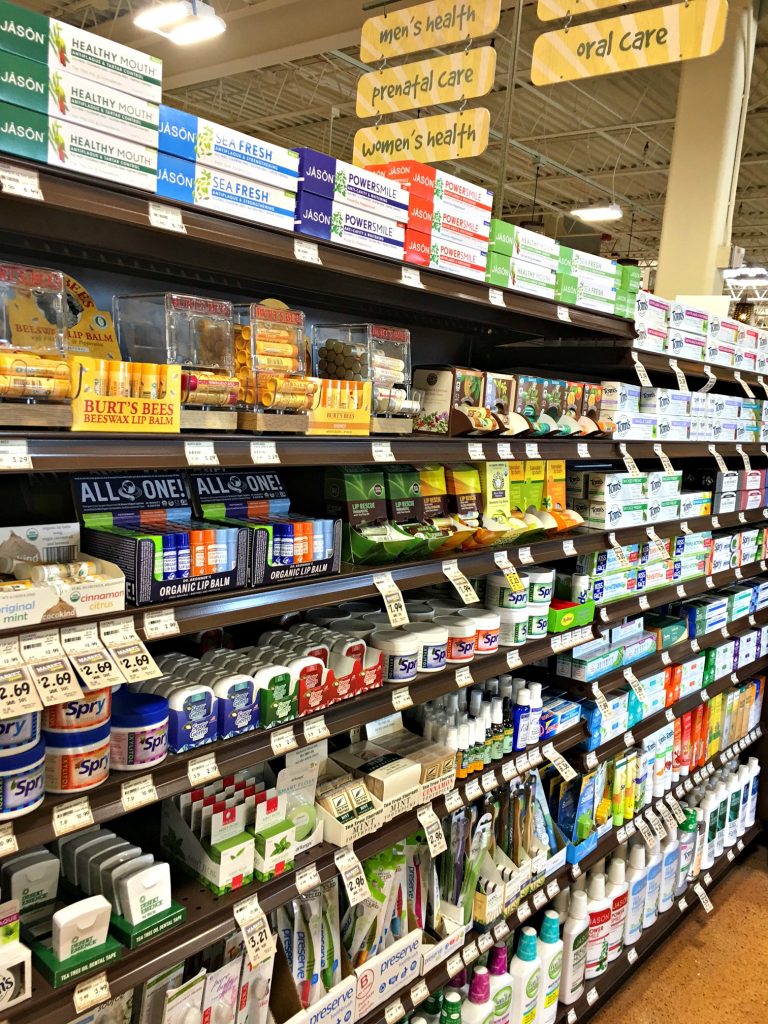 When we got to the register to check out the woman working was super sweet and friendly.  She spoke with the children and gave them extra treats to take with them.  She was quick and efficient.  She actually noticed that we were people standing in front of her.  The experience was very different than what I feel at many other stores that I frequent.  My husband's favorite part of the trip was the bill at the end.  The kids kept tossing items into the cart and we left with only spending $24.  We didn't buy any meat and we certainly didn't shop for a week, but we were very impressed with the prices.  I would say that this is not the least expensive food that you can buy, but when you are used to paying more for quality food the Fresh Thyme prices are a breath of fresh air. 
I almost forgot the best part of our trip!  You can make your own peanut butter right there in the store.  You simply grind up peanuts.  It is so delicious!  As you can see from the picture, the kids couldn't wait to make peanut butter with Daddy.  I'm sure it will be our first stop next time we go to Fresh Thyme.  This store was a fun surprise to our day.  The kids had a blast and it's way cheaper than Disney!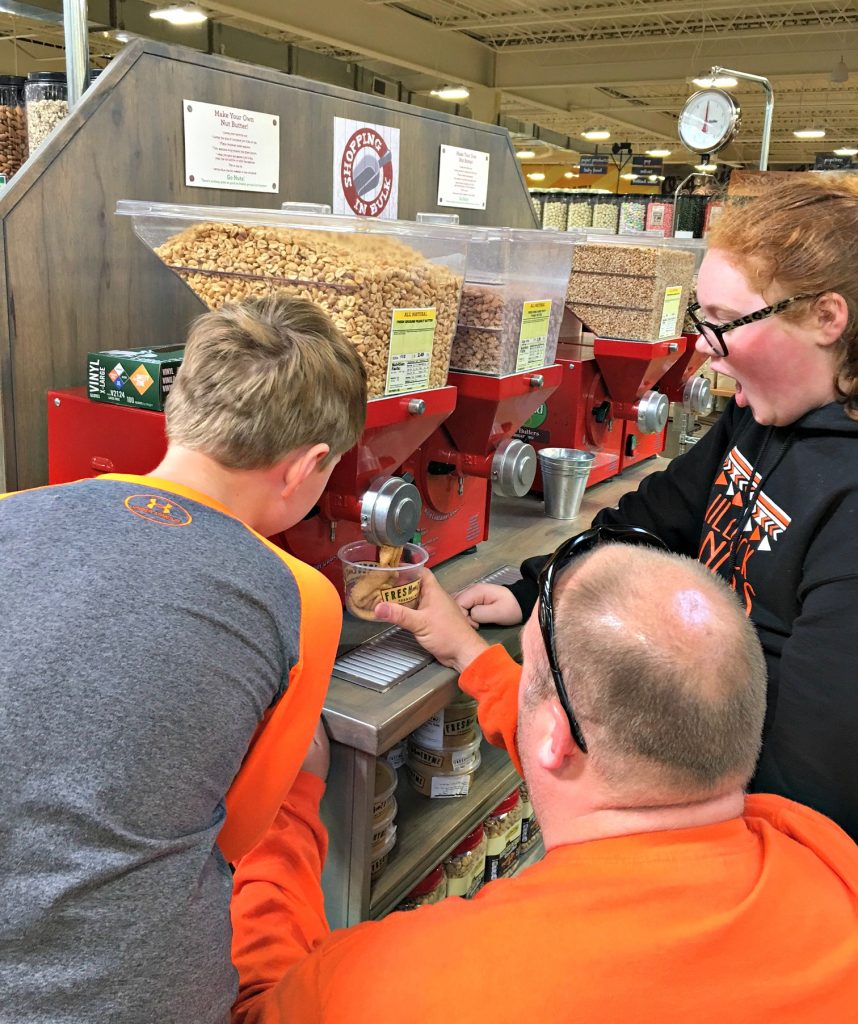 If you live in an area where there are Fresh Thyme Farmers Markets, I encourage you to check them out.  If they are not in your area, find a store that brings as much excitement to healthy eating as this store provided for our family.  Take some time and make a day of your grocery shopping trip.  We had the opportunity to discuss healthy eating as a family. We talked about why healthy eating is so important and how confusing it can be reading labels.  We talked about how choosing healthy food is much simpler when you start with lots of healthy ingredients and cook.  The hands on learning opportunities were perfect for my children who love to learn by doing.  I mean just look at that silly face my daughter is making!  They now truly understand that peanut butter does not need a long list of ingredients.  They know they can make peanut butter themselves with just peanuts.  It doesn't get any simpler than that.
Do you have local stores that are fun for your family?  What features do you look for in your grocery store? Have you ever made your own peanut butter?  Let's get the conversation going.  I can't wait to talk to you!
Oh!  If you are reading this Fresh Thyme Farmers Market…………call me.  I think we should be best friends. 🙂