Life is busy! I often greet my customers as they come into my office with a, "How are you doing?" The answer is usually "busy." How is it that we got this way? There seems to be a constant demand for our time. School activities, sports practices, scouts meetings, keeping the house clean, and increased demands from work all come together to create stressed out moms. Our society eats out more than at any other time and because we are so busy our dinners are usually fast food. For many, family dinner is often burgers and fries in the car on the way to practice. Anyone shaking their head in agreement?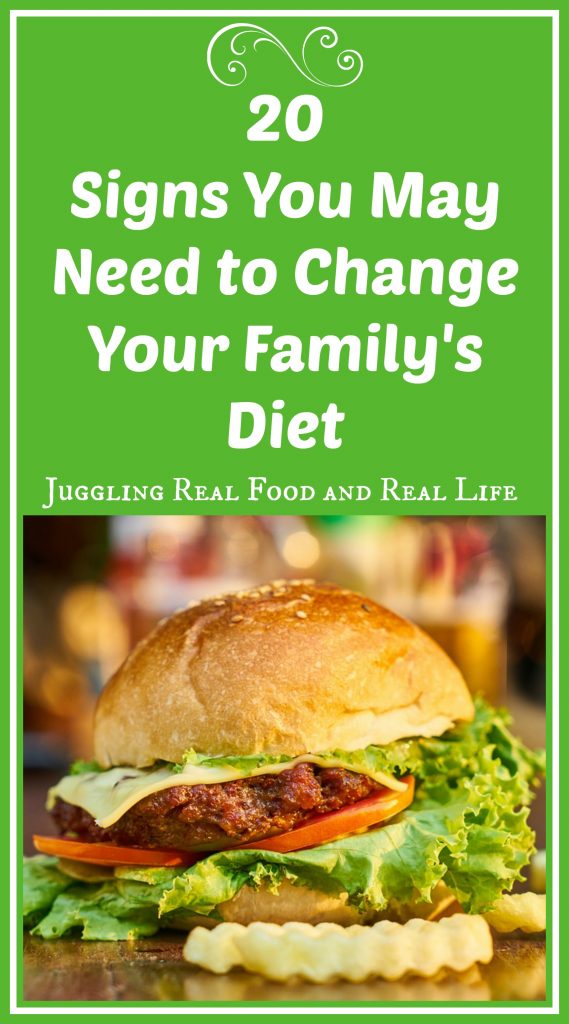 It happens. We get busy and good nutrition goes right out the window. Our bodies can handle the junk for a while, but eventually it will catch up with us and our families. Childhood obesity and food related chronic illness is a real problem. Let me be frank. I've noticed that a lot of moms are not too worried about nutrition unless their children become overweight. Good nutrition is important for the growth and development of all children…..no matter their weight. How are our children supposed to perform at their best on the sports field and in the classroom if they don't get the nutrients they need to do so?
I don't like to be preachy here at Juggling Real Food and Real Life. I like to use a phrase I hear a lot and say we have a "judgement free" zone around here. We are moms supporting moms to live a healthy lifestyle. I encourage you to do your own research and come up with the best solution for your family. That being said, I think it's important to have information to make an informed decision. Today, I am sharing 20 of the most common signs that your family's diet might need a tune up.
20 Signs You May Need to Change Your Family's Diet
1. Being overweight or thin and pale in color
2. Poor attention spans
3. Frequent constipation
4. Chronic low energy
5. Preferring screen time to physical activity
6. Craving all forms of sugar including simple carbohydrates
7. Craving salty foods on a regular basis
8. Disliking vegetables
9. Mood swings and afternoon crashes
10. Frequently craving juice boxes, energy drinks, sports drinks, or sodas
11. Frequent headaches
12. Difficulty falling asleep or waking up
13. "Needing" a late night snack
14. Feeling hungry after eating a meal
15. Behavior meltdowns when meals are late
16. Craving fatty foods like ice cream, fries, and pizza
17. Preferring sweet or salty over all other flavors
18. Poor skin or frequent breakouts
19. Brittle hair and nails
20. Going an entire day without eating a real piece of fruit or vegetables.
After reading this, you might decide that you want to clean up your family's diet a bit. Check out all of my Real Food Experience resources for a wonderful systematic process to clean up your family's diet. It just might be easier than you think. For additional encouragement you can visit me on social media or email me at any time. I'm never more than just a few clicks away.