I was recently invited by Great Wolf Lodge – Sandusky, OH to enjoy a day with my family at their facility. I jumped at the chance to spend time with my kids away from the usual distractions. I have to tell you……….It was more amazing than I could have imagined. As a family, we agreed to put our phones away and simply enjoy the day. No super cool water pictures. No snapchats to our friends. Is that even how you say that? No selfies with hearts around our head. None of that. Just good old fashioned water park fun. We had so much fun that I've decided to break up our experience into several posts. Look for articles on Great Wolf Lodge's food, things to do at the lodge that don't include water, and packing tips to make the most of your experience at the waterpark coming soon.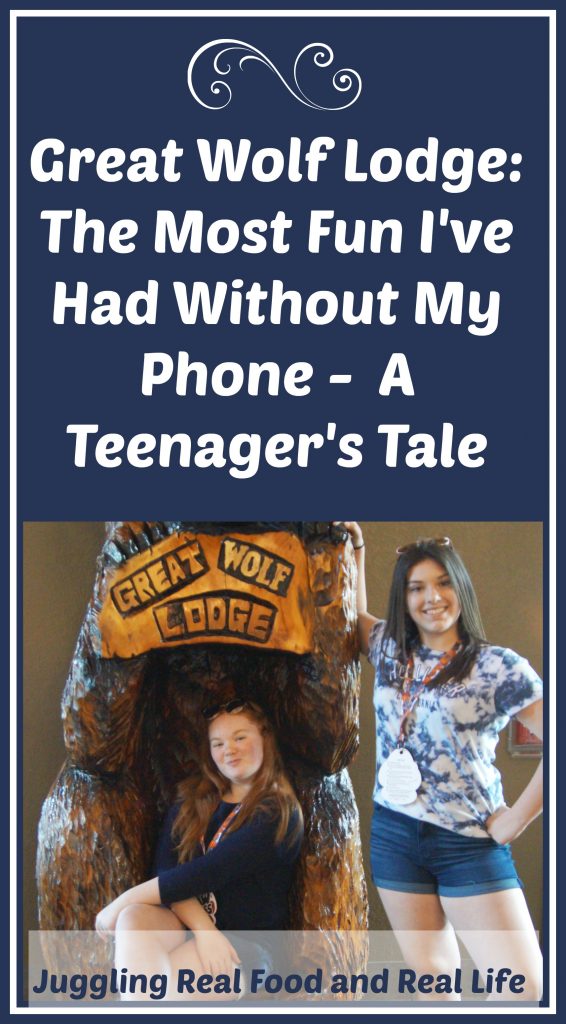 My daughter and I have always been very close. She has always told me everything going on in her life and I never have had to wonder what she was thinking about because she loved to talk to me. Then she turned 13 and everything changed. Suddenly there is no more conversation. Only distance. Instead of chatting in the car, she gets in the car and puts her headphones on right away. Ok………I guess she doesn't want to talk. She is suddenly too old to have fun with Mom and prefers to spend time with her friends. I get it. They all grow up eventually, but that doesn't change the longing I have in my heart to have fun with my daughter again. Great Wolf Lodge put a smile on her moody little face and gave us a day that I won't soon forget.
From the minute the automatic door slides open and you walk into the lodge, it's obvious that every aspect of Great Wolf Lodge has been designed for fun and families. A waterpark that is always the perfect temperature no matter the weather outside, themed suites designed for families, and tons of fun activities for everyone in the family…..even moody teenage daughters. I invited my daughter's best friend along for extra fun. Getting away from home allowed the girls to really relax and have fun being kids.
At one point during our day at Great Wolf Lodge the girls declared while giggling, "This is the longest I've been away from phone. And I'm having fun!" Yes, we were all surprised. We CAN have fun without our phones. So what was so fun? What was worth putting our phones away for? Here are their favorite Great Wolf Lodge activities.
Favorite Activities for Teenagers at Great Wolf Lodge
Water Slides: The girls loved sliding down the slides on the tandem rafts together and alone on the single innertubes. My daughter even grabbed her little brother and father for trips down the slides. No way! Spending time with Dad and little brother without complaining is possible. The slides are exciting enough to provide a fun time without being over the top thrilling. The Great Wolf Lodge water slides are perfect for young kids, teens, and adults too. The girls were up and down the slides all day.
Lazy River: When the girls needed a break from the slides, they enjoyed floating around the lazy river in inflatable tubes. They found the relaxed atmosphere to be perfect for conversation and laughter…….and so did I.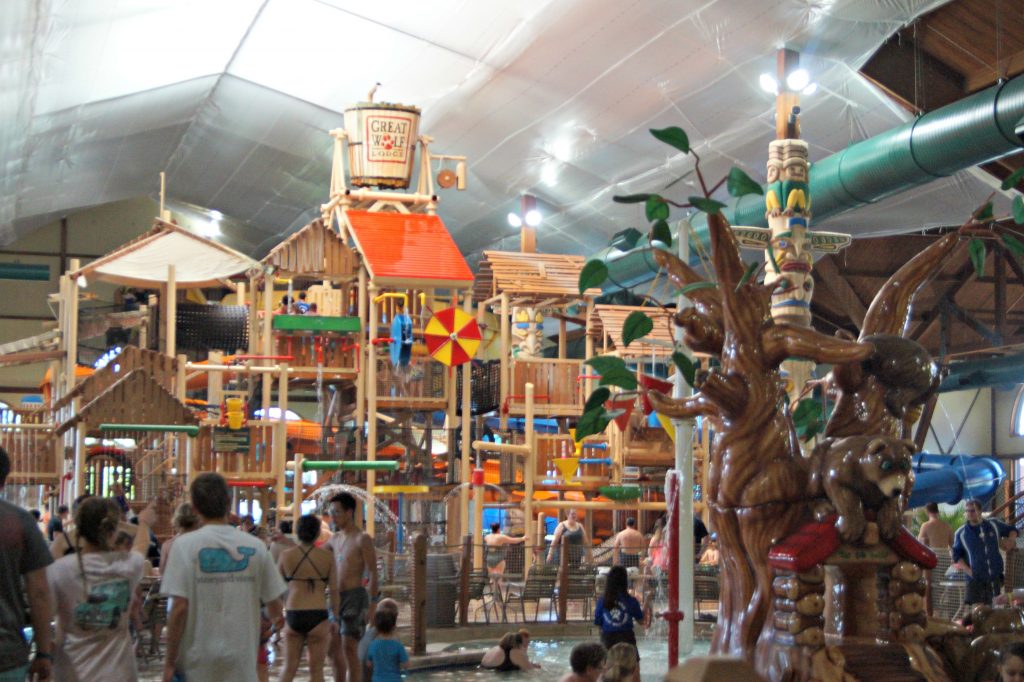 Fort Mackenzie: The girls loved exploring this giant multi-level water tree fort. There are water surprises everywhere in this fun attraction. The highlight is the giant water bucket that dumps an enormous amount of water on everyone waiting below. The alarm bell sounds a warning all through the day. The screams of excited laughter quickly follow as the bucket dumps its contents in a huge splash of fun.
Northern Lights Arcade: Fill a card with credits and let the fun begin. There is a wide variety of games available for everyone at the Northern Lights Arcade. Young, old, and everyone in between are sure to have a blast. Collect tickets by playing games and trade them in for super fun prizes.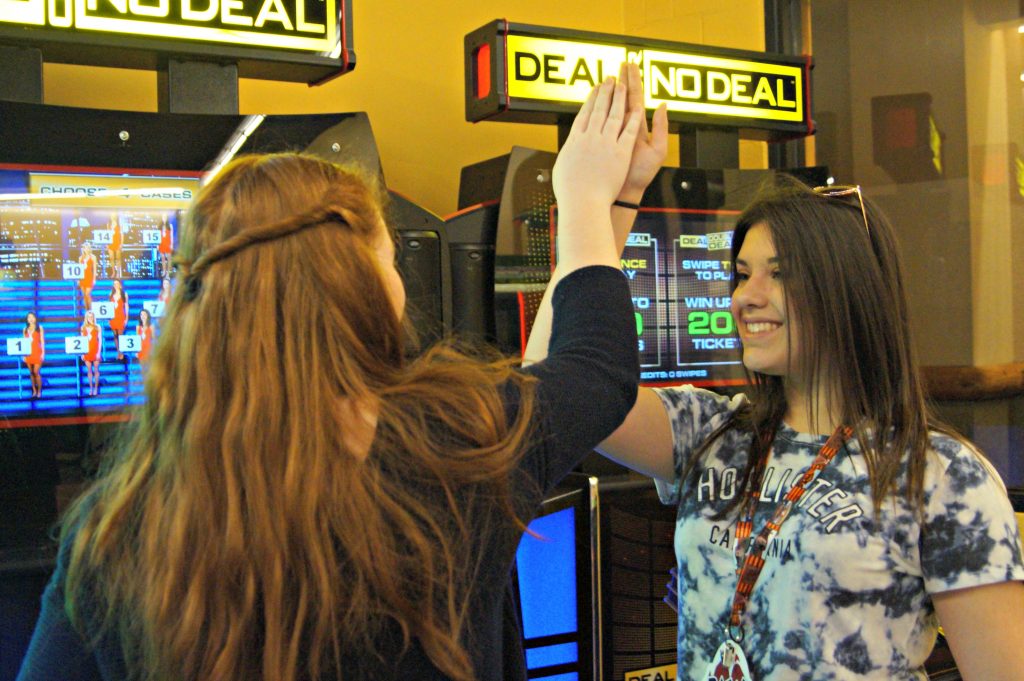 Engraved Bracelets in the Buckhorn Exchange Gift Shop: The girls discovered engravable bracelets in the Buckhorn Exchange Gift Shop. They picked out their favorite color bracelet, had their names engraved, and traded bracelets. Instant friendship bracelet!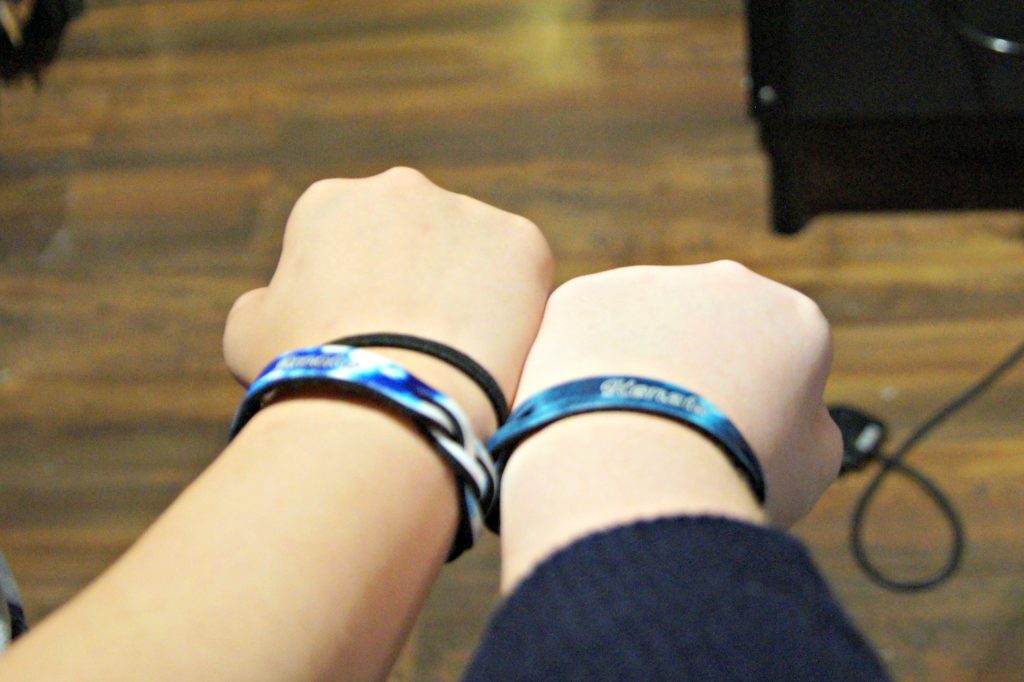 Creation Station: Apparently, you are never too old for stuffed animals, especially when they are your favorite Great Wolf Lodge characters. Wiley and friends are all available for stuffing. Watch your favorite Great Wolf Lodge character come to life as you stuff it into huggable existence. You can also pick out adorable outfits and accessories for your new friend.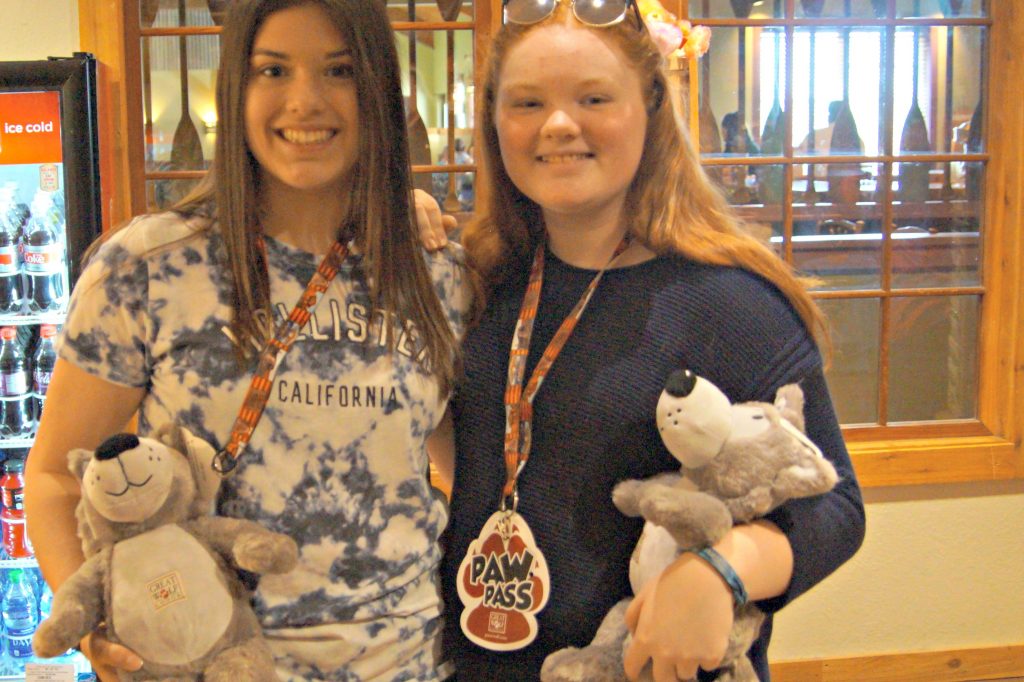 Living in the moment! The greatest gift you can give to your children is time to be a kid. No matter their age, your children will love having your undivided attention and you will finally have their attention too. Take the time to play with your children. You won't regret it. The girls recognized right away that a day at Great Wolf Lodge was a special day. We weren't "showing off" for anyone posting pictures on social media all day. We simply had an amazing time together. We created memories to last a lifetime. Thank you Great Wolf Lodge!
For more information on planning your Great Wolf Lodge Sandusky get-away check out their website here. Make sure to look for their seasonal specials for great discounts.
Disclosure: My stay was provided as part of a media visit to Great Wolf Lodge Sandusky. All information is current as of publication date. For more information, please see my full disclosure and privacy statement.