Summer.  My favorite season of the year.  Healthy eating just seems easier when fresh whole foods are so plentiful.  Stemilt provided me with the cherries for this week's recipe.  My love for super sweet cherries is all my own.  The Skylar Rae brand of cherries are "The Sweetest Cherry You'll Ever Eat."  They are gorgeous too.  Skylar Rae cherries have a beautiful bi-colored outer skin and a firm center that is extra sweet.  These cherries are a perfect snack right out of the package and make simple recipes extra special.  Since they are only available mid-June through the end of July, I encourage you to rush out and grab some to enjoy right away.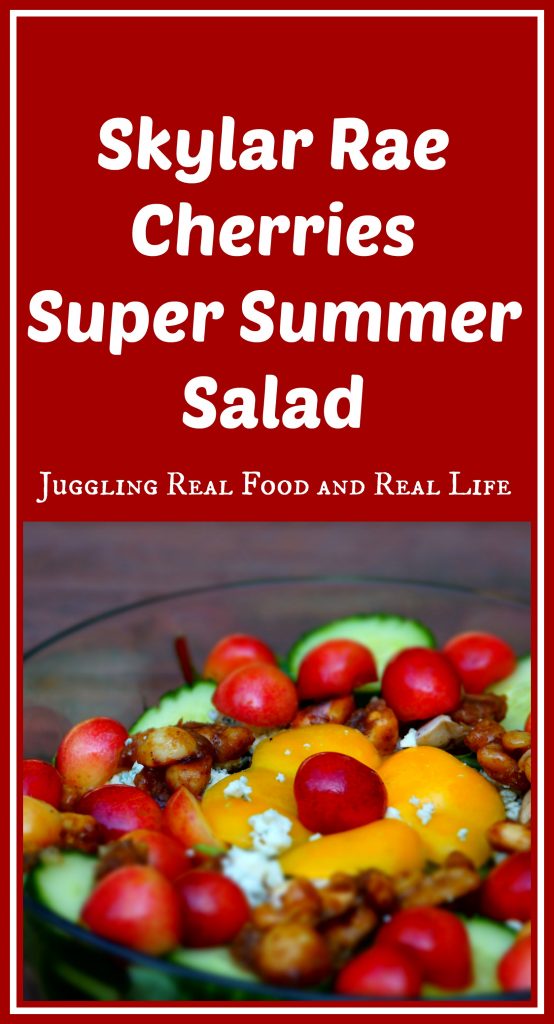 I enjoy the combination of sweet and savory so my favorite salads include both of those flavor sensations.  This Skylar Rae Cherries Super Summer Salad includes a wide variety of flavor that makes this salad an easy summer meal or a simple side dish to go along with your grilling favorites.  The more colors you include in a dish, the more nutrition you get.  This salad includes white mushrooms, red tomatoes, bright and beautiful greens, and of course gorgeous Skylar Rae cherries.  Toss in some maple candied nuts and cucumbers for a nice crunch.  I also like to add a nice pungent bleu cheese, but feta would also work to add some tang to this salad.  Serve with a delicious peach vinegarette or for something creamy try my friend Nicky's Poppy Seed salad dressing.  This salad is sure to please a crowd with its wide variety of flavors. 
 Skylar Rae Cherries Super Summer Salad
Skylar Rae Cherries Super Summer Salad
Author:
Christina - Juggling Real Food and Real Life
Ingredients
4 Cups Spring Mix Greens
2 Cups Baby Spinach Leaves
1 Cup Skylar Rae Cherries (pitted)
1 Cup Button Mushrooms (sliced)
½ Cup Red Pepper ( diced)
½ Cup Yellow Pepper (diced)
1 Cup Cherry Tomatoes
1 Cup Maple Candied Nuts
½ Cup Blue Cheese (crumbled)
Instructions
In a large bowl, combine the greens, mushrooms, red and yellow peppers, and cherry tomatoes.
Place sliced cucumbers around the out edge of the salad bowl.
Top cucumbers with Skylar Rae cherries
Sprinkle maple candied nuts and blue cheese over the top of the salad.
If you enjoy Skylar Rae cherries as much as I do, you are going to love these other Skylar Rae cherry recipes:
Super Sweet Fresh Vanilla Cherry Smoothie Recipe