I'm excited to kick off Cherry Week here at Juggling Real Food and Real Life.  I have a week of brand new recipes featuring Skylar-Rae cherries thanks to my partnership with Stemilt.  Stemilt grows the "sweetest cherry you will ever eat." With cherries this sweet, it is easy to create amazing recipes that your family is sure to love.  Today, I start with a super easy smoothie recipe that is sure to be a new family favorite.  Perfect for summer!  
Stemilt provided me with the cherries for this week's recipes.  My love for super sweet cherries is all my own.   

Smoothies are so easy to make.  They are packed with lots of great nutrition and flavor thanks to the variety of fruits and vegetables that can be used.  This vanilla cherry smoothie has a beautiful color and no artificial additives are needed to make this extra delicious.  My kids loves this recipe for breakfast and it is equally delicious as a frosty treat on a hot summer day.  
[bctt tweet="Enjoy a Super Sweet Fresh Vanilla Cherry Smoothie with this recipe." username="jugglngrealfood"]
Super Sweet Fresh Vanilla Cherry Smoothie Recipe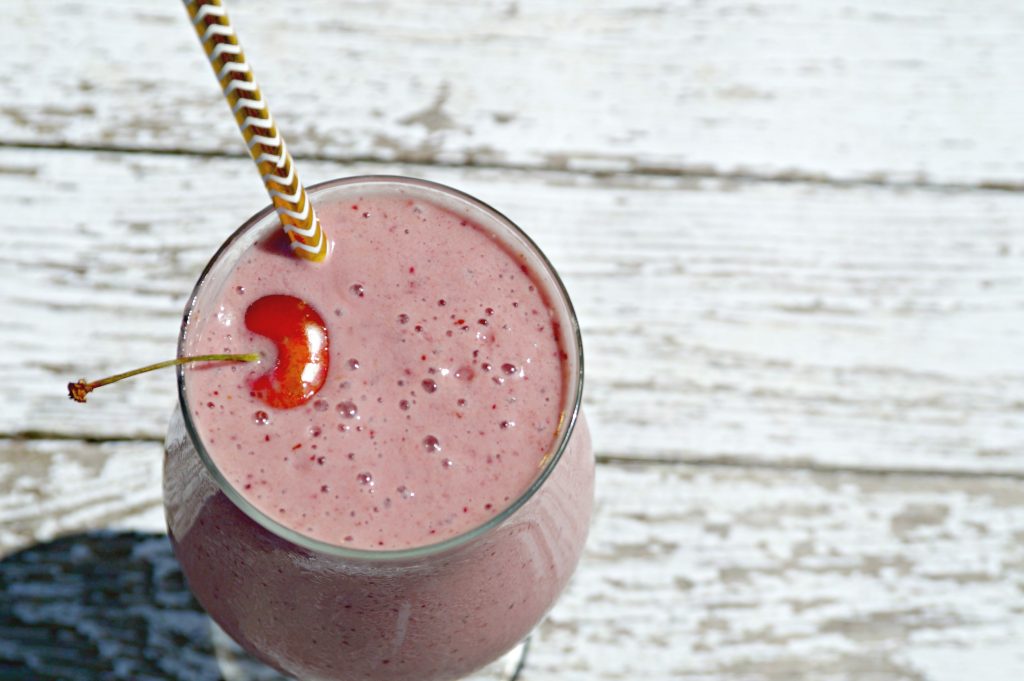 Super Sweet Fresh Vanilla Cherry Smoothie Recipe
Author:
Christina - Juggling Real Food and Real Life
Ingredients
1 cup pitted fresh Skylar Rae Cherries
1 cup pitted frozen sweet cherries
1 ripe banana (frozen is preferred)
½ cup whole milk yogurt
½ teaspoon real vanilla
½ cup milk
1 cup ice
1 teaspoon honey if extra sweetness is desired
Instructions
Mix all in blender until desired consistency is reached.
Add extra milk if too thick.
Add extra ice if too thin
When making smoothies on a regular basis, get in the habit of buying extra bananas and let the ones you don't eat get extra ripe.  Yes, they will be brown and kind of ugly.  That ugly brown color is sweetness.  The sweeter the banana is, the less likely you will need to add extra sweetener. 
I let my bananas get brown and ugly, then carefully peel them and place in a big Ziploc bag in the freezer.  That's how I am always "smoothie ready"!  I'm really picky about how the bananas I eat look.  I would never touch a banana with a brown spot on it.  However, smoothies are a different story.  Extra brown and sweet is what I prefer for making smoothies. 
I hope you love this new cherry smoothie recipe as much as we do!  I'll be back later this week with additional cherry recipes featuring the Skylar-Rae cherries from Stemilt.