I'm excited to continue Cherry Week here at Juggling Real Food and Real Life.  I am celebrating cherry season with a week of brand new recipes featuring Skylar-Rae cherries thanks to my partnership with Stemilt.  Stemilt grows the "sweetest cherry you will ever eat."  This Stemilt exclusive looks similar to the well-known Rainier cherry, but is both firmer and sweeter than other cherries you'll find at stores. With cherries this sweet, it is easy to create amazing recipes that your family is sure to love.  Today, I am sharing my recipe for a Cherry Compote. 
Stemilt provided me with the cherries for this week's recipes.  My love for super sweet cherries is all my own.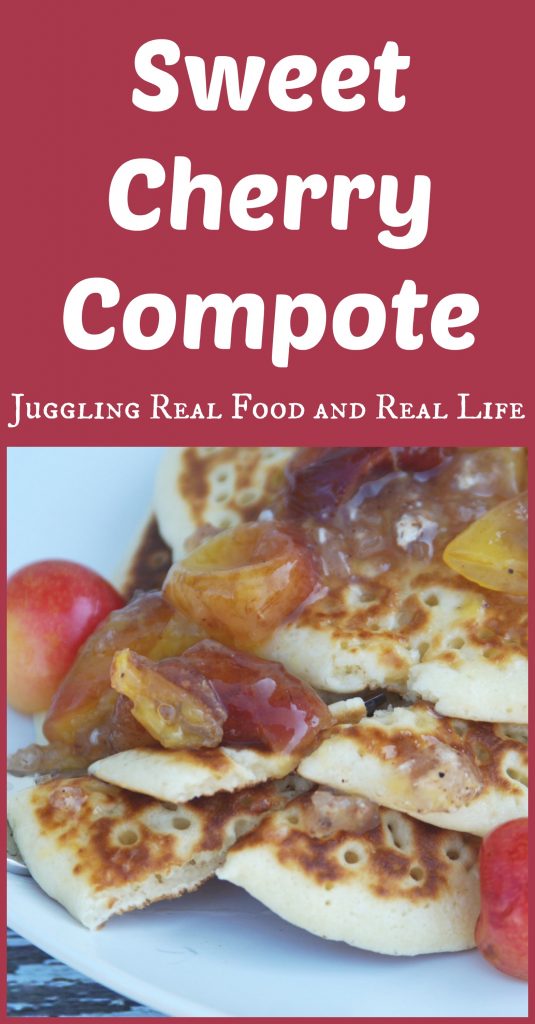 [bctt tweet="Make breakfast special with this super sweet cherry compote served over pancakes." username="jugglngrealfood"]
"Compote" is a pretty fancy word for us around the Juggling house or at least not a word we use on a regular basis.  The kids and I have been laughing at the number of times we have said compote as I've been working on this compote recipe and pictures.  Although compote sounds like something special, it is actually a simple process to make a compote.  Compote is a French word for "mixture."  Yes, it's that's simple.  A compote is a mixture of whole pieces of fruit and spices cooked in sweetened water.  The end result is a delicious sweet fruit dessert or topping for pancakes. 
One quick note that I want to share with you about this recipe.  This recipe includes cornstarch.  Corn is almost always a GMO product so look to buy organic cornstarch and avoid the unknown world of GMO foods.  I recently found this article and found it easy to understand if you are interested in additional information.  Should the U.S. Ban Genetically Modified Organisms (GMOs)?  As always, I leave it up to you to decide what is best for your family. 
The pictures really don't do this recipe justice.  You have got to try this recipe and taste how delicious this combination of sweet fruit and spice this compote recipe is.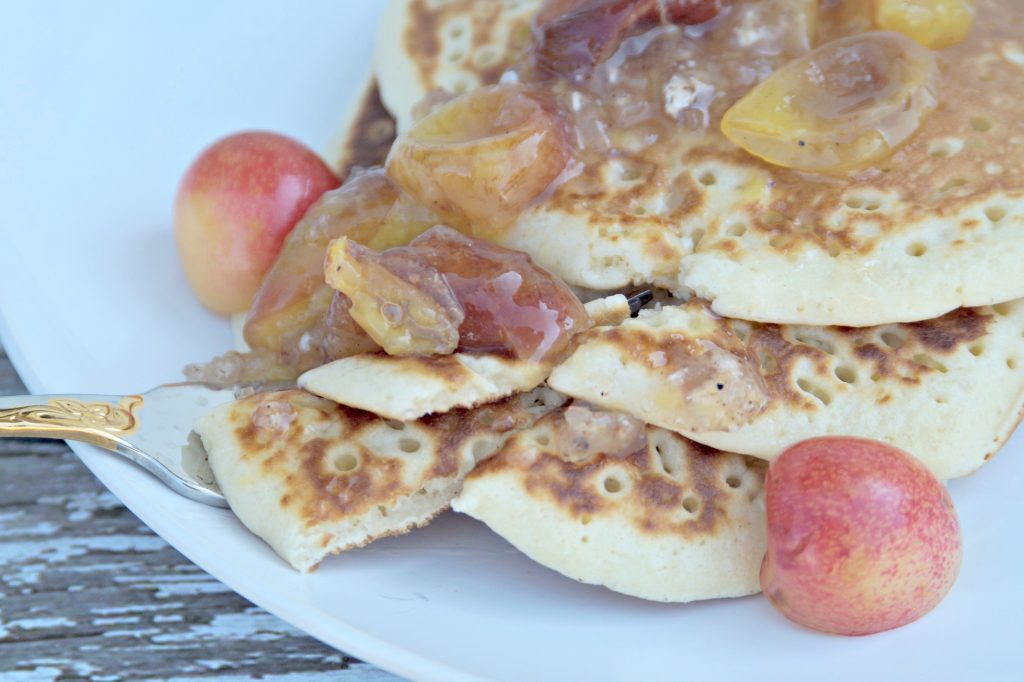 Skylar Rae Cherry Compote
Sweet Cherry Compote
Author:
Christina - Juggling Real Food and Real Life
Ingredients
¼ cup honey
1 tablespoon cornstarch
1 tablespoon lemon juice
¼ cup water
2 cups fresh cherries, pitted and halved
½ teaspoon ground nutmeg
Instructions
Put water in a medium saucepan.
Stir in honey, cornstarch and lemon juice
Mix well.
Bring to a boil over medium heat, stirring constantly.
Continue to cook, stirring, until thick and clear.
Reduce heat.
Stir in cherries, lemon juice, and nutmeg.
Heat until cherries are hot.
Remove from heat.
Gently smash with a potato masher or back of a fork.
Serve over pancakes, French toast, waffles or ice cream.  This compote is so good!  Skylar Rae cherry season is very short.  This special cherry is in season for a very limited time. Look for Skylar Rae cherries in stores from mid-June to late July each year.  If you are local to me in the Cleveland, Ohio area you can find the Skylar Rae cherries at Heinen's stores.