Cave Tools recently contacted me to see if I would be interested in reviewing one of their products.  They have a nice selection of durable tools for grilling so I decided to choose a product to try out.  I wanted to pick something that I thought would really help solve a problem for my family and my readers.  I hate loading up my tiny kitchen with needless tools.  I really want to make sure that the items I keep in my kitchen are helpful to me when prepping real food meals and used often.  I don't have room in my kitchen for tools that I only use once a year!  I took a look at the choices available on the Cave Tools website and decided on the Burger Press Patty Maker .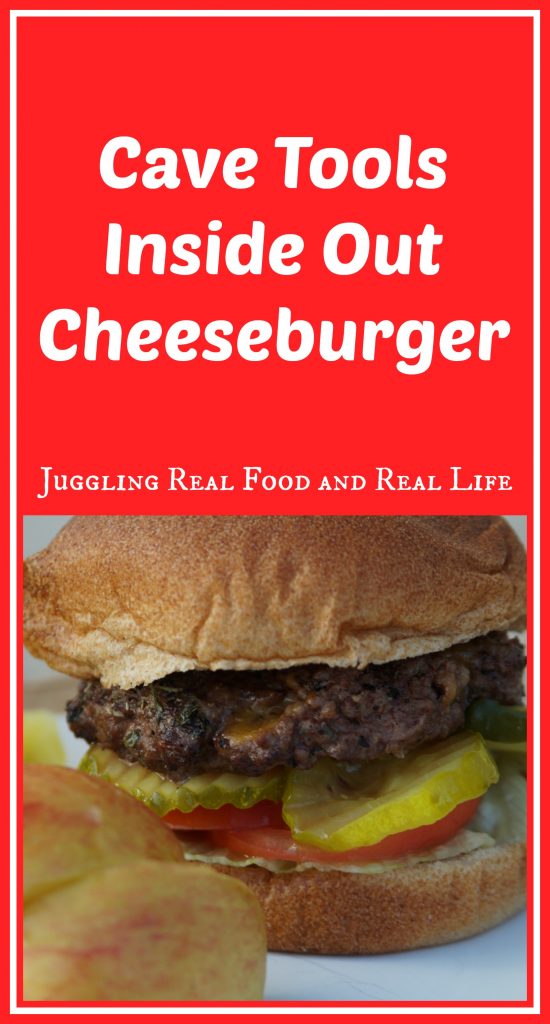 My family loves hamburgers all year, but especially in the summer when we can grill them outside.  We prefer to use grass-fed organic beef and most of the ready-made patties that we find at the stores use conventional beef.  It's easy enough to make patties by hand, but they always end up being all different sizes which causes a couple of problems.  They cook at different rates on the grill and my family fights over who gets the "bigger burger".  Cave Tools Burger Press Patty Maker solves both of these problems.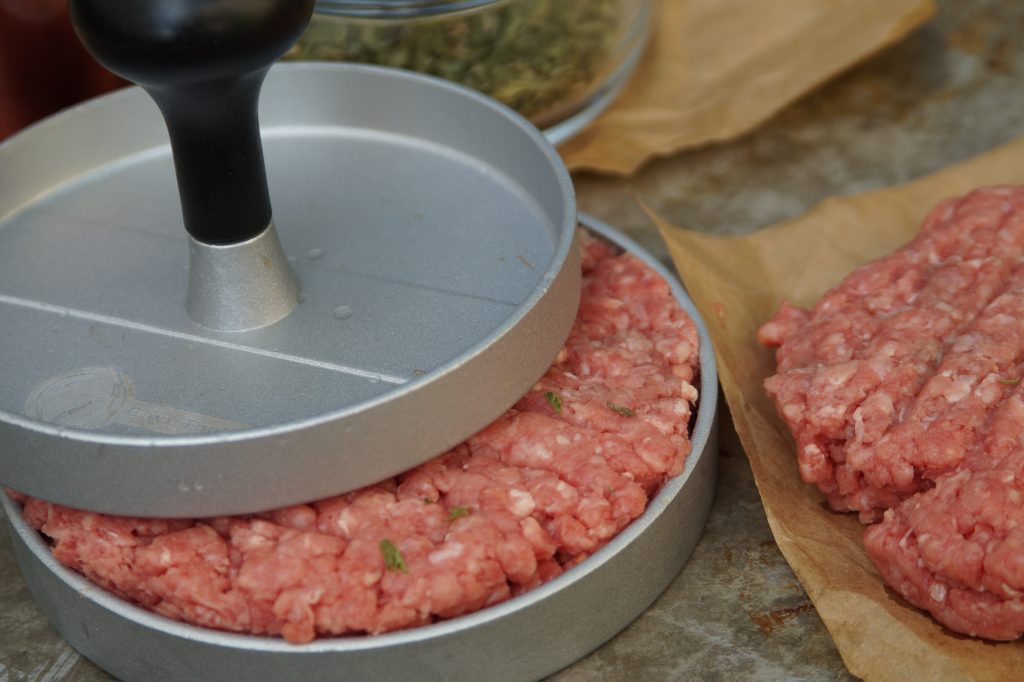 The Patty Maker is made of durable material that goes right in the dishwasher when you are done.  It has a fill line for 1/4 pound burgers or fill to the top for a nice big 1/3 pound burger.  It's simple to use too.  You simply place a non-stick burger paper in the bottom of the press, place your prepared meat in the press, another paper on top, and then press the top into the meat.  You might be interested to know that I found the handle to be super comfortable. I have smaller hands so some tools can be problematic for me.  My husband used the tool and he tells me that his much larger hands also found it to be comfortable.  The whole process is quick and easy.  I was able to make a bunch of burger patties in a short time.  Since I used the non-stick papers which come with the press, I was able to place a bunch in the freezer for future meals without worry of them sticking together. This is a great tool for those folks who like to meal-prep for the week and folks who are just trying to get dinner to the table in a hurry without sacrificing quality ingredients. 
Make sure you read to the end so you can grab the special discount coupon code.  You are really going to want to add this tool to your real food kitchen. 
My husband is kind of obsessed with burgers.  He read an article in Rachael Ray's magazine years ago that had recipes for all sorts of gourmet burgers and decided that he needed these burgers in his life.  That magazine is long gone, but his obsession for creating "Inside Out" or loaded burgers has not subsided one bit.  He is constantly filling burgers with super delicious ingredients and then watching them fall apart on the grill.  These experimental recipes have been more disaster burgers than gourmet burgers.  When the Cave Tools Burger Press Patty Maker arrived, he quickly took it over and started creating his list of future recipes.  He started with these simple Inside Out Cheeseburgers.  They are mixed with delicious cheddar cheese that actually oozes out with all of its wonderful flavor.  The verdict:  They didn't fall apart on the grill.  The patty maker did its job and squeezed those suckers together so that they held up nicely on the grill.  I suppose that means there are lots more Inside Out Burgers in our future.  Look for more recipes coming this summer.  My husband has a ton of burger ideas ready to go!  Thank you Cave Tools for this wonderful tool! 
It may seem silly to include a recipe for hamburger patties since there is more technique than recipe required.  However, I do like to include all of our favorite family recipes online so my children will have access to them as they grow up and begin to cook for themselves.  The idea of preserving family recipes for future generations is important to me. I want my family to always remember that cooking is love for me.  I sure do love these kids and want them to have the healthiest foods possible.  I hope you enjoy these Inside Out Cheeseburgers as much as we do! 
Cave Tools Inside Out Cheeseburgers
Cave Tools Inside Out Cheeseburgers
Author:
Christina - Juggling Real Food and Real Life
Ingredients
2½ Pounds Grass-Fed Organic Ground Beef
4 ounces Cheddar Cheese (cut into small chunks)
4-5 Tablespoons Italian Seasoning
Salt and Pepper to taste
Lettuce, Tomatoes, and Pickles for Toppings
Whole Wheat Hamburger Buns
Instructions
Mix beef, seasoning, cheddar cheese, salt and pepper in a bowl.
Prepare patties using the Cave Tools Burger Press Patty Maker
Grill patties to desired doneness
Using whole wheat hamburger buns make up your burger with toppings.
Enjoy!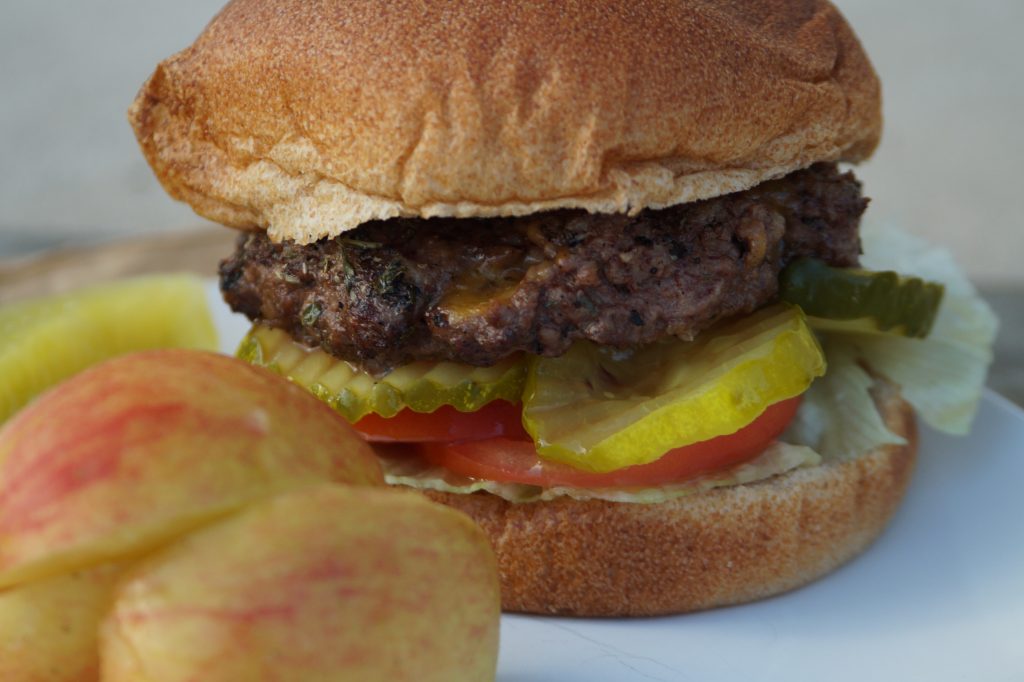 You can purchase the hamburger patty press on Amazon.  You know…….the place we shop almost everyday.   You can also purchase directly at the Cave Tools website.  As a special offer for my readers, use this CAVE TOOLS COUPON CODE to receive 15% off your next order: BURGER15   
Have you used a hamburger patty press?  What do you like or don't like about it?  What is your favorite summer picnic food?  Leave me a comment and let's get the conversation going.  I can't wait to hear from you!