This post contains affiliate links. Purchasing through them helps to support this website.
Everywhere I go people are talking about Marie Kondo and her method of decluttering and organizing. Are you finding the same? My hair stylist and I spent two hours talking about all of our decluttering. It started years ago with Marie's best-selling book, "The Life-Changing Magic of Tidying Up." Marie teaches readers to "spark joy" as they declutter and organize their homes. And now…..there is the Netflix series that is driving decluttering our homes to a fever pitch.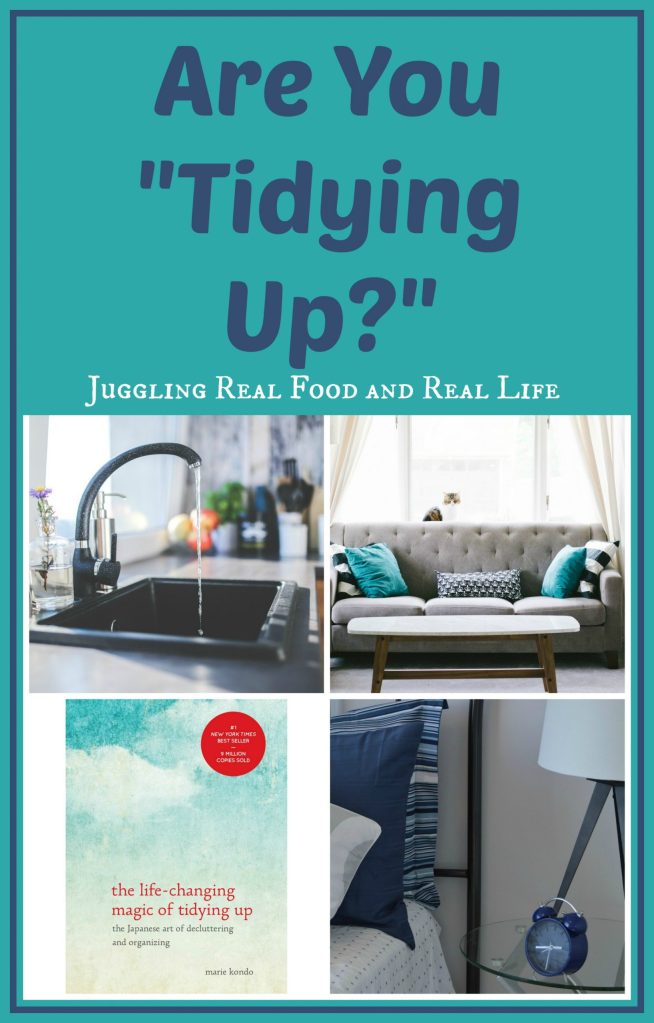 Decluttering is so much more than cleaning our homes. The Netflix series really shows how life-changing a tidy home can be. I don't think you have to reduce your book collection to only 30 books in order to have a tidy home. However, getting rid of items that you no longer use is so important. There is a reason we buy most of the items in our home. The important thing to remember is that lives change and so should the items we keep in our home. My youngest baby is 11-years old now. I really don't have a need to hold on to all of his sippy cups. No matter how cute they are! Out they go with a "thank you" for their service. When we clear out the old, we make space for the life we need and want right now.
So many of us have garages that we can't park our cars in and closets that are overflowing with stuff. Stuff that we don't need and probably don't even want. How often do you frantically search your house to try to find things? I'm sure it's somewhere in the house, but I have no idea where in this mess. Constantly having to search for things can be so frustrating! Decluttering can reduce stress and actually save you time. As a busy mom, any found time is a good thing.
I really do feel that important items are items that you can easily find. Do you usually stuff important items into your junk drawer? Of course, not! Let's clear the clutter and make space for what is important in our lives.
If you are excited to get started decluttering and organizing your home, you will definitely be interested in these deals from Savings.com. I've partnered with them to bring you great deals on lots of incredible organizing products. There is everything you need to get started on your first decluttering and organizing project..
Are you watching Marie Kondo's Netflix show? How many times have you watched it? Which is your favorite story on the Netflix show? Which is the story you can relate to the most? Leave us a comment and let's get the conversation going. I'll be decluttering with you, so let's keep encouraging each other. For more decluttering motivation and tips, check out my Freedom from Clutter in 40 Days series.