Today we continue our discussion on setting up a real food kitchen with my real food refrigerator essentials list.  If you missed the Pantry Essentials discussion, make sure you click over to get caught up.  The key to avoiding the fast-food lines is to fill your refrigerator with lots of real food ingredients.  These are the ingredients you will be able to quickly throw together for delicious and nutritious meals and snacks for your busy family.   
Having a stocked real food kitchen really helps my day to go smoother.  Lots of snacks for the kids to choose from and less stress when it comes to preparing meals for my family.  Running to the grocery store last minute is something I try to avoid at all costs.  It drives me crazy!  It takes a little practice to get the hang of keeping a stocked real food refrigerator, but with practice it becomes easier.  Use the following list to build your real food shopping list.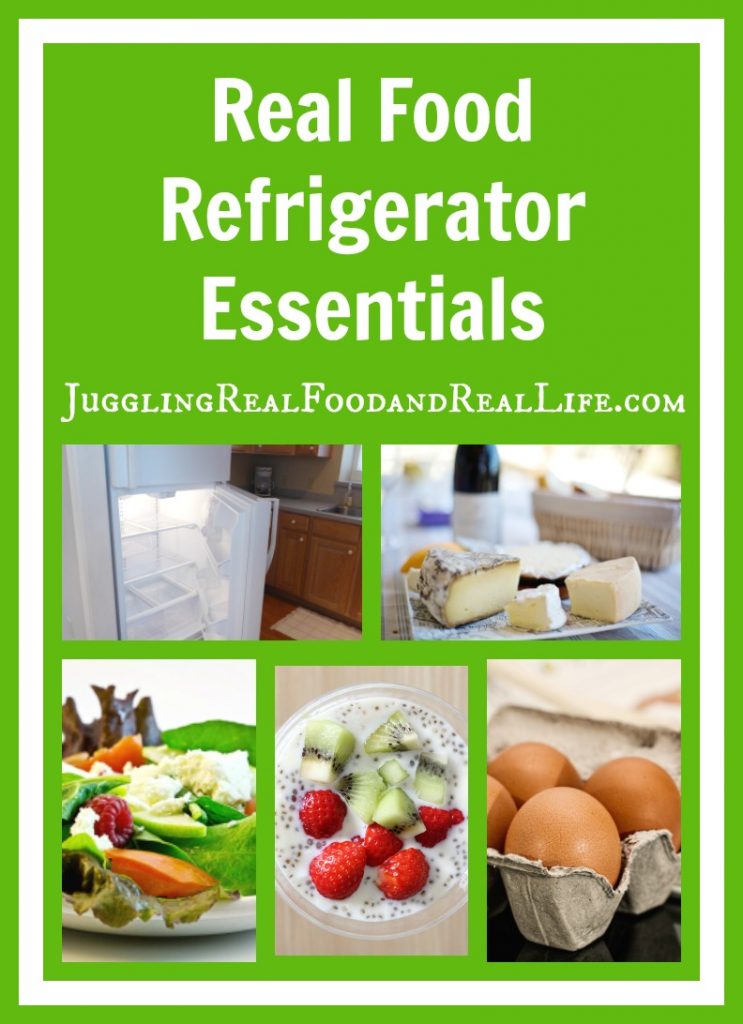 Real Food Refrigerator Essentials
Eggs
Butter (not margarine)
Milk
Cheese (mozzarella, cheddar, Colby-jack, Parmesan, Cream Cheese)
Sour Cream: Double check ingredients
Plain Yogurt:  Way more versatile and healthy than the flavored stuff
Cottage Cheese
Organic Cheese Sticks
Peanut Butter: 1-Ingredient
Jelly: All-Fruit
Leafy Greens: Baby spinach, Spring Mix, Romaine
Fresh Veggies: Carrots, Celery, Cucumbers, Tomatoes
Perishable Fresh Fruits: Berries, Grapes, Oranges, Lemons 
100% Real Maple Syrup
Nitrate Free Lunch Meats:  Make sure to look for real meat and not meat-like products.
If you are experienced at this real food thing, go ahead and leave me a comment with what you would add to this real food refrigerator essentials list.  I'll come back and keep updating this list as needed.  I want this to be a resource for folks just starting on their real food journey.  I'll be back soon with my freezer list and information on buying meat.
For real food recipes check out my recipe index.  I add new recipes all of the time so I hope that you check back often.  If you are looking to plan your real food meals, you will want to check out the section of the blog that I have devoted to all things meal planning.  It included advice, tips, and a free printable meal planning calendar.