This week the Real Food Experience has been all about
healthy oils and fats
.  The Real Food Experience is a step by step approach to help families transition from a mostly fast and highly processed diet to a real food lifestyle.   There is so much confusion around this subject.  It seems that even the medical and nutrition experts can't agree……….or at least they seem to change their minds often.  So what are we regular people supposed to do when we want the best for our families?
It's quite simple really.  Eat real food.  Lots of whole foods with a variety of nutrients will keep us healthy.  The confusion really seems to come in when the subject of processed foods comes into play.  If we avoid processed foods, we avoid many of the questionable fats.  We certainly will be avoiding trans fats which everyone seems to agree are bad for us.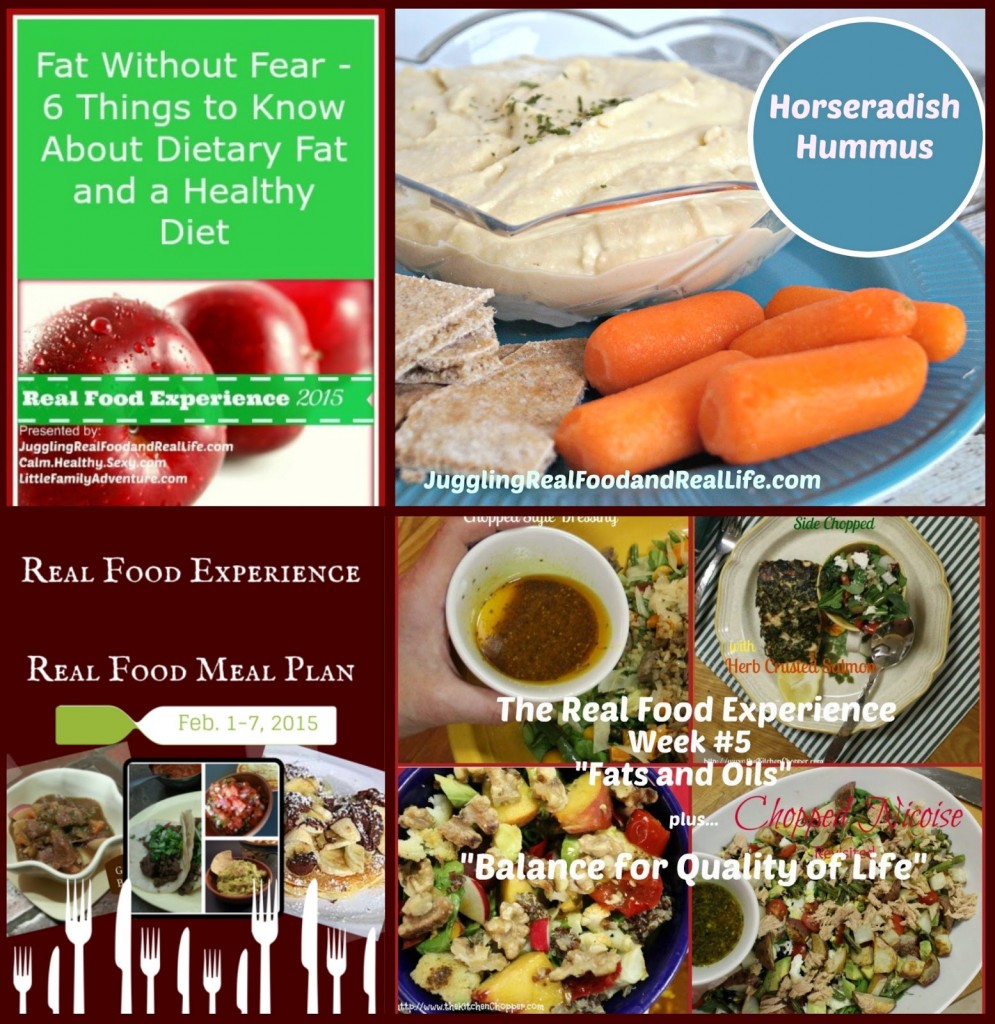 My Real Food Experience partners and I have been researching the subject of healthy oils and fat and have put some articles together for you. Take a look, do some additional research, and make an informed decision for your family.
Nicky from Little Family Adventure wrote the article Fats: Are They The Hero or The Villain?  In this article Nicky explores the latest research on fats and how they affect our health.  It's a great piece to share with your family and friends and get a conversation going.  Gaye over at Calm.Healthy.Sexy. explores many of the myths around fat and talks about how we actually need fat in our diet for optimal health in her article Fat Without Fear – 6 Things to Know About Dietary Fat and a Healthy Diet.  KC over at The Kitchen Chopper once again leads us in our discussion of fitting exercise into our lives. She also discusses which butter she has found to be the best of those commonly found at our grocery store.  Check out Healthful Fats/Oils Plus "Balance For Quality of Life."  


Make sure you also check out Nicky's weekly meal plan and my recipe for Horseradish Hummus.  Hummus is an easy way to include healthy olive oil in your diet.
Have fun researching and discovering this healthy way of cooking for your family.  Cooking should be fun and not a chore.  Get your kids in the kitchen with you and teach them how to help you.  It's a great way to teach them life skills that will keep them healthy for a lifetime.
I promise to keep bringing you the best and most accurate information on nutrition I can find……….and hopefully with a little bit of humor along the way as well. You can find lots of great information on this blog (check out the tabs above and the archives). You can follow what others are doing for the Real Food Experience using #RealFoodExperience. Make sure to subscribe by email so you don't miss anything. You can also find lots of great tips, tricks, advice, and fun on my Facebook page and my other social media. Please join us and share us with your friends!