Meal Planning is the best way that I've found to avoid the temptation of the drive-thru window and reduce food waste.  I absolutely hate arriving home at the end of a long day with no idea what we are going to eat for dinner.  It's really hard to plan a meal when you are already starving.  The kids are grouchy.  I'm grouchy.  It's no fun at all!  That's why I like to take a few minutes each week and come up with an easy meal plan that includes lots of real food and meals that I know my family will love.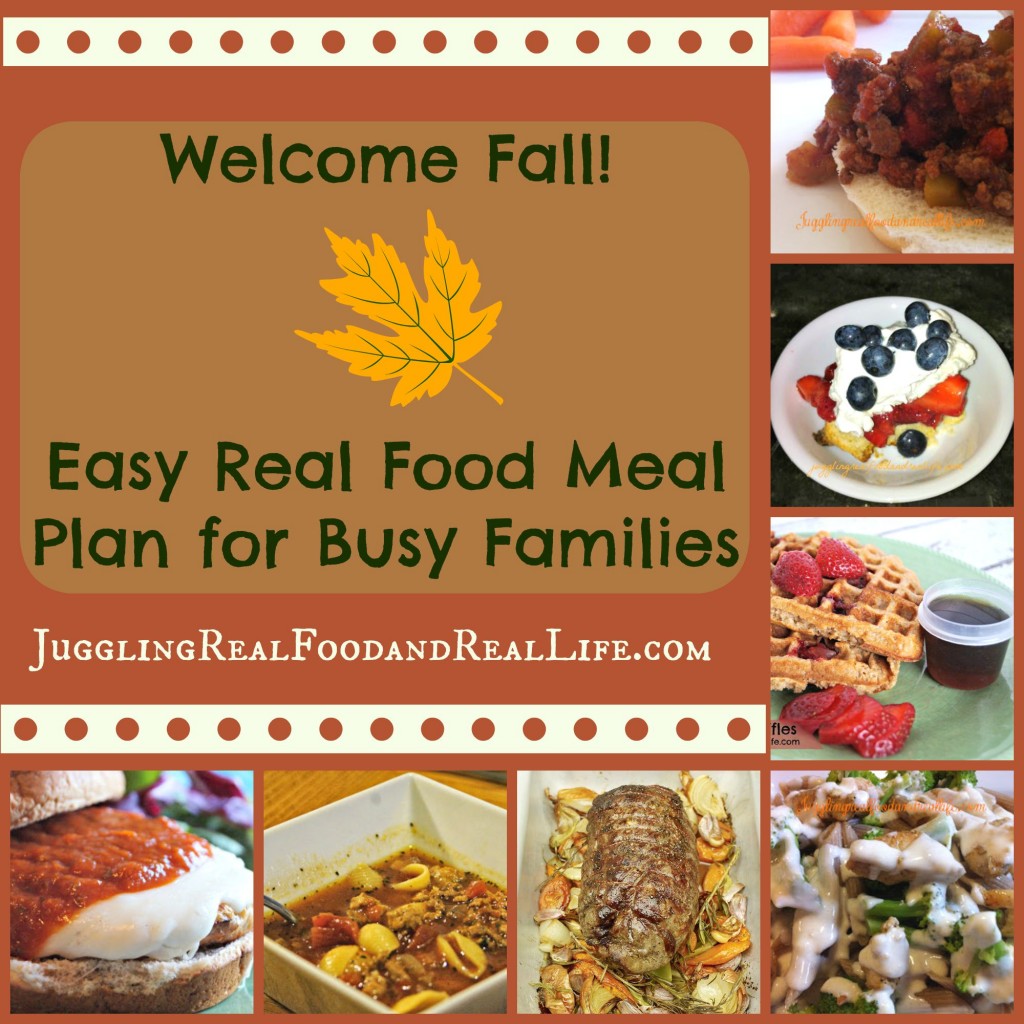 You may remember that I want my meal plans to be different than those you typically see.  We all have busy schedules……….that's why we read Juggling Real Food and Real Life.  I know that one cookie cutter meal plan just won't fit into your schedule.  I also know from conversations with you that you all  do your meal planning and grocery shop on different days of the week.  For some of you it's Monday, some of you it's Thursday, and still others do all of their meal planning on the weekend.  You need something you can customize.  That is exactly why I created the Juggling Real Food and Real Life Meal Planning Calendar.   It has an area where you can fill in all of your family's activities.  This helps you to see what types of meals you have time to make each day.  For this reason, I don't want to write up a Monday, Tuesday, etc. meal plan.  I'm including 7 days, but the idea is that you fill them into your week as they fit into your schedule.  We can work on this together as I introduce additional meal planning and meal prep concepts along the way.
Real Food means different things to different people.  You can read more about our real food rules here.  The short answer for us is that I like to cook from scratch as much as I can and only use packaged foods that have a few ingredients.  We try to avoid artificial colors at all times.  We just don't need them!
7 Days of Real Food Dinners
Day 1 – Grilled Chicken Parmesan Sandwich, sliced cucumbers and baby carrots with dip, and crockpot applesauce
Day 2- Chicken and Broccoli Pasta Alfredo, tossed salad
Day 3 – Breakfasts for dinner:  Strawberry Waffles, Sausage Patties, crockpot applesauce
Day 4 – Crockpot Sloppy Joes , Drizzled Balsamic Zucchini, Sliced peaches
Day 5 –  Naan flatbread pizza with lots of veggies and a tossed salad. (Make sure you use whole wheat Naan flatbread)
Day 6 – Zesty Crockpot Italian Pasta Soup,  crusty bread, fruit salad
Day 7 – Roast Beef and vegetables.  Mixed berries with Maple Whipped Cream for dessert.
I like to make salad dressing from scratch.  It is super easy and I have complete control over the ingredients. If you are in the mood for a dressing that is nice and creamy with just a touch of sweetness, try Little Family Adventure's Poppy Seed Dressing.  If you want something a little more tangy, give Calm.Healthy.Sexy's Balsamic Vinegar Dressing a try.
This is the Naan flatbread that I like to use for the pizzas.  This is an affiliate link so if you purchase this product through Amazon you pay the regular price and Juggling Real Food and Real Life will receive a small referral commission.  You may also be able to find the Naan flatbread at your local stores.  I usually buy up all of the whole wheat when I can find them.

What are some of your favorite fall meals?  Do you make your own salad dressing or do you have a favorite bottled brand?  Do you struggle to get real food to the table because of your busy schedule?
If you are looking for help in making the transition to eating more real food, you should check out the Real Food Experience posts. You can get started at the beginning or jump around the challenges. You can find a complete round-up of the program here. Each week's challenge is full of terrific advice to help you transition from fast and processed food to a real food diet. Changes that will help you to live a healthy lifestyle and have the energy to keep up with your busy schedule. I would also love for you to join me on social media. You can find me on Facebook, Twitter, and Instagram on a regular basis. Leave me a comment and let me know you are there. I love to visit with my readers.