Welcome back to Day 9 of Freedom from Clutter in 40 Days.  If you are tired of the burden of clutter then this series is for you.  Day by day we are getting rid of the items that weigh us down, slow us down, and get in the way of having time to spend with our families.  Today, I am sharing ideas on how to make a noticeable difference in your home with just a short amount of time.  Big impact without a lot of effort.
We invite you to join our special Facebook group to share your ideas, joys, concerns, and declutter stories with us.  Together, we are learning to find Freedom from Clutter.  This is a focused 40 day program, but we plan to keep the group going all year long.  You can join us at any time.  What is really fun about this project is that we are sharing our real struggles with clutter.  There are no organization experts here.  We are just real people sharing our real life experiences including our frustrations and joy as we declutter our homes.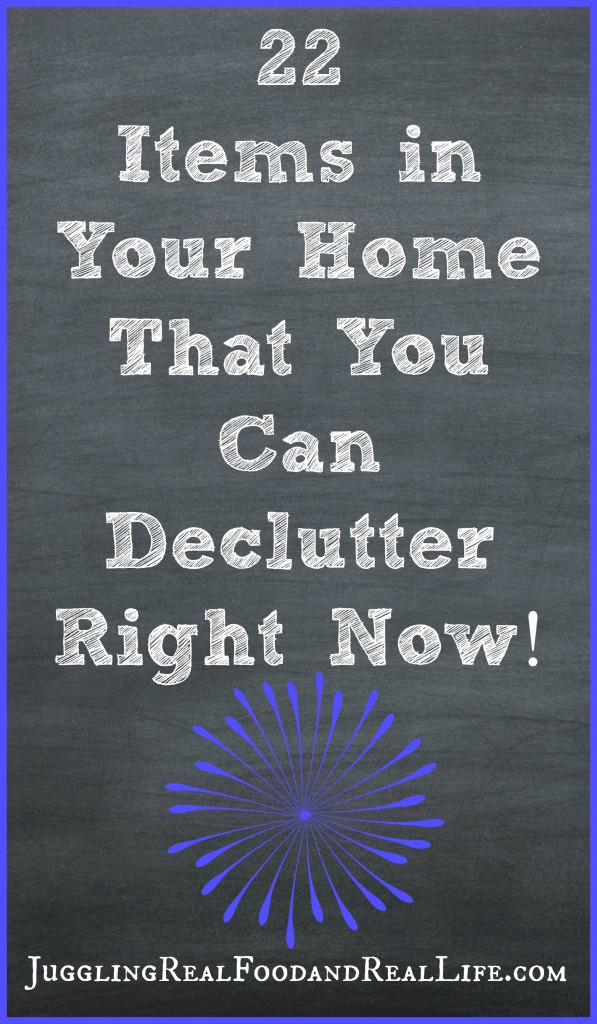 The more you declutter, the more you realize that your belongings can play mind games with you.  Perhaps, this is why decluttering is so interesting to me.  As someone who studied psychology (I'm not licensed for anything psychology based) in college, I have a particular interest in human behavior.  From little kids to senior citizens, we all have attachments to our belongings.  Why is that?  We can dig into that later in this series and during our own therapy sessions, but today I'm going to keep it simple.  Sometimes instead of having to deal with items that require a lot of thought, we should just set our timers and declutter some easy stuff.
I've created the following list to be our "easy to declutter" stuff.  Leave me a comment and let me know what you would add to this list.  We can be a help to each other as we battle the clutter that has taken away the freedom that we deserve.  I like to think of this as my "Duh!  Why do I still have this?" list.  These are the things that we hold on to because we are just too busy to deal with it and because we have not developed the habit of decluttering on an ongoing basis.  We're working on that, but in the meantime let's toss some stuff that we should have gotten rid of a long time ago.
Get rid of this stuff now!
Magazines older than 3 months

Newspapers older than 2 days (You aren't going to read it)

Old makeup (when to toss)

Old packs of gum and candy

Shoes that don't fit or are uncomfortable (You aren't going to wear them so get rid of them!)

Clothing you don't love and/or haven't worn in a year

Old remote controls

Broken sunglasses (you probably already replaced them anyway)

Prescription glasses that are not the correct prescription (Donate them to Lions Club International)

Socks missing their match.  (Just be done with it already!)

Last season's sunblock (it isn't as effective from year to year)

Kid's PJs missing their top or bottom (and probably don't fit anymore)

Kitchen appliances you don't use (Many of us imagine a perfect life where we use everything we own.  That's not reality so donate it to someone who will use it)

Storage containers missing their lids

Random cords that don't seem to belong to anything

Pens with no ink

Crinkled up notepads (it would be nice if you would use the paper, but you probably won't because it's crinkled and ugly)

Broken costume jewelry

Expired coupons

Promotional magnets to stores/restaurants you don't use

Expired food

Anything else you hold on to "just in case."  Just in case of what???  Get rid of it.
We are all so busy trying to lead perfect lives that we often don't think to get rid of things when they no longer matter.  It's just easier to stuff things into closets and drawers, until the chaos takes over.  Let's take 15 minutes to declutter items that we should have gotten rid of long ago.  And then……take a deep breath and enjoy the empty space.
On another note……..if you are interested in simple recipes your family is sure to love, make sure you check out my recipe index.  I am adding new recipes all of the time so make sure you check back often.  You will also want to grab this free meal-planning printable calendar to make your meal planning easier.  It has areas to plan your daily activities and your evening meal prep.
For more decluttering tips in the Freedom from Clutter in 40 Days series, click on the image below.