Welcome back to Day 2 of the Freedom from Clutter in 40 Days series.  If you are tired of the burden of clutter then this series is for you.  Day by day we are getting rid of the items that weigh us down, slow us down, and get in the way of having time to spend with our families.  What I have finally come to realize is that my cluttered home is a symptom of the stress that I have been under.  Raising a family who all like to keep busy really can create a lot of stress.  There have been so many days where I have two or three kids (sometimes more) all trying to run in different directions.  In my attempt to be supermom and "juggle it all", I have not taken the time to declutter my home as I should.  As a result, my home is harder to keep up and really slows me down in my attempts to meet the needs of my busy children.  If this sounds even a little bit like your situation, keep reading.
[bctt tweet="What I have finally come to realize is that my cluttered home is a symptom of the stress that I have been under. It's time to declutter."]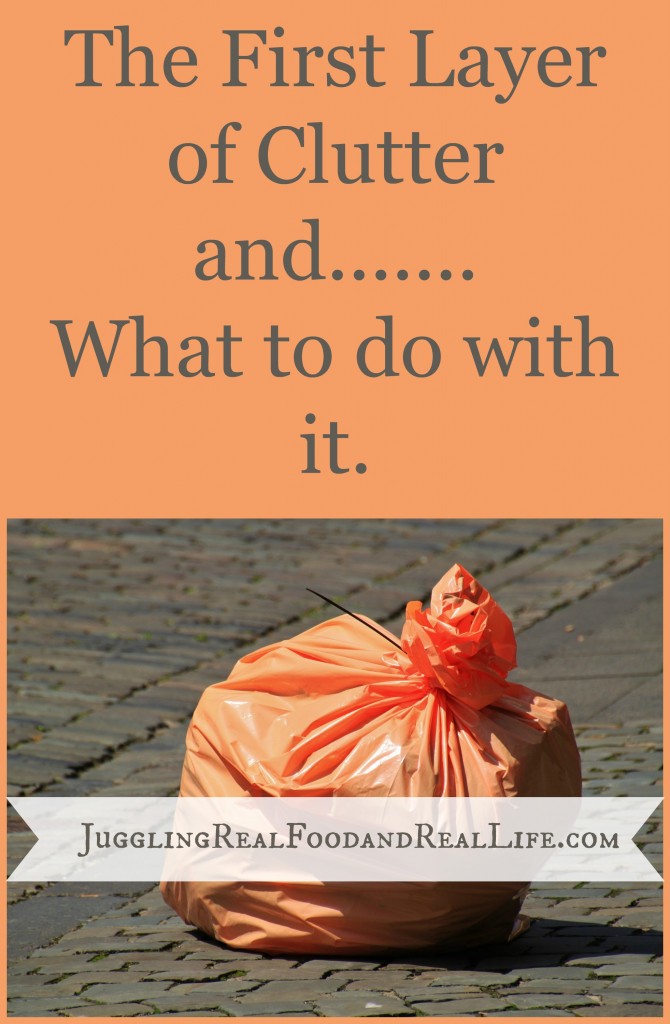 There are a lot of reasons that we hold on to stuff.  We'll talk more about some of the emotional baggage we carry about our stuff in future posts.  For today, let's start with something relatively easy.  Today, we are going to start to deal with the "first layer of clutter" in our homes.  I define the first layer of clutter simply as garbage.  Am I saying that your house is so messy that you have lots and lots of trash just lying around?  Well……….yes…………and no.  Unless you are already super organized and have fully decluttered you home, I bet you find plenty of trash laying around the house.  You probably have it hidden.  Afterall, you are not a slob, right?  I bet your clutter is very organized.
Grab a garbage bag (I like to use those plastic shopping bags) and pick a spot to start.  Some items will be recycled and some will be tossed in the trash.  I trust you will use your judgement here.  If you need some help getting organized, you can look back at yesterday's post which was all about the different areas of your home that need to be decluttered.  Look for items that you really don't need anymore and that don't have any value.  Work quickly.  Set a timer if you have too.  Work 15 or 20 minutes and then reward yourself with some relaxation time.
First Layer of Clutter
I'm going to include a list of items that I commonly hold on to that I consider to be the first layer of clutter.  Your items may be different, but this should get the thought process going for you.  When you are done, circle back and leave me a comment with some of the things you were able to toss.  You will certainly be a help to many of our readers if you do.
receipts you no longer need
magazines/catalogs
newspapers
broken toys, décor, kitchen appliances, etc. (that you will never fix even though you say you will)
toys and games that are missing parts
old school supplies
broken gadgets and cords (some can be recycled)
old paperwork like bills and taxes over 7 years old (shred personal information first)
worn out clothing especially socks and underwear (ripped and holy are not what folks are looking to find at the Goodwill these days)
old makeup (refer to my makeup declutter guide)
expired food
old and unused medicine (read my medicine guide for safe disposal methods)
old product boxes (do you still need the tv box for the tv you no longer own?)
hangers from the dry cleaner
old technology (do you really think 8-tracks and cassettes are going to come back one day?)
stretched out hair ties
travel mugs that leak
old pet toys
goodie bag toys
worn out flip-flops
old invitations
broken Christmas lights/décor
Old instruction manuals
stained placemats
Used up jar candles
Once you have gathered your first layer of clutter make sure it goes directly to the trash.  A bag of garbage that you are "working on filling" is still clutter in your home.  Get rid of it and the first layer of clutter in your home will be gone.  Feels good, doesn't it?  I literally feel lighter and happier as I am decluttering my home.  I have a feeling of control that I haven't had in a long time.
This is an interactive challenge and we want you to join in with us.  I have set up a Private Facebook Group that I hope you'll join. I would love for you to share your ideas and challenges with the group.  Decluttering doesn't really sound like a super fun thing to do so let's make it fun!  Post your before and after pictures or maybe some pictures of the crazy items you've been holding on to!  I know I have quite a few you'll probably get a kick out of.
On another note……..if you are interested in simple recipes your family is sure to love make sure you check out my recipe index.  I am adding new recipes all of the time so make sure you check back often.  You will also want to grab this free meal-planning printable calendar to make your meal planning easier.  It has areas to plan your daily activities and your evening meal prep.
Ready for more?  Click on image below for Day 3 of Freedom from Clutter in 40 Days.