Welcome back to Day 8 of Freedom from Clutter in 40 Days.  If you are tired of the burden of clutter then this series is for you.  Day by day we are getting rid of the items that weigh us down, slow us down, and get in the way of having time to spend with our families.  Today, I am sharing ideas on how to make a noticeable difference in your home with just a short amount of time.  Big impact without a lot of effort.
We invite you to join our special Facebook group to share your ideas, joys, concerns, and declutter stories with us.  Together, we are learning to find Freedom from Clutter.  This is a focused 40 day program, but we plan to keep the group going all year long.  You can join us at any time.  What is really fun about this project is that we are sharing our real struggles with clutter.  There are no organization experts here.  We are just real people sharing our real life experiences including our frustrations and joy as we declutter our homes.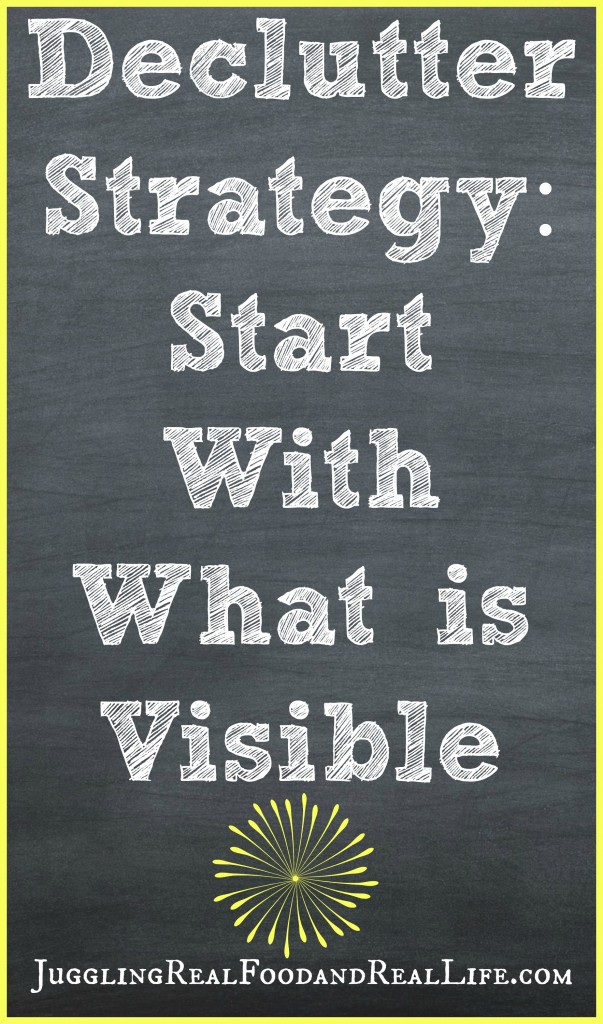 Declutter The Most Visible Areas of Your Home First
Let's start with this simple fact.  "Your house did not get cluttered in one day."  It took weeks, months, and maybe even years for your home to get to the state it is in now.  That doesn't make you a bad person.  There are lots of reasons that our homes become cluttered.  No worries.  We are moving in a positive direction now.  What we need to do now is accept the fact that our homes won't be completely decluttered in a day. Don't give up.  What I want for you today is for you to have a real noticeable impact on your home to keep your excitement for decluttering going.  I want your home to be the sanctuary you have always wanted.
When we first start talking about decluttering, we think about dragging everything out of all of the hidden places of our home like closets, drawers, and various other places that we store our junk.  Today, I want you to keep all of the hidden stuff hidden.  Let's pick an area out in the open to declutter.  If the first thing you see when you walk into the house is clutter, it can be rather depressing for you.  Maybe you want to work on your entryway today or maybe it's your living room.  You can pick.  Quickly work through the room and remove the items that you no longer need or love.  Your broken sunglasses don't need to be on the fireplace mantel.  You don't need 15 blankets on one couch.  Is your magazine storage overflowing?  Is that little bowl that you toss stuff in your entryway filled with who knows what?  Are there too many décor items on your coffee table?
Work quickly and only work for 15-20 minutes.  Set a timer. You will soon see a change in the room that you can be proud of.  Right out there where everybody can see it.  This will be an area that you will want to continue to keep free from clutter.  Perhaps, it will be the cornerstone for your whole house declutter.  We'll worry about the rest of the house tomorrow.  For now, just enjoy your newly decluttered space.
Tell me some fun decluttering stories.  What strange, interesting, or funny things are you discovering as you are decluttering?  What problems are you encountering as you declutter?
On another note……..if you are interested in simple recipes your family is sure to love, make sure you check out my recipe index.  I am adding new recipes all of the time so make sure you check back often.  You will also want to grab this free meal-planning printable calendar to make your meal planning easier.  It has areas to plan your daily activities and your evening meal prep.
For more decluttering tips in the Freedom from Clutter in 40 Days series, click on the image below.