Have I got a fantastic smoothie recipe for you today!  This Chunky Monkey Smoothie recipe is extra creamy and delicious.  Peanut butter, chocolate, and banana………..can you think of a more decadent combination?  I can't.  My favorite part of this recipe is that there is no sugar added.  None!  Seriously.  The sweetness comes from using really ripe bananas.  This smoothie tastes like dessert, but isn't loaded with processed sugar and artificial ingredients.  Your kiddos are going to love this one too!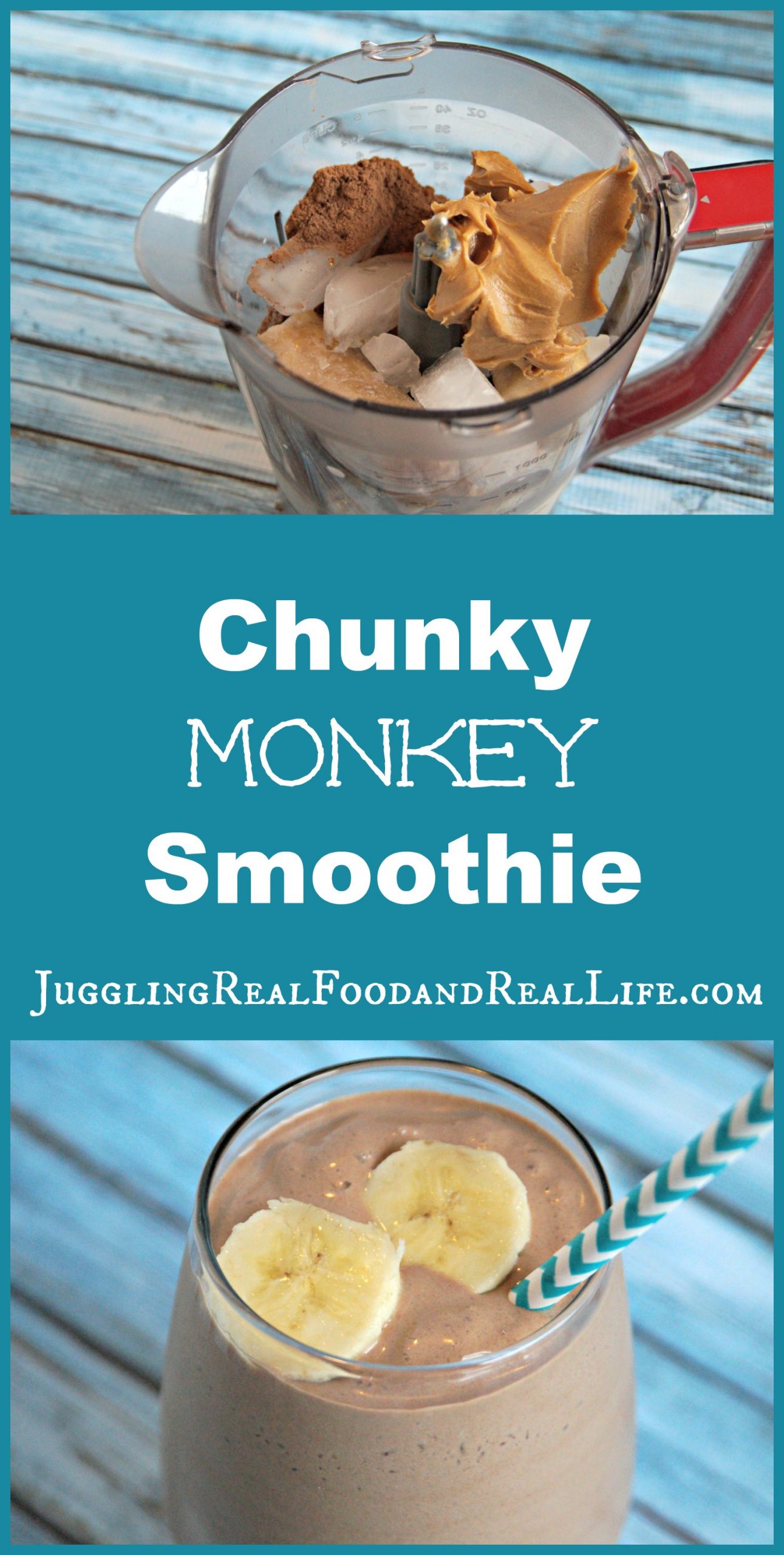 I'll be honest………I'm not much of a morning person.  Recipes that I make in the morning need to be easy.  Maybe, that's why I usually save my more elaborate recipes for dinner.  You know, when I'm more awake to cook.  This one only takes a couple of measurements and if you mess up a little, it will still be delicious.   
The key to this recipe is the overripe bananas.  They add the sweetness and provide a really creamy texture.  I buy extra bananas each week. One bunch to eat and one to ripen.  Go ahead……..let your bananas get lots of brown spots on them.  You can see from my pictures that I let them get quite brown.  I won't eat them that brown unless it's in a recipe because I am a banana snob, but the browner the better for this recipe. Peel the ripe bananas, toss them into a Ziploc bag, and then place in the freezer.  Now, each time you want to make a smoothie you have bananas ready to go.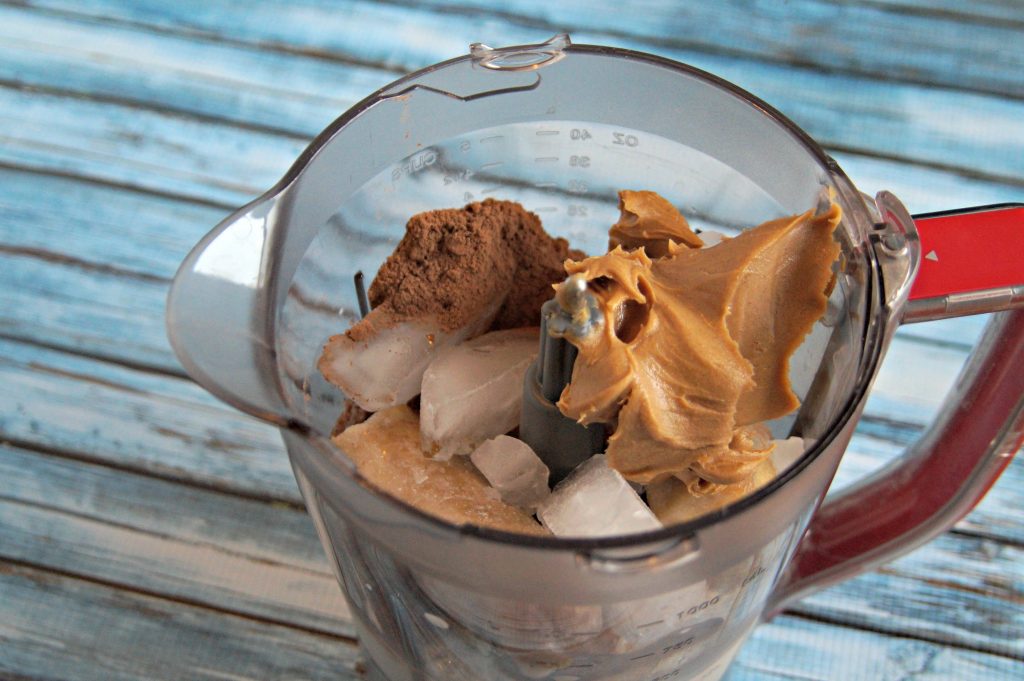 These smoothies make a nice protein alternative to sandwiches in the lunch box.  Place them in reusable silicone tubes or freezable canning jars and freeze.  Simply pull from the freezer when you are ready to use in the lunch box.  The smoothie will thaw a bit and be good and slushy for lunch. 
As a quick breakfast, lunch box meal, or sweet treat these smoothies can't be beat.  Enjoy this easy-to-make Chunky Monkey Smoothie whenever you get a taste for something sweet, creamy, and delicious. 
Chunky Monkey Smoothie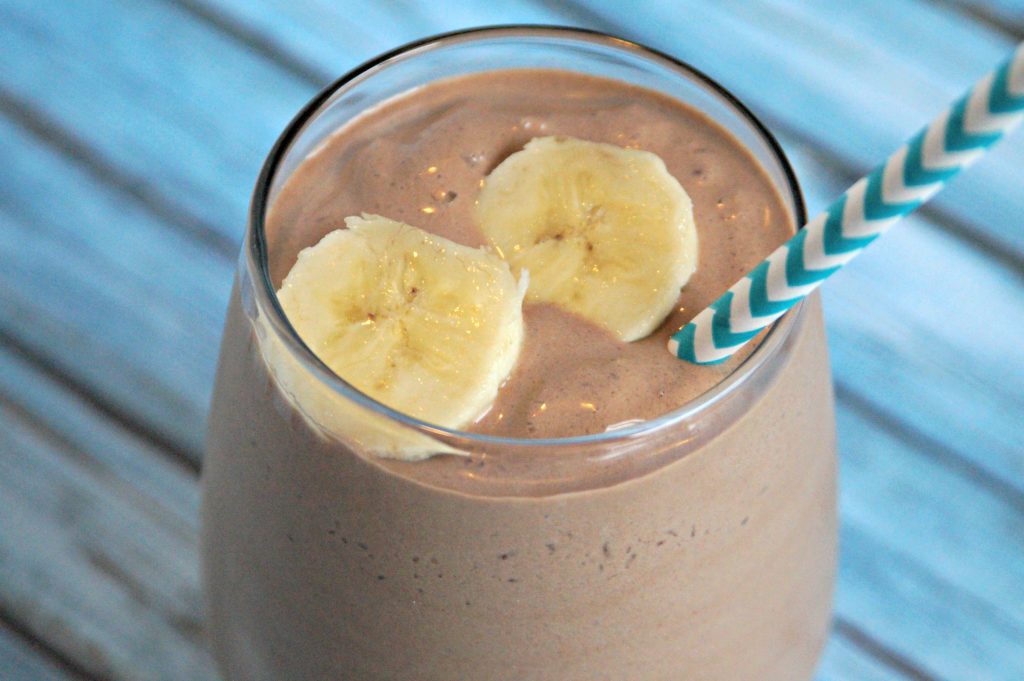 Chunky Monkey Smoothie
Author:
Christina - Juggling Real Food and Real Life
Ingredients
2 large overripe bananas, peeled and frozen
1 cup milk
¾ cup ice
¼ cup creamy peanut butter
2 Tbsp unsweetened cocoa power
½ tsp vanilla
Instructions
Add all ingredients to your blender or food processor.
Blend until smooth. This will take about 2-3 minutes.
Pour into glasses.
Top with additional banana if desired.
Serve with your favorite straw.
Notes
We recommend using organic ingredients when available.
What is your favorite time of day to eat smoothies?  Leave me a comment and let me know if you try this recipe.  I'm here to answer any questions you may have as you are on your real food journey. 
The following are Amazon affiliate links.  That means a small portion of your purchase will be paid to me as a commission.  The price is the same for you.  I like to share these links to help support the cost of running this blog and to be a resource to you.  I like to make things easy for you and as always…..keep it real.
For more great smoothie recipes, check out this post by clicking the image below.