Our next finalist in the
Juggling Real Food and Real Life Smoothie Competition
is Nicky from Our Little Family Adventure.  Nicky is my Real Food sister.  Her blog is full of lots of great Real Food recipes.  You are in for quite an adventure each time you visit her blog.  I encourage you to visit her blog and stay a while.  You will soon discover what a great friend Nicky is.  Another fun fact about Nicky………..She is trying to talk me into running so we can encourage each other in a joint fitness goal.  She has almost got me talked into it.  Almost.
Here is Nicky………… 
Hi! My name is Nicky. You could say that I love to cook. Well actually, I love to eat. When I got married, 17 years ago, I couldn't boil water. Over the years, I was the master of take out, one pot wonders, anything in a box, simple and fast meals, and then more sophisticated foods. With five people in our house, ravenous appetites would easily deplete our bank accounts, if we went out to eat every night. So I've learned to cook a wide variety of food. We are always trying new things and I hope to share many of those with you on my blog.
My husband served 20 years in the US military. We have lived on both the east and west coasts, as well as a few places in between. You can usually find me gardening, reading, cooking, or planning our next vacation or trip. We love to travel and expose our children to different places and people. We home school our three children and love the opportunities it affords us. We live by the motto "Sometimes the best things in life are the most unexpected". For us, the fun is in the journey.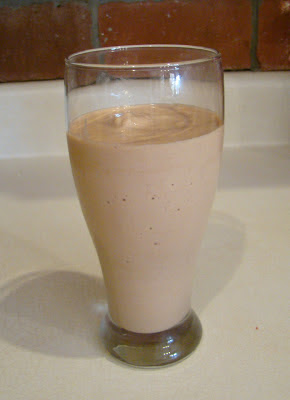 This is an easy frozen, non-dairy smoothie recipe. I remember having a Wendy's Frostie as a kid. This reminds me of it. Frozen bananas work best, but you can use fresh ones instead. Adjust the ice to get the consistency you like.
Ingredients:
1 cup almond milk
1 banana, preferably frozen
1/3 cup whole almonds
3 tablespoons rolled oats
2 tablespoons agave nectar1/8 teaspoon vanilla extract
Handful of chocolate chips, about 2 tablespoons
2 cups cubed ice
Directions:
Put all of the ingredients together except ice into a heavy-duty blender (like a Vitamix). Blend everything until smooth. Add ice and process everything until all the ice is crushed and incorporated. Mixture will be thick. Pour into glasses and serve. Makes 2 servings.Now it's your turn………..leave your comments below and cast your vote for Nicky's Banana Chocolate Frostie.  Do you like a little chocolate in your day or are you a straight-up fruit smoothie person?  Did you know healthy could taste so good?  Would you eat this for breakfast or save it for a treat?