This post may contain affiliate links. Purchasing through them help support this website.
I'm super excited to tell you about the Curious Chef kitchen tools for children.  As a Jamie Oliver Food Revolution Ambassador, I work hard to encourage parents to get their children into the kitchen. Teaching basic cooking skills is one of the best ways to make sure our children make lifelong healthy eating decisions.  While working with children (including my own kids) in the kitchen, I've noticed that my kitchen tools don't always seem to be the best option.  Sure, I've taught the kids to pull back their fingers when they are cutting, but lets just say that we still have used a few bandages.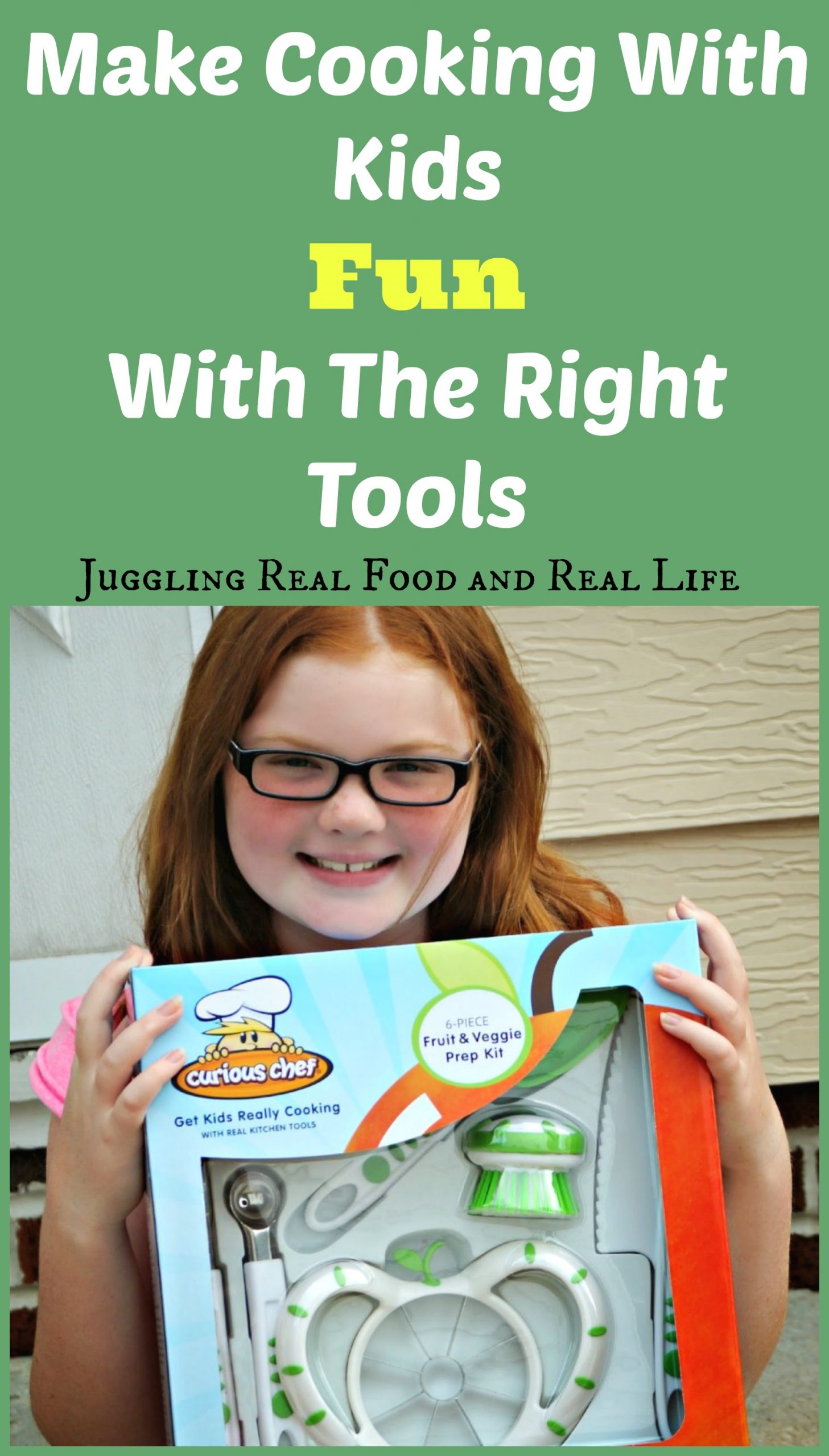 I was hanging out on Twitter one day………as I often do and I saw a tweet from Curious Chef.  I don't remember the exact tweet, but right away I noticed that their philosophy of healthy cooking and eating fit right in with mine.  I decided to check them out and very quickly I got excited about letting my kids try out their cooking tools.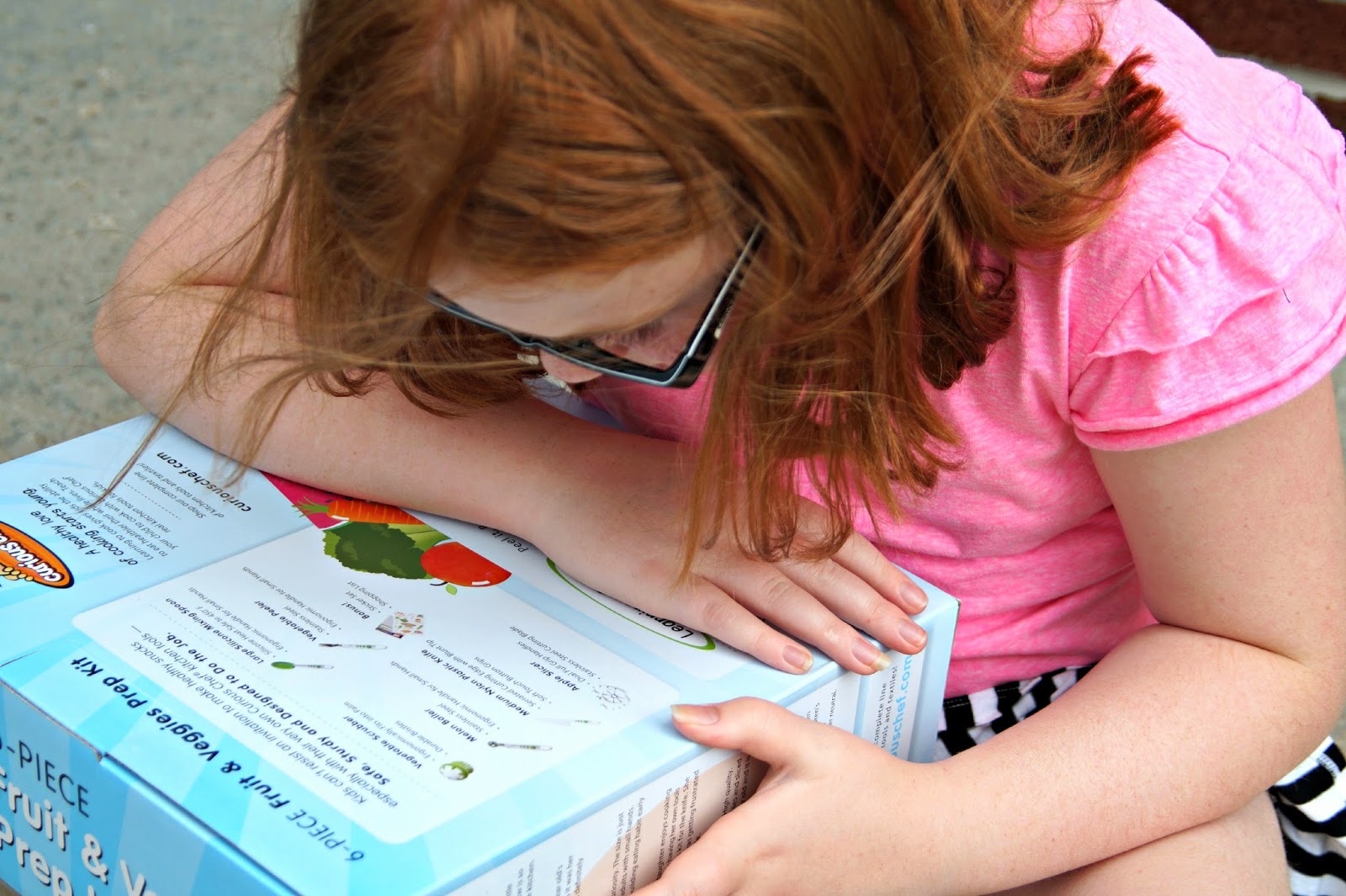 [bctt tweet="Teach kids to cook with real cooking tools from Curious Chef" username="jugglngrealfood"]
My daughter was very excited when the box with the 6 Piece Fruit and Veggie Prep Kit arrived.  Right away she thought it was for her.  She is really getting into cooking.  The kit includes a nylon knife that cuts food, but not skin.  Since it is not metal, it is perfect for cutting lettuce, too.  Metal knives can turn your lettuce brown.  Nylon does not.  The kit also includes a melon baller, apple slicer, vegetable peeler, and a large silicone mixing spoon.  My daughter fell in love with the vegetable scrubbing brush…….don't ask me why!  She has been a scrubbing fool!  I had to put a stop to it when she started scrubbing her brothers.  Although, sometimes I think they need scrubbing more than the vegetables. LOL!  Curious Chef also throws in a shopping list and some stickers to make things extra fun.  These are all real kitchen tools for kids.  Sure you could buy them some toys, but why not the real thing?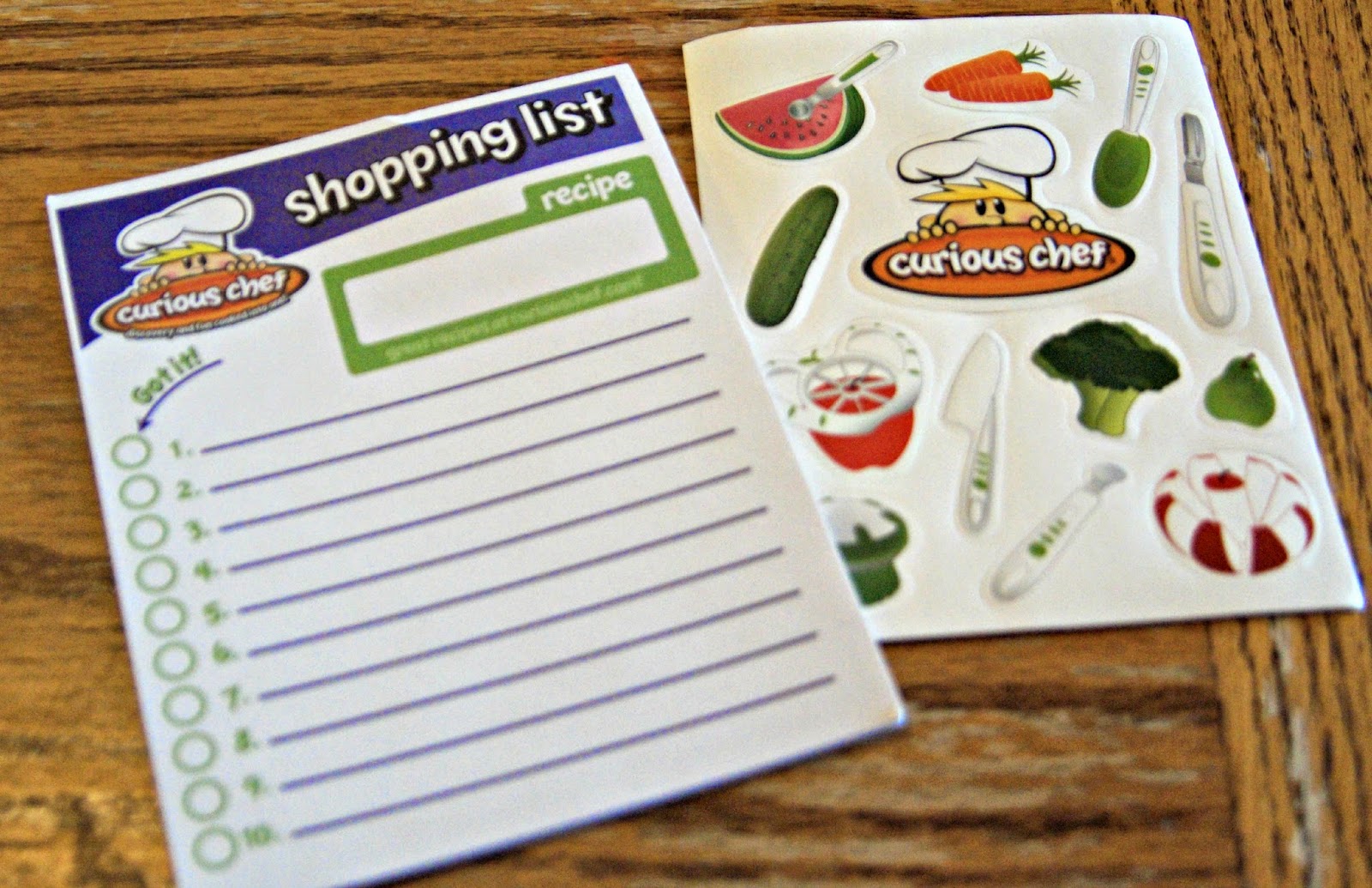 The knife is BPA free and good for kids 4 and older.  I really like the rubber grips on the handle.  They seem to help keep a solid grip on the handle. We tried out the kit making a salad and it worked really well.  The vegetable peeler is sharp so be aware of that with younger children.  The knife worked well, but it takes some work to get through harder items.  I don't think it would work well on softer items as it may just tear through them rather than actually cutting them.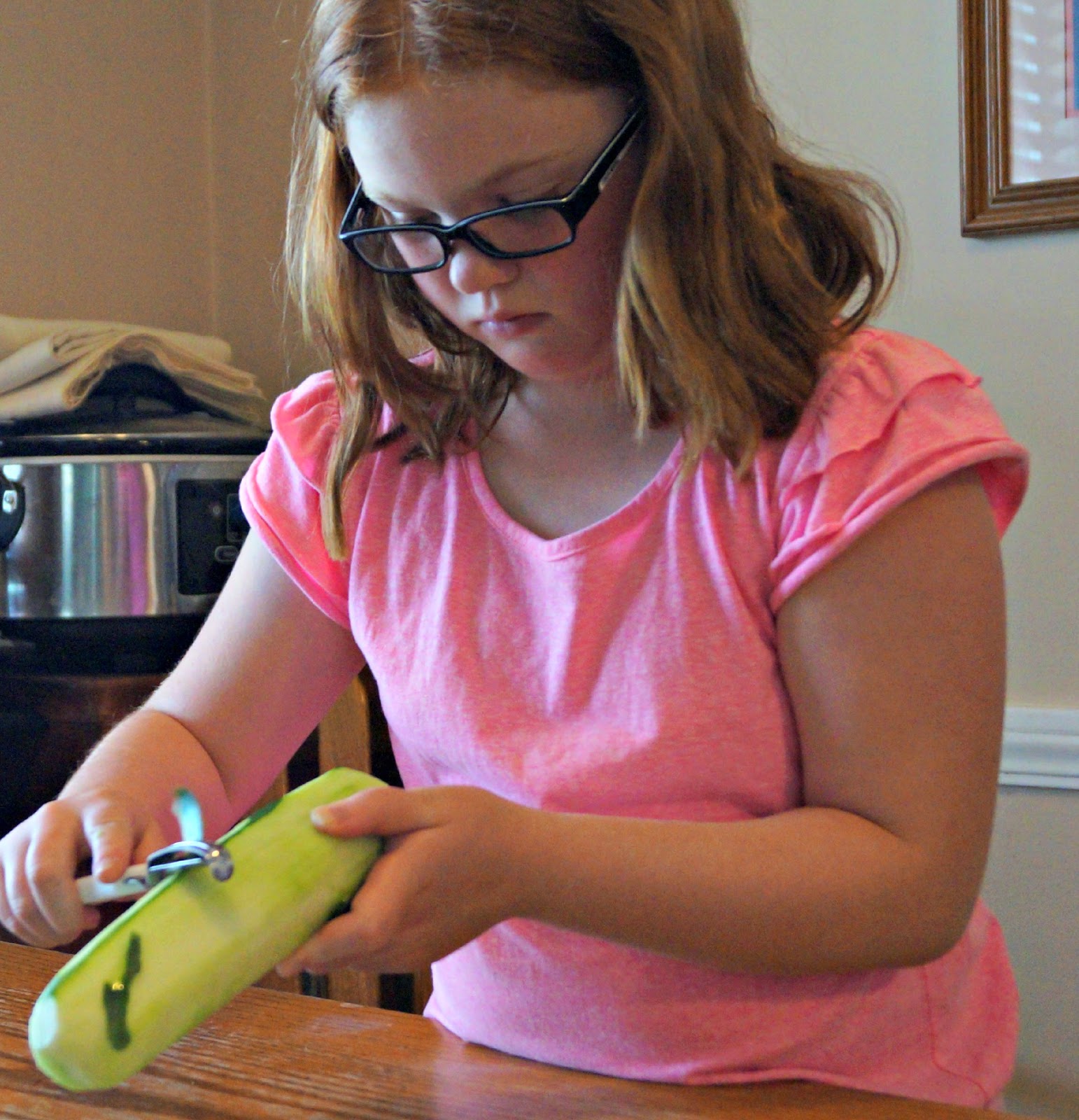 In short………..we love our Curious Chef kitchen tools.  My daughter gets out the tools and creates snacks and small meals for herself and her brothers.  I pretend not to notice because I love to see what she creates on her own.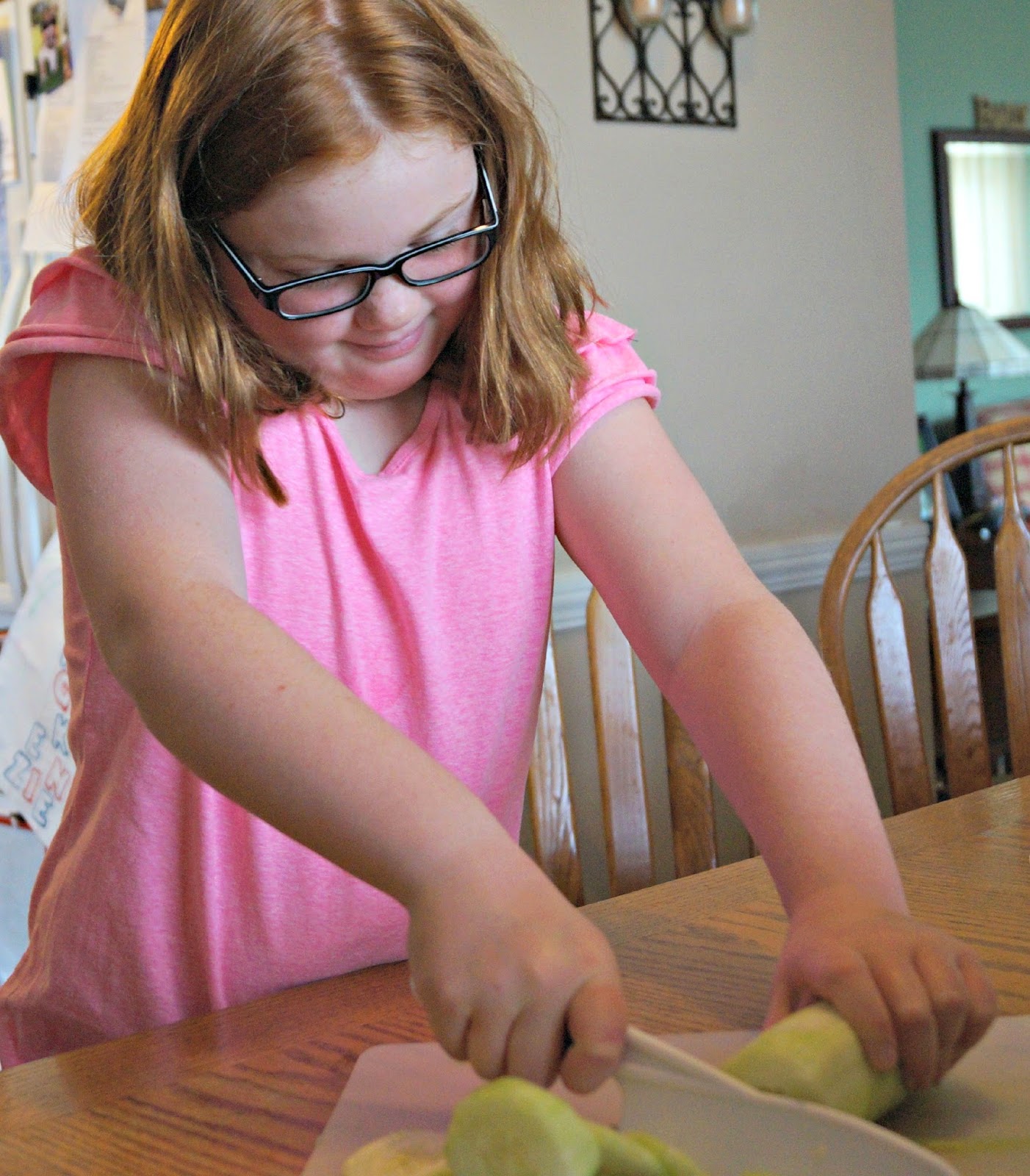 Here is a salad we made together using our Curious Chef Tools.  Teaching your children the skills they need to cook is one of the most important things you can do for their future health.  Why not make it fund bonding time too.
Little M's Spring Fresh Salad
Spring Fresh Salad
Author:
Christina - Juggling Real Food and Real Life
Little M's Salad Spring Mix Greens Strawberries Blueberries Mandarin Oranges 1 Cucumber 1.  Use your Curious Chef vegetable peeler to peel the cucumber. 2.  Using your Curious Chef knife slice cucumber and quarter the strawberries. 3.  Toss all ingredients together.
Ingredients
Spring Mix Greens
Strawberries
Blueberries
Mandarin Oranges
1 Cucumber
Instructions
Use your Curious Chef vegetable peeler to peel the cucumber.
Using your Curious Chef knife slice cucumber and quarter the strawberries.
Toss all ingredients together.
Do your kids help you in the kitchen?  How young were they when you let them use a knife?  Leave us a comment and let's get the conversation going!
Make sure you subscribe by email so you don't miss a single issue.  Please also follow us on our various social media. You can easily find me there if you have questions. Twitter is a great place to chat. Follow me @jugglngrealfood and introduce yourself. The Juggling Pinterest Boards are crammed with lots of great information and recipes. Check them out!