Welcome back to Day 14 of Freedom from Clutter in 40 Days.  If you are tired of the burden of clutter then this series is for you.  Day by day we are getting rid of the items that weigh us down, slow us down, and get in the way of having time to spend with our families.
We invite you to join our special Facebook group to share your ideas, joys, concerns, and declutter stories with us.  Together, we are learning to find Freedom from Clutter.  This is a focused 40 day program, but we plan to keep the group going all year long.  You can join us at any time.  What is really fun about this project is that we are sharing our real struggles with clutter.  There are no organization experts here.  We are just real people sharing our real life experiences including our frustrations and joy as we declutter our homes.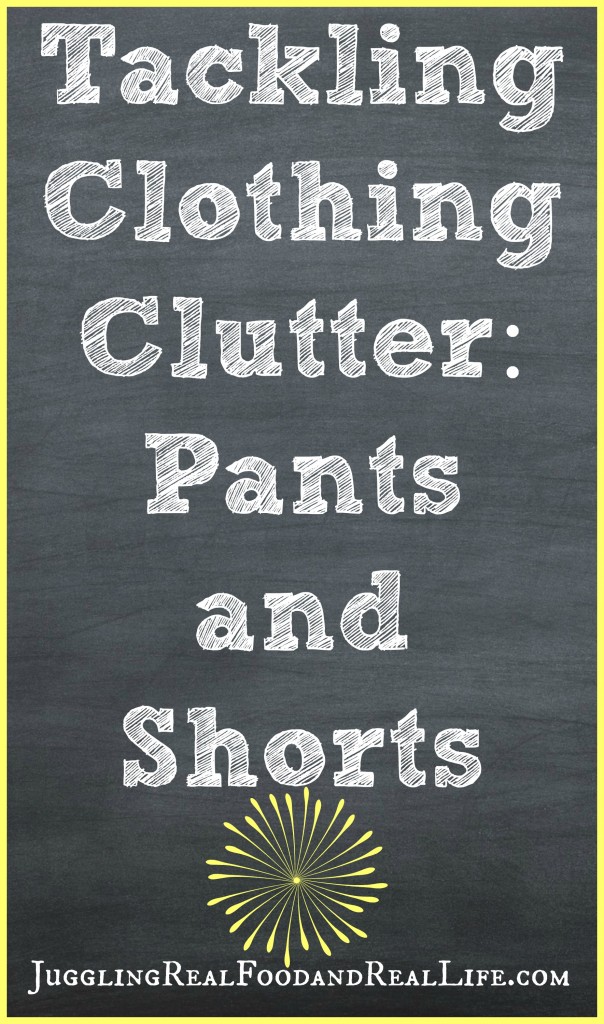 We are devoting this week to decluttering our clothing.  Wherever it may be……. in your closets, drawers, or other storage.  Let's work on reducing the clothing in our homes to only what fits, clothing we actually wear, and clothing we absolutely love.  Pick your kid's clothing or your clothing.  It's up to you.  Don't get too overwhelmed.  It took a while for this mess to accumulate and it's not going to clean itself up in a day either.  I just want you to get started so you feel like you are moving in the right direction.  Work 15-20 minutes at a time.  Set a timer so you don't get lost in the work.  When you are done, reward yourself with some Facebook time, a cup of tea, a nap…….whatever makes you happy.
Decluttering Pants and Shorts
Start with the easy stuff first.  Items that you know don't fit and haven't for a long time.  Stained items.  Items with missing buttons that you would like to repair, but likely won't.  Toss any item with worn-out elastic.  That stuff doesn't last forever.  Toss anything with a hole. I have denim shorts that I just love to wear, but wearing them has rules.  I can only wear them while gardening in the backyard.  No way can I wear them in the front yard.  They have holes around the back pockets.  If you can't picture that…….that means holes in the butt area.  My neighbors don't need to see what I wear underneath them so that is why they are only acceptable for the backyard.  So……..why am I holding on to shorts with such strict rules?  There is no freedom in only being able to be in the backyard all by yourself.  I can't even run out to the store and get more flowers with these shorts on.  I would have to change first.  Those shorts need to go!  You may not be as crazy as me and my denim shorts, but you probably get the point here.  Toss all of the old worn-out stuff right away.
The next round of decluttering is a little harder.  If you have a friend or family member you trust, now may be a good time to ask them to come over and help.  You can return the favor.  Separate the rest of your pants and shorts into three piles.  Those items that you know you want to keep, those you want to donate, and a pile for your "not sure" items.  Return your "keep" to their proper location.  Box up your "donate" and take them to the car right away.  You don't want your donation box to become clutter.  The third pile is going to take a little while if you haven't purged for a while.  Try on each piece and be mindful to only keep those items that are useful, fit properly, are in good shape, and you absolutely love.
Put on your favorite music and have a decluttering fashion show.  Make decluttering fun by dancing around the room.  If you can't dance in the pants, you probably don't want them anyway.  Or is that just me?  Donate or toss those items that you decide are not your very favorite.  You know how fantastic you feel when you put on a new outfit for the first time and step out for a super-confident day?  I bet you do.  That's how I want you to feel each day.  Decluttering our clothes is more than just cleaning out closets.  It's about finding the clothes that make you feel like you are ready to take on the world.  Whether you are working with high-powered clients or wiping noses all day, you are making a difference in the world.  Let's make sure you are dressed for this important work and you feel your best each day.  No hiding in the backyard anymore!
Leave me a comment and let me know what decluttering means to you.  Do you have piles and piles of clothes that don't even fit in your closet and drawers?  How did you get to that point?  Share your stories so that we can be a help to others reading this.
On another note……..if you are interested in simple recipes your family is sure to love make sure you check out my recipe index.  I am adding new recipes all of the time so make sure you check back often.  You will also want to grab this free meal-planning printable calendar to make your meal planning easier.  It has areas to plan your daily activities and your evening meal prep.
For more in our Freedom from Clutter in 40 Days series, click on the image below.