One of the requirements to be a Global Ambassador for Jamie Oliver's Food Revolution is to put on a Food Revolution Day event. The day is to be a celebration of food and cooking. I knew right away that I wanted to include the Girl Scouts in my event and soon after deciding that I met Chef Lou Ann Colaric. I am an insurance agent by day and she is one of my clients. She started talking about her personal chef business and I knew that this was a divine connection. We were meant to work together!
I couldn't be happier with how the day turned out and I look forward to seeing how we can keep this momentum going. After all……..this isn't just about a one day cooking class………this is a Food Revolution! It's time we take back food from the food scientists and get back to real whole food.

My last post was all about how the Girl Scouts went to work learning how to make pasta. We had messy fingers and lots of laughs. The girls did a great job mixing the dough and learning how to roll it out. The last step of cutting the dough into fettuccine really got the girls excited. They knew eating couldn't be too far behind.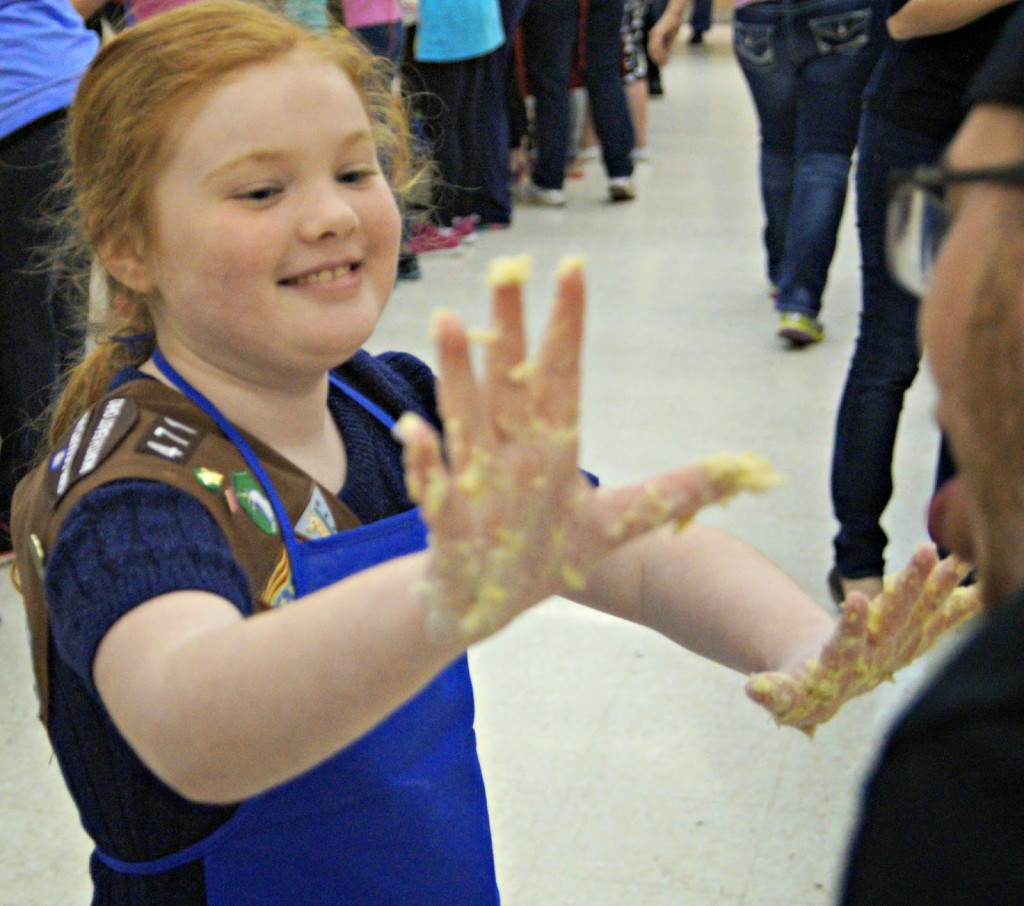 Lil M threatening to put her messy fingers on her big brother's face.
Lil T cutting her pasta. The girls all got a chance to crank out their cut pasta.

The girls kept at it until the pasta was ready for cooking. Boy! Were we getting hungry! My stomach was growling out loud in anticipation of eating this homemade pasta. We did a little lesson on label reading while Chef Lou Ann cooked the pasta. Jen, Jamie, Tiffany, Janice, and Roberta added the sauce and then delivered the bowls of pasta to the girls. They were working hard. We found out quickly that serving over 100 girls all at once is a bit of work. Whew! We all owe a great big thank you to United Skates of America – Wickliffe for their donation of all the utensils, bowls, and napkins. The owner of the skating rink, Ann-Marie, was extremely generous with her donation. She is a healthy living advocate and I knew she would want to help us out. The girls all loved the pink napkins!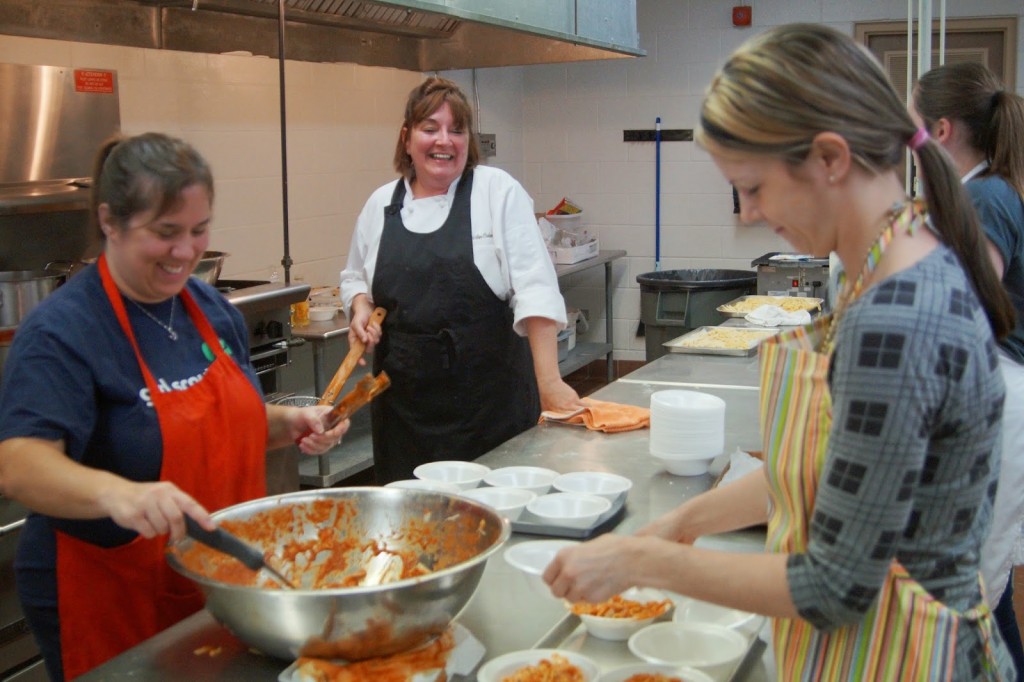 Preparing the pasta for delivery to the hungry girls.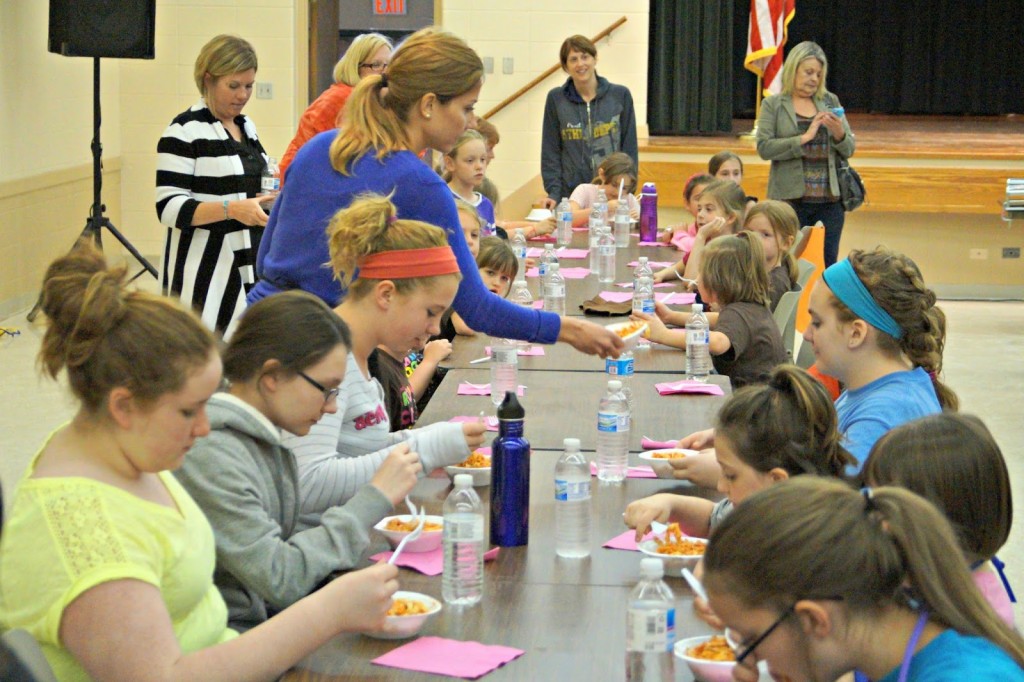 At last! It's time to eat pasta.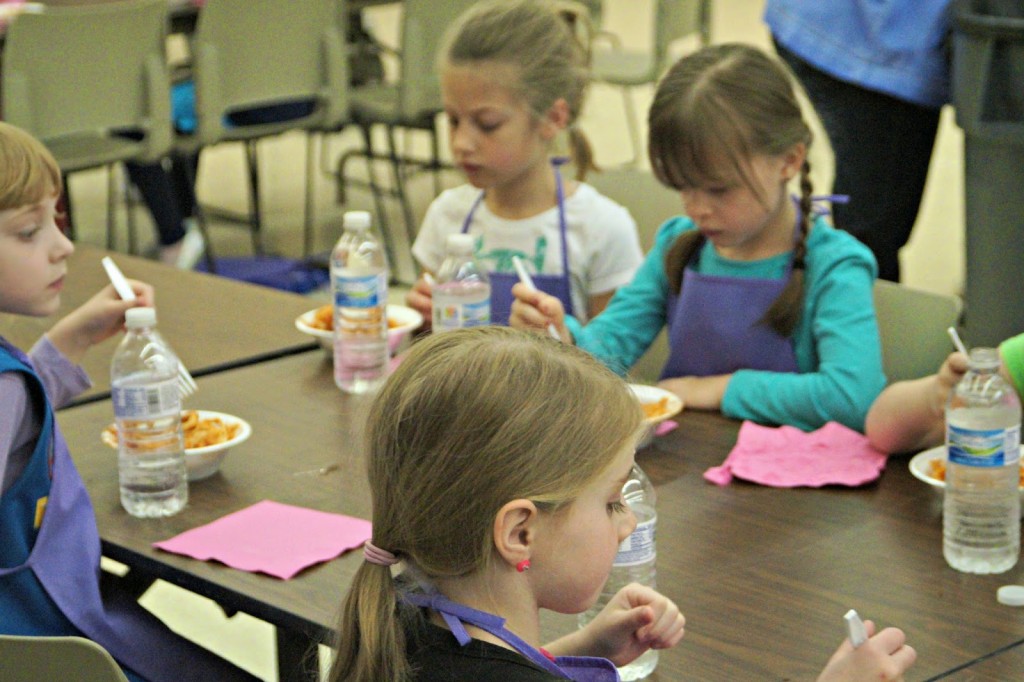 The little ones looked nervous to try it at first, but ate it all.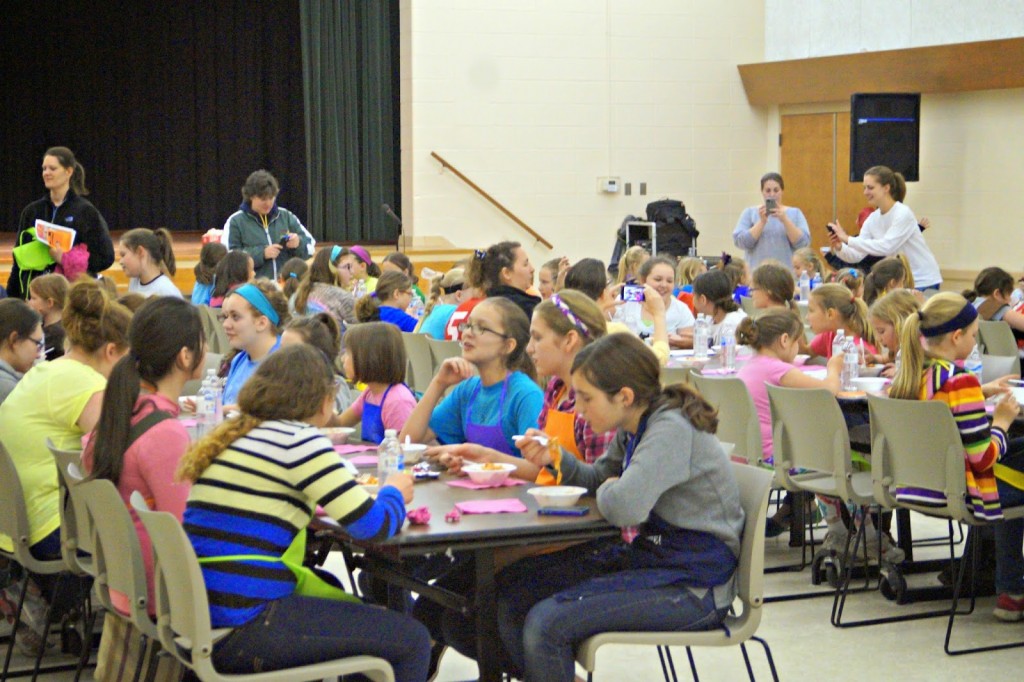 Hard work pays off……..and it's delicious!
Oh! I almost forgot………..the epic "Let it go" sing-along. As the girls were eating, my son was playing music for them. There was talk and laughter and eating until the song came on. The girls all broke out in song knowing every word to "Let it go" from the movie Frozen. It was amazing! There were over 100 girls singing the song at the top of their lungs. They seemed to know where all of the pauses were so they could take a quick bite of pasta and then get back to singing. At the end of the song after a big flourish………..almost like it were on command…….all of their heads dropped and they went back to happily eating their pasta. I wish I had gotten video of it because it was an amazing site to see. But, like I said, it was completely unplanned. That song is just a part of who they are, I guess. And now it will forever be remembered as part of Food Revolution Day 2014.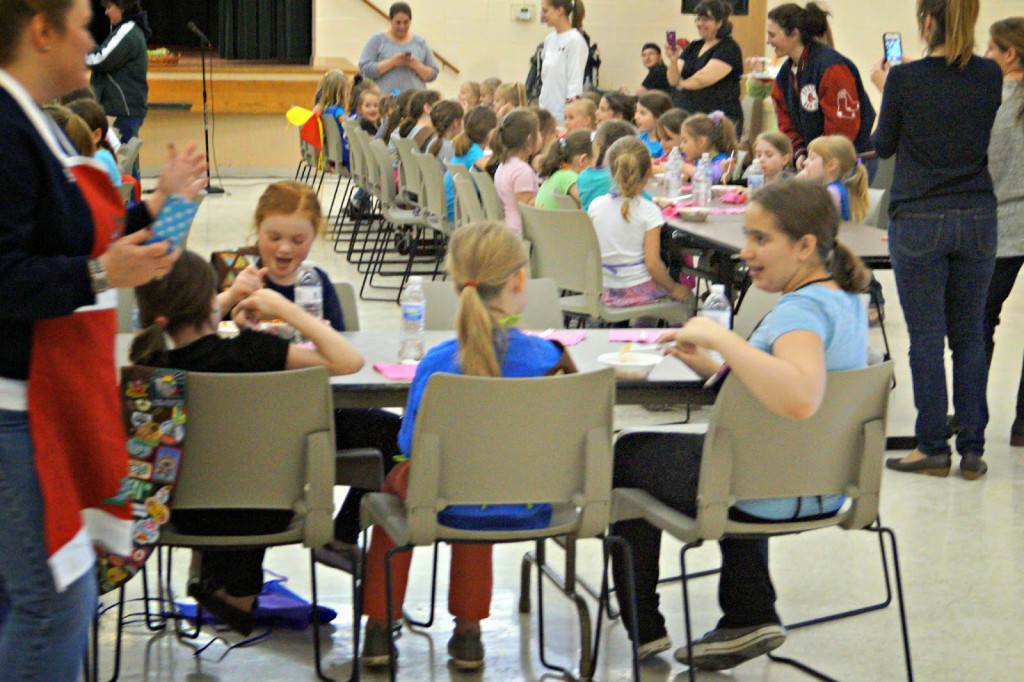 Look at all of those phones. Who got the video?
As for me………..I went to bed that night with a huge smile on my face and in my heart. I set out to create an enjoyable food experience for the girls and I really feel like we pulled it off. Sure, there was stress about funding along the way, but in the end the funders really stepped up in a big way and we were able to provide a wonderful experience for the girls. We learned about cooking and food, had a great time, and realized how delicious food made from scratch really is. Food Revolution Day 2014 was a celebration for me and a way to pay Jamie Oliver's work forward. He changed my family's lives with his Food Revolution television show and it was an honor to be able to put on this event to pay that back.
Have you ever had a person impact the way you eat? Did you grow up with homemade food? Do you cook with your kids? What do you think we should cook next year? How many times a day do you have to hear "Let it go" in your house?
The Juggling Real Food and Real Life Newsletter is Coming!
Make sure you subscribe by email so you don't miss a single issue
. Facebook is showing you less and less of what I post there. The only way not to miss a post is to subscribe by email. You can subscribe by entering your email address to the right of this page. Just wait to see what I have coming. Please also follow us on our various social media. You can easily find me there if you have questions. Twitter is a great place to chat. Follow me
@jugglngrealfood
and introduce yourself. The
Juggling Pinterest Boards
are crammed with lots of great information and recipes. Check them out! Come back each Friday for our Let's Get Real Friday Party. The best bloggers from across the web link up their favorite posts from the week. It's quite a treat!