Disclosure: The following post includes affiliate links.
I've had a great summer and I'm not ready for it to end.  Too bad the school system has other plans for us.  The start of the school year always seems so chaotic.  There is paperwork to fill out, lunches to pack, childcare to figure out, and new routines for everyone.  At the start of a new school year, I like to make sure that I have lots of delicious meals planned that are super easy to make.  The headaches of complicated recipes are just to much with everything else going on.  Here are 5 of my favorite back-to-school dinners and some tips on preparing them.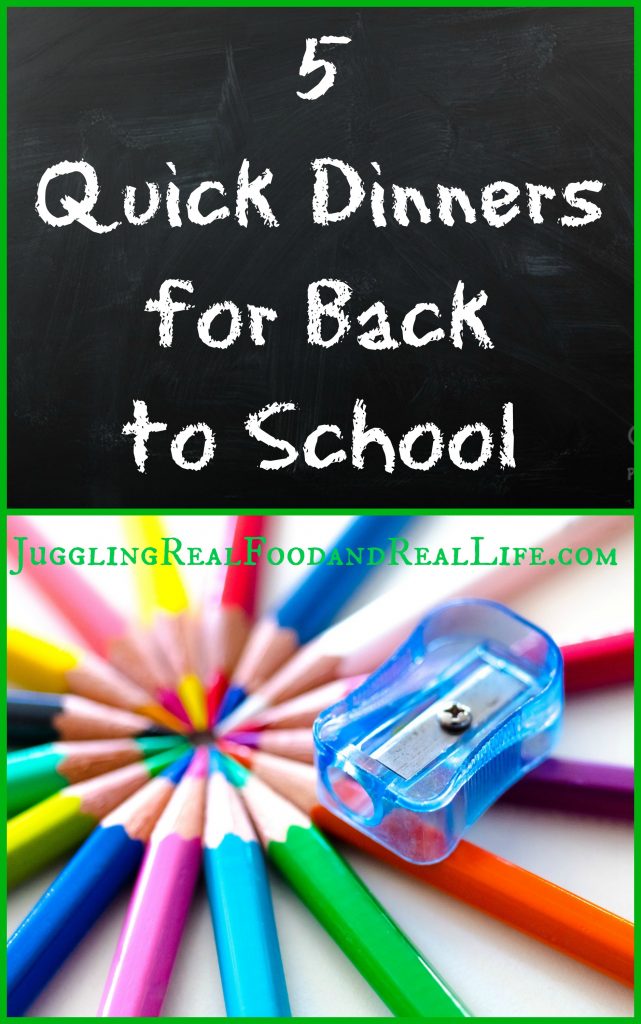 I was chatting with my Dad about my Ragu Homestyle post and he asked me if I thought that was "the best" pasta sauce on the market.  I think he is concerned about me "selling out" to a big brand-name for a sponsored post.  Fair enough.  "The best" is defined in our house as having nutrient dense whole food ingredients and free of artificial ingredients.  There are other pasta sauces on the market that contain organic ingredients which would be my preference, but not everyone buys organic foods.  When it comes to purchasing convenience items, we are often not really comparing bottled pasta sauce to homemade pasta sauce.  We are really comparing bottled pasta sauce to a trip through the drive-thru window.   When time is short that is a choice we all have to make.  And………bottled pasta sauce wins hands-down every time for me!  That is the foundation of juggling "real food" AND "real life."
Now on to dinner…………This is an easy 5 day dinner plan to get you through the crazies that is the first week back-to-school.  I like to use my crockpot and keep all of the ingredients simple and delicious.  I don't want to hear complaints about exotic ingredients from my kids.  In my mind, this is not a time to introduce new foods to my family.  The kids are way too tense with their new schedules right now.  I'll wait till they settle down a bit. I also don't want to spend too much time in the kitchen.  There is football/cheer practice, homework, and all of our other fall activities to juggle.  I like to cook, but this week is all about just getting dinner to the table in a jiffy and keeping it as real as possible. 
[bctt tweet="Keep back to school healthy and simple with these 5 dinners. " username="jugglngrealfood"]
5 Back-To-School Quick Dinners
Whole wheat pasta, red sauce, and salad:  Get a pot of water boiling and heat up your favorite prepared jar sauce. We like this one which comes in a variety of flavors that we enjoy or the Aldi Simply Nature brand.  Make up a quick salad with lots of your favorite veggies.  We like spring mix lettuce, cucumbers, carrots, tomatoes, and cucumbers.  Quickly toss it together and serve with your favorite homemade dressing.  I like these vinegar dressings from Calm.Healthy.Sexy. and this poppy seed dressing from Little Family Adventure when I want a creamy dressing.  If you prep veggies over the weekend or when you shop, this dinner will come together even more quickly.  In lieu of that, chop quick.  I'm serious.  I have gotten so much faster simply because I chop vegetables more frequently than I used to and I'm always in a hurry.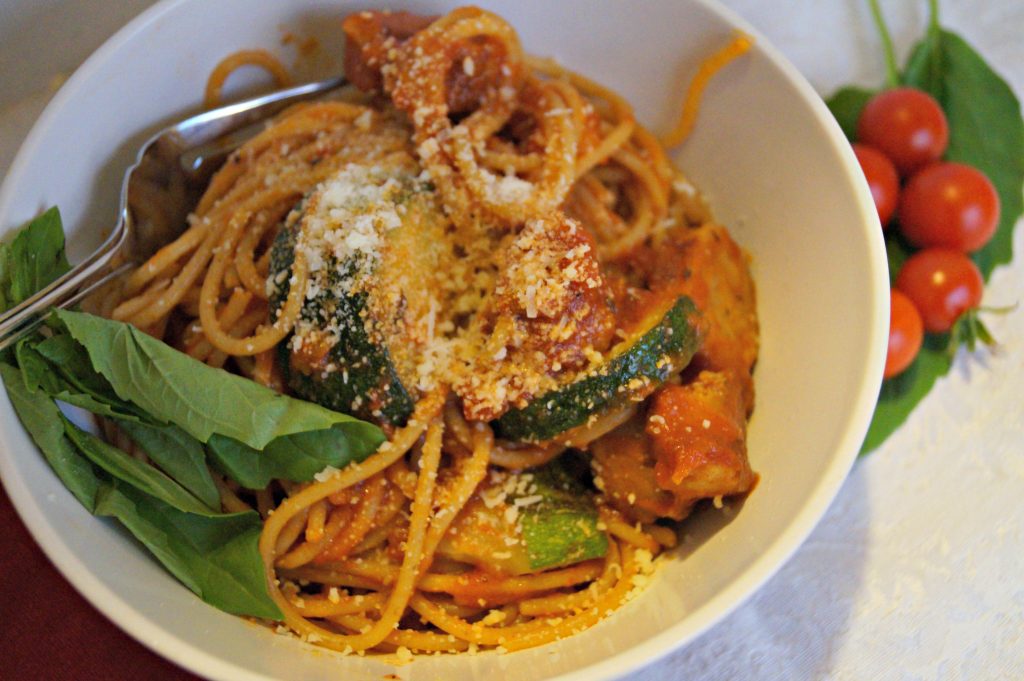 Cheddar Cheese Quesadillas, refried beans, rice, and crockpot applesauce:  Quesadillas are just "fancy" grilled cheese as far as I'm concerned and kids love them.  Make sure to use whole wheat tortillas for added nutrition.  I purchase canned refried beans and just heat them up.  Make sure to check the ingredients.  You could also make refried beans in the crock.  I like to use my crock for the applesauce though.  Tastes so much better than jar stuff.  However, there are lots of great jar applesauces without added sugar.  For rice in a jiffy, I found these really cool rice pouches at Aldi.  They are organic and have a very short ingredient list……….grains, olive oil, salt, and spices.  They microwave in 90 seconds.  I've seen other pouches, but they usually have a ton of ingredients.  I was thrilled to find the Simply Nature brand.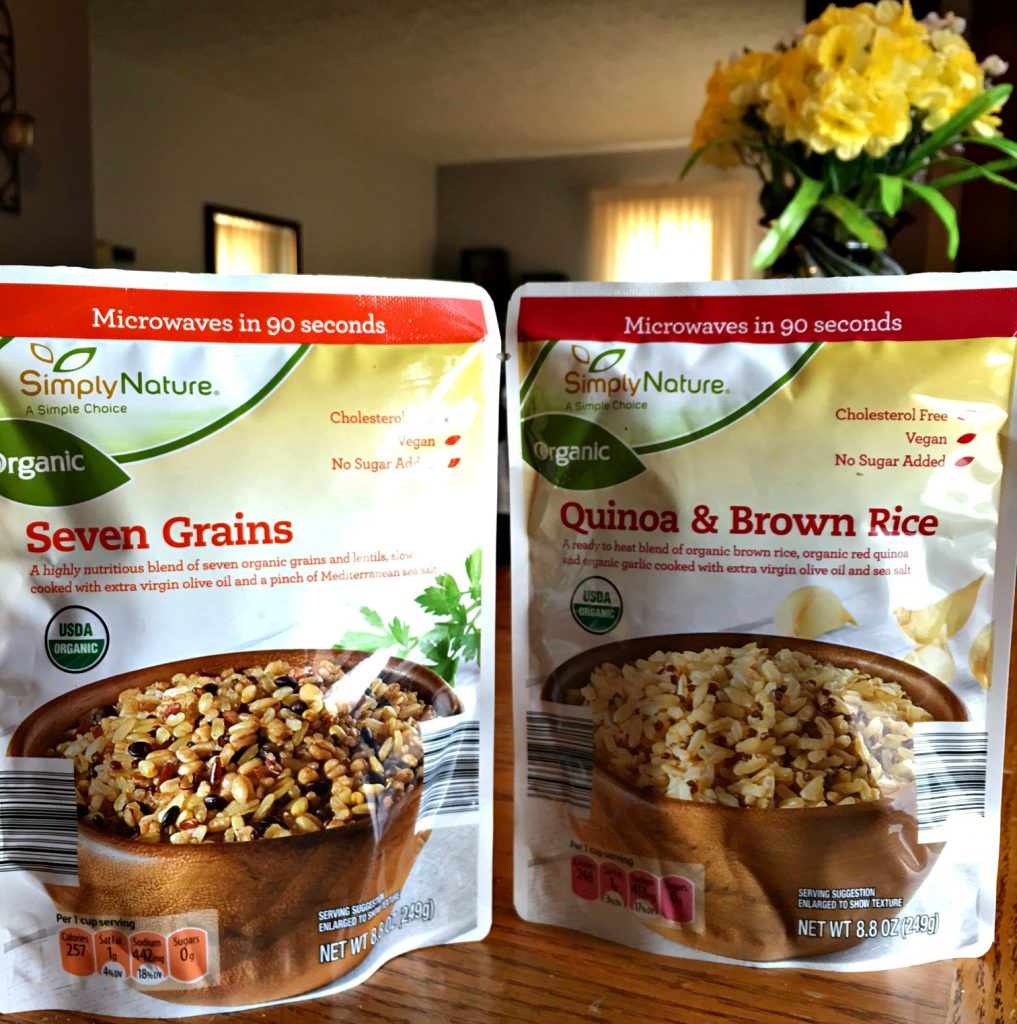 Parmesan grilled chicken burgers and this easy Caprese salad:  It's still hot outside and I like to keep the heat out of the kitchen as much as possible.  Grilled dishes are the perfect solution.  I purchase my chicken "burgers" already prepared at my grocery store to save time.  They are just ground chicken so you could easily make them yourself if you want.  Use a great jar pasta sauce to save time.  The caprese salad comes together quickly when you use grape or cherry tomatoes.  Just toss the tomatoes into the bowl rather than slicing.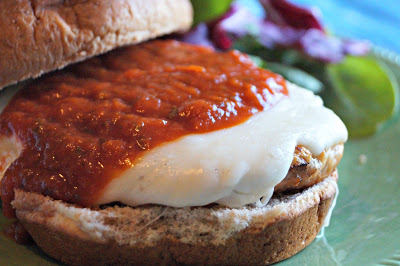 Flatbread pizzas and salad: I purchase the Naan whole wheat flatbreads so all we have to do is put on the toppings and bake for a few minutes.  I have everyone make their own so that speeds things up even more.  While they are baking, I put together a salad and our favorite salad dressings.  I don't like the chalky texture of bagged shredded cheese so I always shred my own.  I use my food processor to speed things up.  I love my Ninja.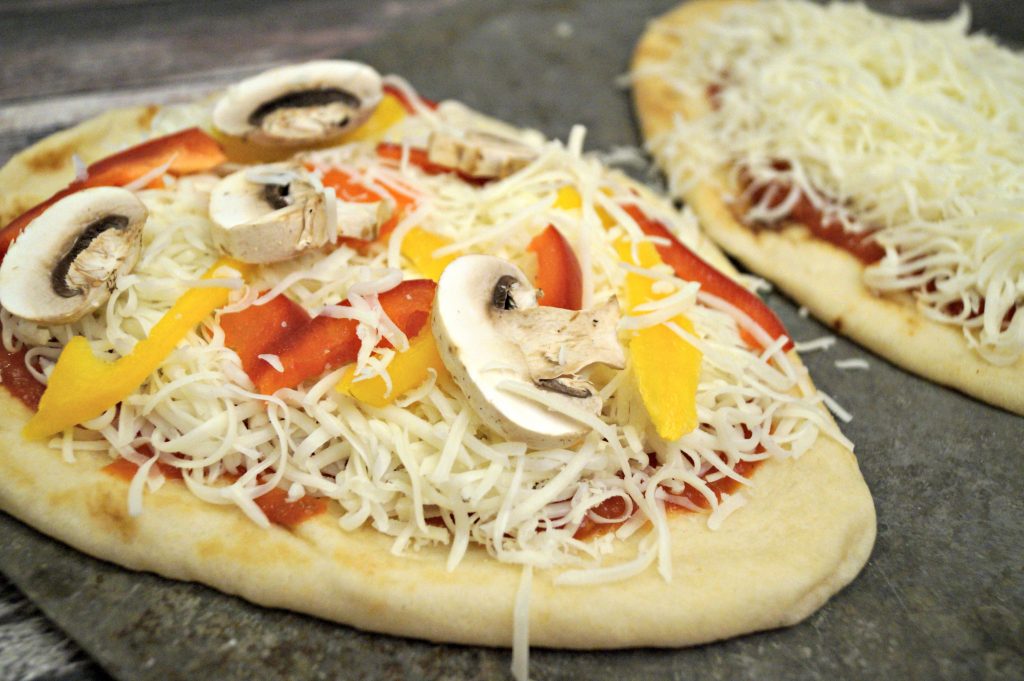 Crockpot Sloppy Joes with veggies and dip and crockpot cinnamon applesauce:  Toss a few ingredients in the crock and dinner will be ready when you get home.  Depending on your schedule, you can prepare this in the morning or the night before.  I like to use a programmable crock so things aren't overcooked.  This is the slow cooker that I use.  I love this sloppy joe recipe because it uses all real ingredients and tastes fantastic.  It's also really good on baked potatoes.  I make a big batch of cinnamon applesauce early in the week and have it handy for meals the rest of the week.  Just pull out of the refrigerator and you are all set.  So simple!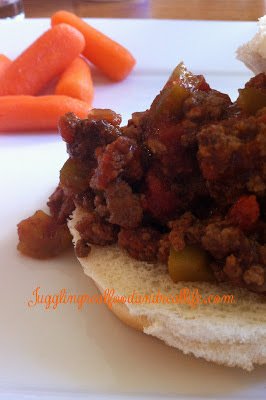 There you go!  5 easy dinners for back-to-school that your whole family is sure to love.  I hope your back-to-school is simple and stress-free……….or as stress-free as possible at least.  What is your favorite back-to-school dinner?  Leave me a comment and let me know any tips you have for making the back-to-school rush simpler. 
For more easy real food recipes, check out the Juggling Real Food and Real Life recipe index.  I am adding new recipes all of the time.